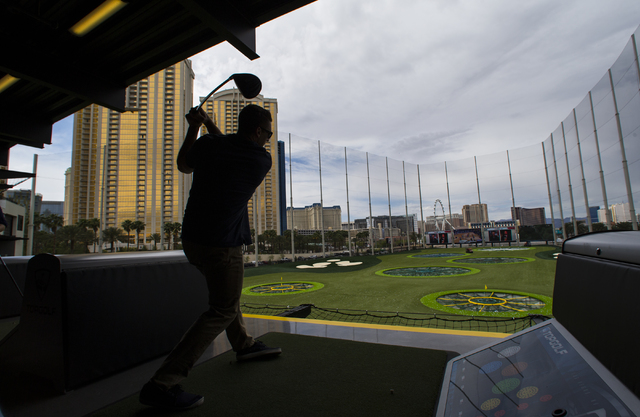 Topgolf, an entertainment venue on Koval Lane at the MGM Grand, wants county permission to let bands and DJs play longer on its property.
County staff, however, has recommended against this because people live within 500 feet of the site.
The issue came up at the county commissioners meeting April 5. Topgolf asked for a vote to wait until the county's April 19 meeting. Topgolf has the item scheduled for the Paradise Town Advisory meeting sheduled for Tuesday at 7 p.m.
Management at Topgolf, which features a 640-foot driving range, two swimming pools and bars, believes extending live music hours will "enhance the experience for the guests of the facility," according to county records.
Topgolf wants live music to potentially last until 1 a.m. weekdays and 2 a.m. weekends, the same as the venue's operating hours. Live music is allowed at the venue between 6 a.m. and 10 p.m.
A representative for Topgolf, based in Dallas, declined to comment on the company's request, saying the company wants to wait to see if commissioners support the time change.
Most businesses on the Strip control their own hours for live music, but Topgolf is an exception because of nearby Marie Antoinette Condominiums. An apartment complex called International Villas is just over 500 feet away.
Topgolf monitors the decibel level at the property and has met with representatives of the nearby residences to compromise on the new music hours.
The county allowed Topgolf to host live music until midnight Dec. 30 and 1 a.m. New Year's Eve, according to county records.
County staff said it's OK to allow extended music hours for special events, but believes ongoing late-night music is a negative to nearby residents, according to county records.
If county commissioners approve the plan anyway, the staff recommends six events at most for the new hours, limited to three consecutive nights. Other staff recommendations included ending live music at midnight Sunday instead of 1 a.m. and at least 30 days notification to neighbors.
Contact Wade Tyler Millward at wmillward@reviewjournal.com or 702-383-4602. Follow @wademillward on Twitter.