Tourism numbers increase in May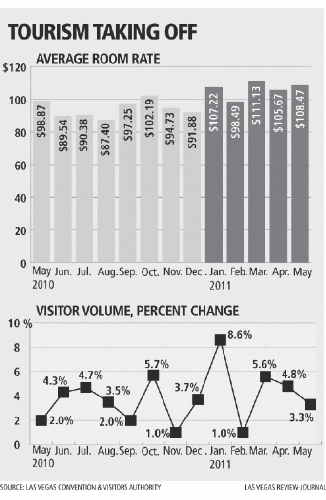 As the valley's visitor industry numbers continued to improve in May, an outsized boost has come a little noticed source.
The three key indicators of visitor counts, hotel occupancy and nightly rates — tracked by the Las Vegas Convention and Visitors Authority — all rose last month compared with a year earlier. The number of people coming to town rose 3.3 percent, to 3.37 million, coming on the strength of tourism as the number of conventioneers remained flat.
With the inventory of hotel rooms down slightly, the overall occupancy rate increased 3.5 percentage points to 86.1 percent. And the average nightly rate went up 9.7 percent $108.47.
What stood out among the lodging category numbers were motels operating in the shadows of the giant Strip resorts. They saw occupancy surge 14.2 points compared with 2.3 points for hotels. For the year to date, the disparity was similar at 8.9 points and 3.6 points, respectively.
Motels, generally owned by chains and having only 100 or 200 rooms each, took a particular beating during the recession due to a phenomenon termed compression. As thousands of new Strip rooms came on line simultaneous with sagging demand, the owners filled them through heavy discounting. This stung the motels, said Kevin Bagger, the authority's senior director of marketing, by narrowing the price difference that had made them popular alternatives to the Strip.
"A lot of people did get hurt really bad," said Chris Allen, the general manager of the La Quinta Inn and Suites at Red Rock Summerlin.
From 2007 to 2009, hotel occupancy sank 8.7 points as motels absorbed a 14.4 point hit, authority data show.
The La Quinta also suffered because a sizable portion of its business came from the U.S. Department of Energy office in Summerlin, which dried up along with the Yucca Mountain nuclear waste repository.
By reorienting the marketing, Allen said, his La Quinta has boosted occupancy and rates.
"We are seeing a lot of relocation business in Summerlin and people coming out for the lower rates and proximity to Red Rock Canyon," he said.
For the valley as a whole, J.P. Morgan & Co. analyst Joe Greff wrote in a research report that events in May such as the Manny Pacquiao-Shane Mosley fight helped bring in visitors.
On the downside, the number of vehicles crossing the state line at Primm dropped 4.2 percent, even as gasoline prices in the critical Southern California market started to ebb.
For the first five months of 2011, the number of visitors rose 4.7 percent, leading to a 4.2 point gain in occupancy and 9.6 percent gain in average room rates.
Laughlin continued to struggle in May, as the visitor counts dropped 2.5 percent. Mesquite posted a 1.3 percent gain in visitors.
Contact reporter Tim O'Reiley at toreiley@reviewjournal.com or 702-387-5290.