Training program allows Grand Canyon Scenic pilots to move up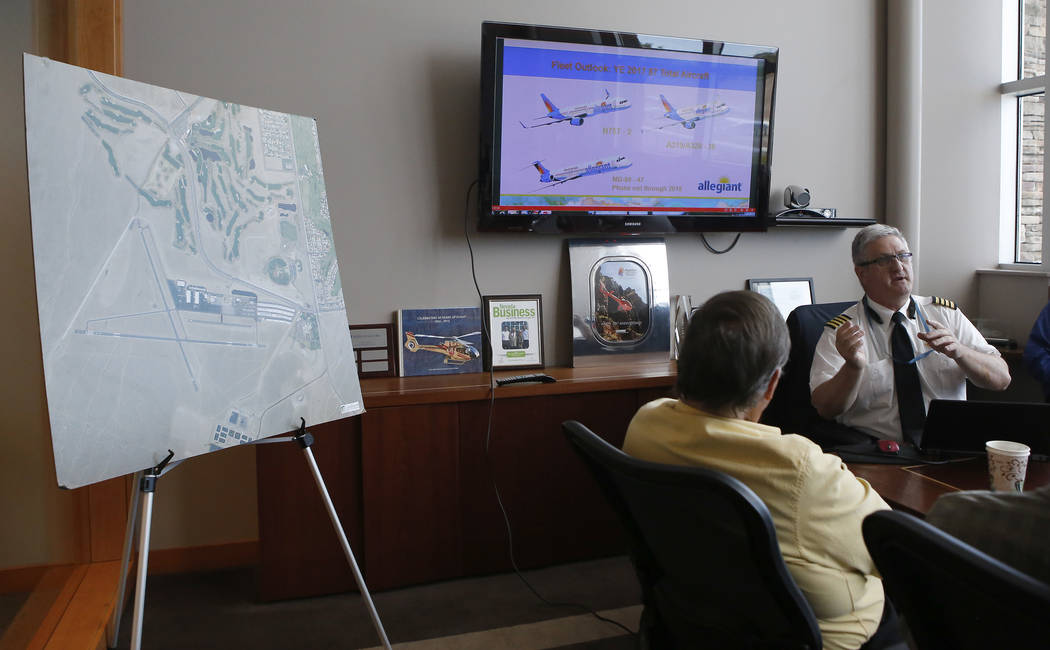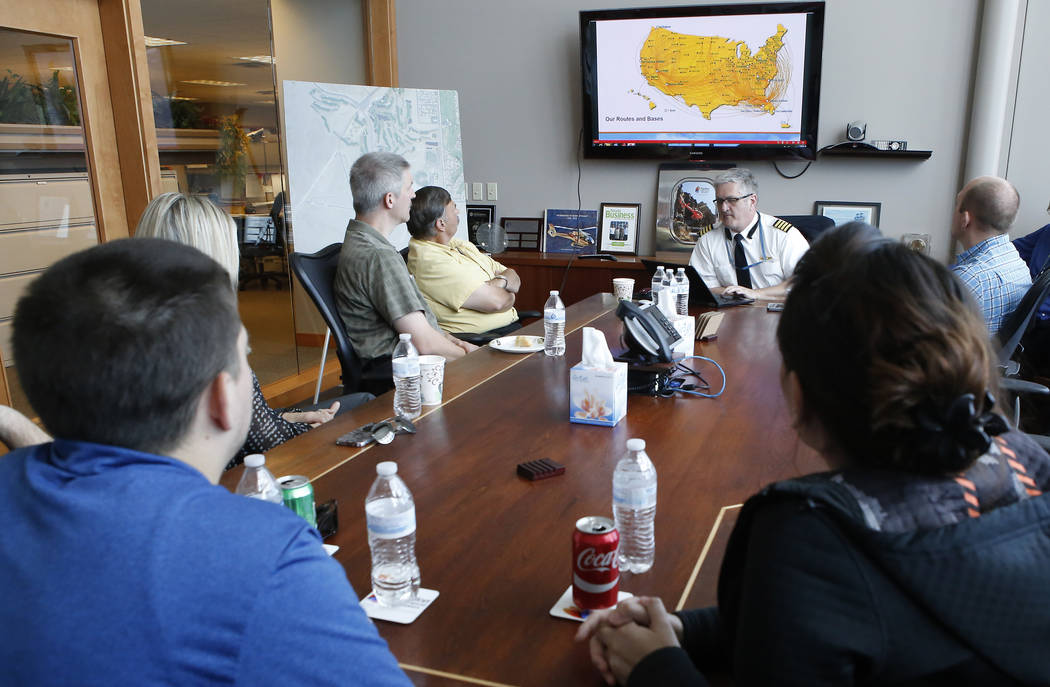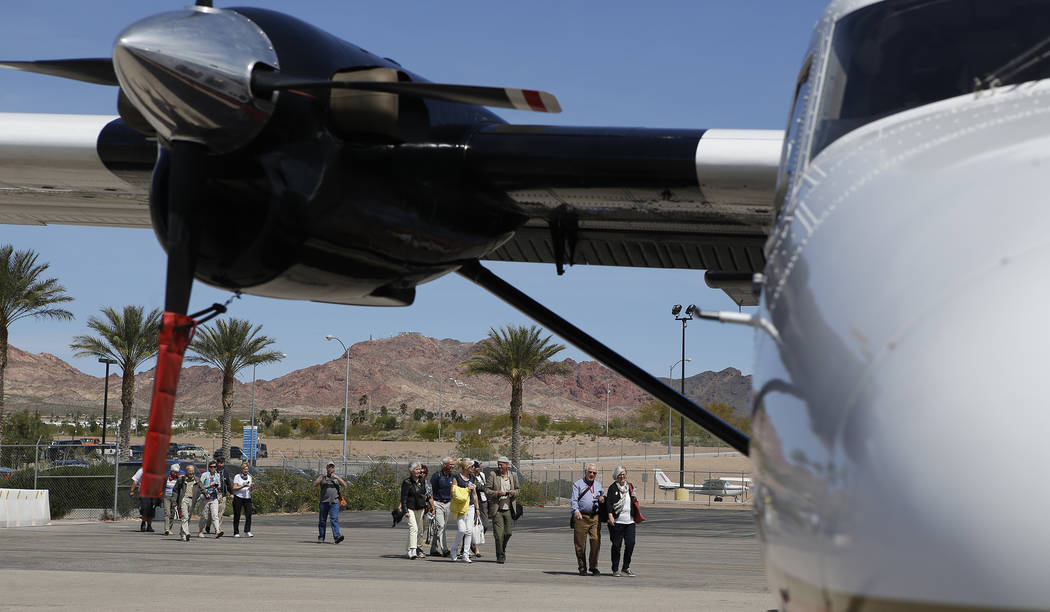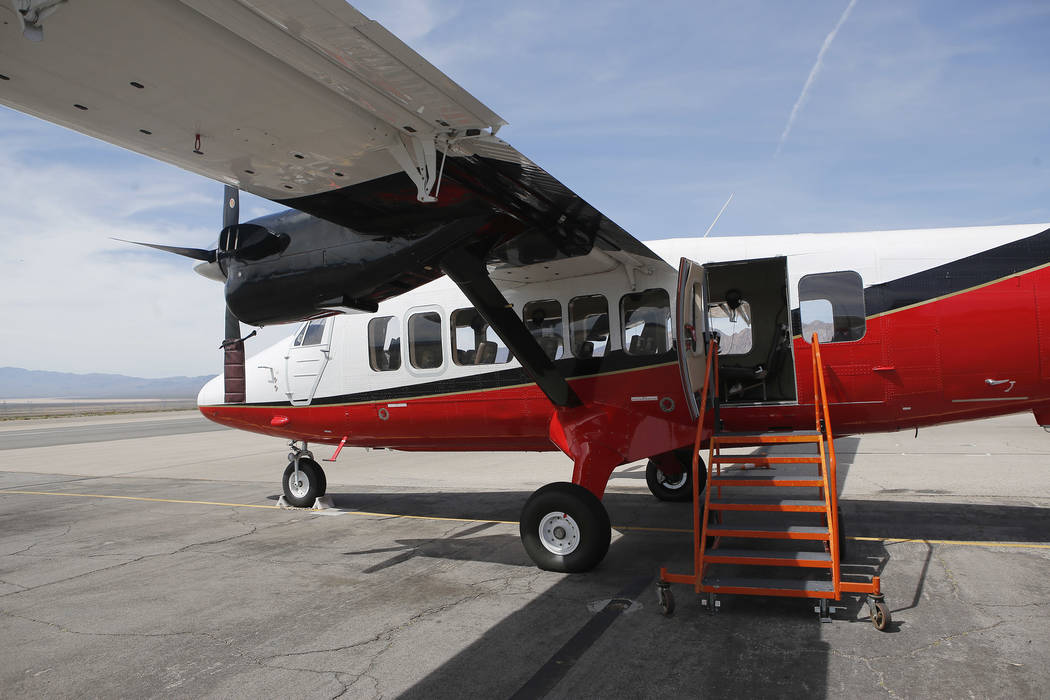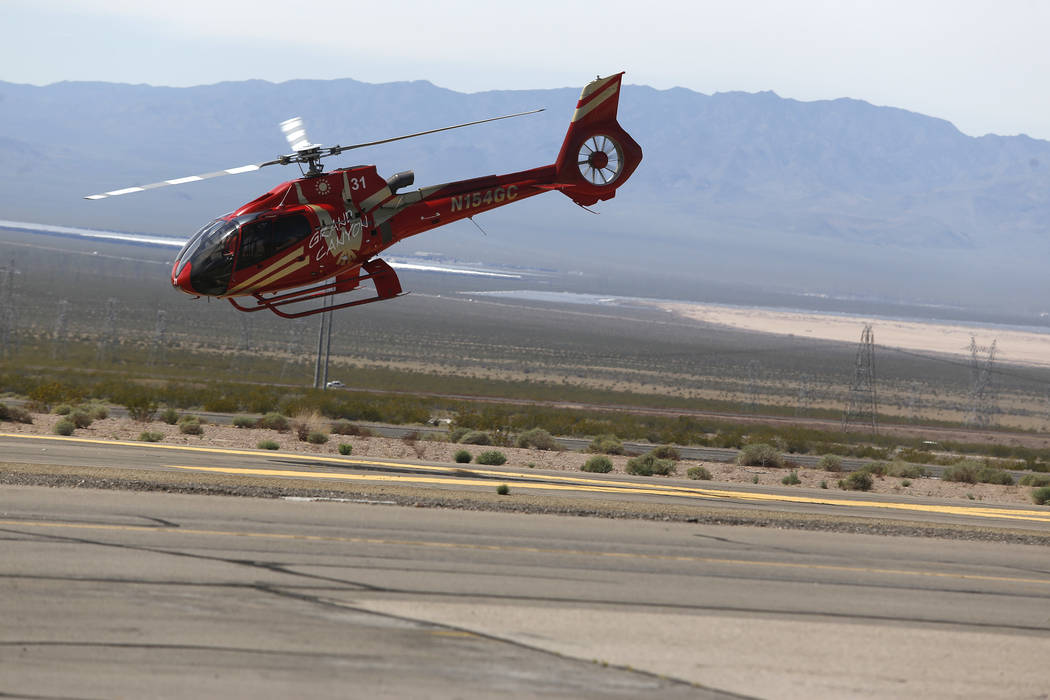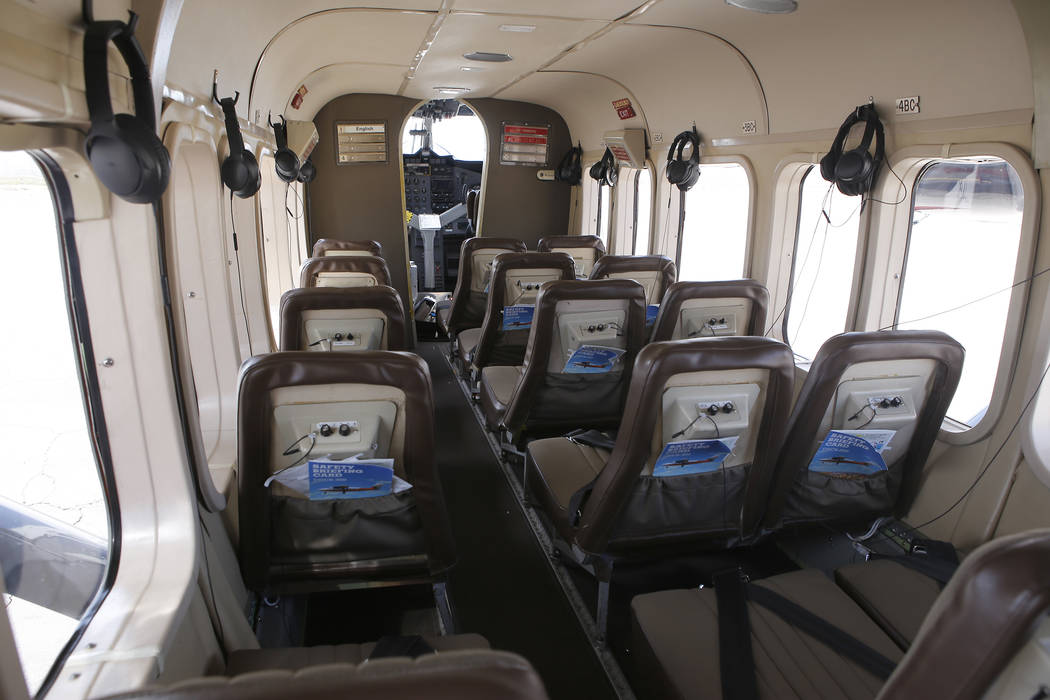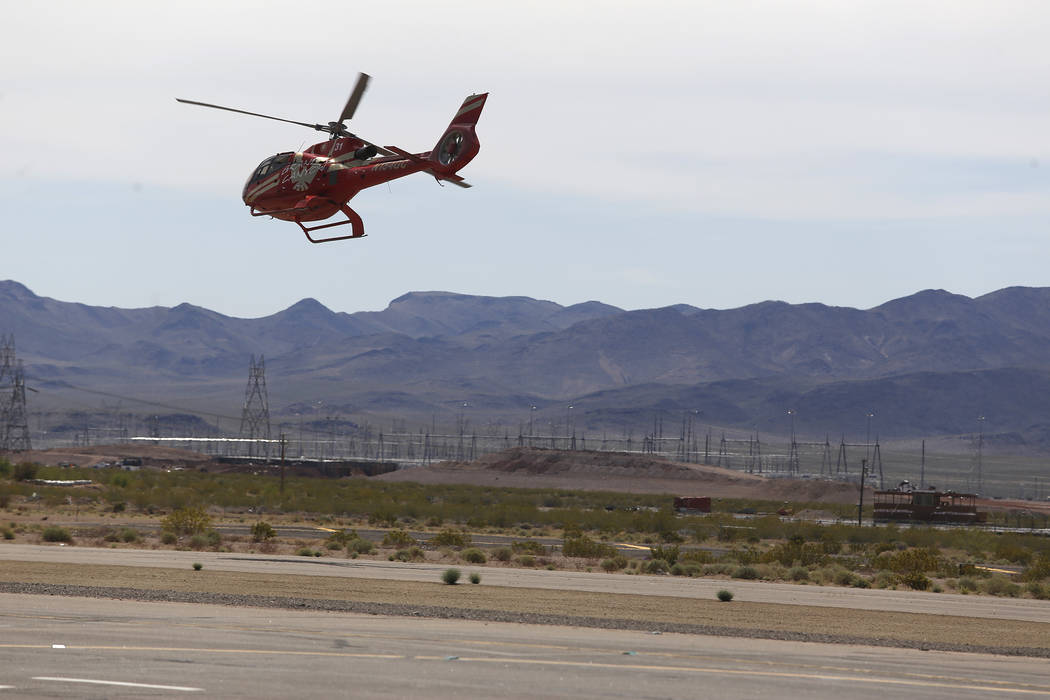 For people like Amanda Daniel, a program launched last year by Las Vegas-based Allegiant Air and Grand Canyon Scenic Airlines represents an opportunity to get on a fast track to becoming a jet pilot.
Daniel, 31, is part of a class of eight that just began ground school for Grand Canyon Scenic, the world's largest air-tour operator that flies tourists from Las Vegas over the Grand Canyon.
But she has bigger plans.
In a few years, she has ambitions to fly Allegiant Air's Airbus A319 jets to and from the carrier's 150 destinations.
Thanks to a pilot recruitment program that has begun bearing fruit, Grand Canyon Scenic pilots are able to get experience and flight hours on the airline's deHavilland Twin Otter and Cessna Caravan turboprop planes before moving up with both companies' blessing to Allegiant's jets.
New pilot class
Allegiant's chief pilots for the western and eastern regions, Ernie Nevin and Robert Butler, met with the new Grand Canyon Scenic pilot class at Boulder City Municipal Airport Wednesday and received an orientation to the pilot recruitment flow-through agreement.
"It gives us an opportunity to get to know them and for them to meet us and learn about our company and our plans," Nevin said.
It's a perfect scenario for Daniel, who worked on the ramp guiding planes at Missoula International Airport in Montana before discovering she wanted more and awakening her ambition to become a pilot.
After working as a flight attendant for Skywest Airlines, Daniel discovered she liked the desert Southwest and enrolled in pilot schools in Kingman, Arizona, and Laughlin. When she was hired by Grand Canyon Scenic, she moved to Henderson.
Nick DiBlasi, a Grand Canyon Scenic captain, is now in a position Daniel hopes to be in a couple of years. He pilots Twin Otters on sightseeing flights, building toward the 1,000 hours he needs to fly before getting into Allegiant's pilot classes and entering the airline's training program in Las Vegas.
Pilot shortage
One former Grand Canyon Scenic pilot has made it through the program and is working for Allegiant now with two more expected to make it through by July. But now, the pipeline is starting to fill, which will help Allegiant tackle a major operational problem — a worldwide pilot shortage.
With airlines growing, fleets expanding and thousands of pilots nearing retirement age, aviation analysts have projected a shortage of between 3,000 and 15,000 pilots over the next three to nine years.
Several legacy carriers have agreements with regional airlines to recruit pilots. Delta Air Lines, for example, has a relationship with one of its regional partners, Minneapolis-based Compass Airlines.
The Grand Canyon Scenic-Allegiant relationship is better than others because they're so close geographically and culturally.
"It's a perfect fit," said Dave McIntosh, chief pilot for Grand Canyon Scenic. "And with this program in place, there's an incentive to work harder to be a part of it."
The operational headquarters of the two airlines is about 30 miles apart and Allegiant officials welcomed the new hires at Grand Canyon Scenic to visit their training center where the company has simulators open 20 hours a day, advanced training systems and classrooms to learn A320 and McDonnell MD-80 aircraft.
Cultural fit
Culturally, both airlines serve the tourism industry so there's an added touch of care pilots are trained to deliver to their customers.
Allegiant's and Grand Canyon Scenic's flight scheduling is appealing to pilots because both of them offer routes allow crews to fly out and come home on the same day.
"In most of the bigger airlines, you have to take three- and four-day schedules and spend nights away from home in a hotel room," Nevin said. "With us, you go out and come back the same day unless there's weather or mechanical issues and that's very appealing to people who like to spend more time with their famil
The recruitment agreement enables Grand Canyon Scenic pilots to skip several steps in the traditional recruitment process — mostly interest interviews — that would not be needed if the prospective pilots get to know Allegiant's pilot managers.
Contact Richard N. Velotta at rvelotta@reviewjournal.com or 702-477-3893. Follow @RickVelotta on Twitter.
Pilot path
For Grand Canyon Scenic Airline pilots to move up to flying for Allegiant Air, there's a clear path:
— Ground school, training and check rides to fly as a first officer for Grand Canyon Scenic on the airline's twin-engine deHavilland Twin Otter turboprop aircraft
— Flight time as a first officer puts flyers in line to pilot single-engine Cessna Caravan turboprop
— After Caravan flight time, flyers pilot the Twin Otters
— After 1,000 hours piloting Twin Otters, flyers can move into training on Allegiant equipment where they will become first officers on jets