Travel association leader: Coronavirus no reason to discontinue travel within US
Updated February 5, 2020 - 12:22 pm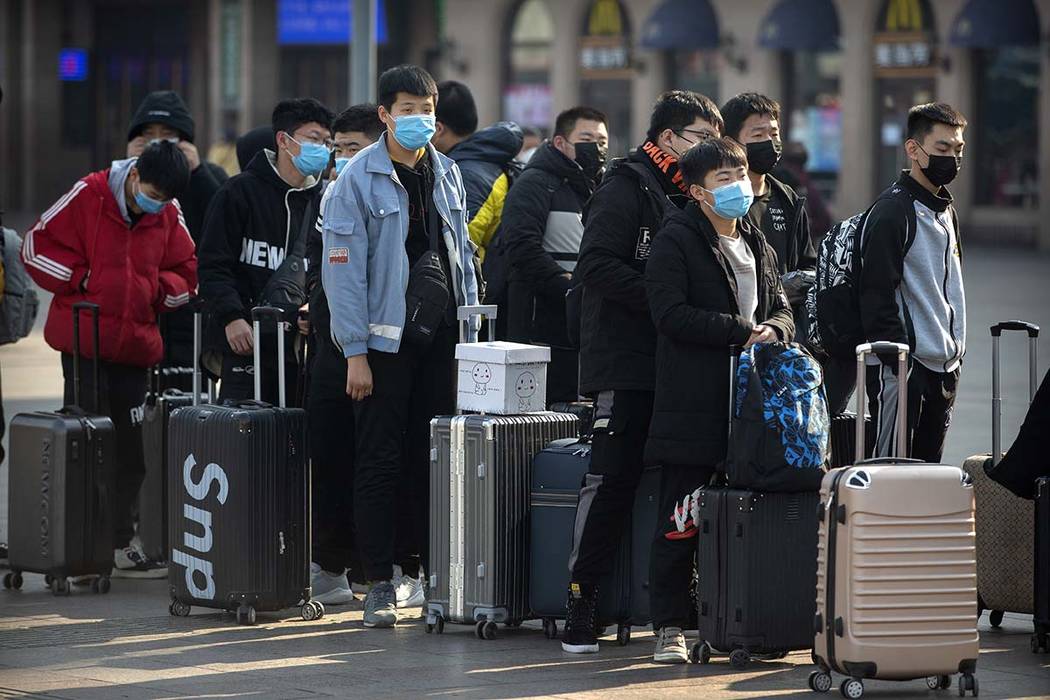 The head of the U.S. Travel Association says while the coronavirus outbreak continues in China, travel should continue within the United States.
Roger Dow, president and CEO of the U.S. Travel Association, prefaced his state of the travel industry address Wednesday with an update on the virus and said, "while visitation from China will be temporarily affected, all of the current expert advice indicates that business and leisure travel in the U.S. can and should continue as normal."
The travel industry is resilient, he said.
"Previous events tell us that travel is quick to rebound after health-related downturns," he said. "We'll continue monitoring and ensure our industry is informed at critical moments."
He said the association is urging travelers to heed guidance from American public health officials.
The advice of a leading Chinese travel company with offices in the United States asks visitors not to travel to China, especially since most of the major tourist attractions, including the Great Wall and the terracotta warrior sculptures at Shaanxi, are closed.
"It would be an unwise decision to travel to China for tourism these days given that the virus still hasn't been fully contained and the tourist hotspots are closed anyways," said Eric Wang, a travel expert at SublimeChina.com. "We would suggest tourists wait at least two to three months before booking a China tour or trip."
Several air carriers, foreign and U.S.-based, have discontinued flights to and from China. American Airlines has suspended flights until March 27, while United Airlines flights are suspended until March 28. Delta Air Lines flights are off through April 30, but Air Canada indicated it would resume flying Feb. 29.
Numerous closures have occurred throughout China, including Macao's 41 casinos, several owned by Las Vegas companies. Leaders in Hong Kong, less than an hour away from Macao, are trying to block access to and from China.
A 'tale of two decades'
Dow said the United States has experienced a "tale of two decades" since 2000 with losses in market share — a 31 percent drop — in the first 10 years and 10 years of recovery following.
He said the industry is hoping to launch more recovery in the new decade by promoting travel through trade, enhancing security to eliminate airport lines, spurring pro-travel commerce and promoting sustainability.
Dow said travel is America's top export and it should be treated that way.
"Our industry's export power has earned us a seat at the table during trade negotiations — and we intend to use it," he said. "We will take a leading role in helping U.S. officials secure more agreements with more countries that open more markets to the U.S."
To enhance security, Dow is advocating the broader use of biometrics.
"For years we have pursued the vision of friction-free travel. When it comes to air travel security that vision is within reach. Imagine arriving at an airport and walking straight to your seat on the plane. No winding through security lines. No pulling out IDs or showing tickets. No taking off shoes and belts or worrying about how many ounces of toothpaste you have. That's the promise of biometric identification," he said.
That can be achieved through programs like TSA PreCheck and Global Entry, both programs supported by the association. He also referenced the Oct. 1 deadline by which travelers must have a REAL ID in order to fly.
Hyperloop
In other travel technological advancements, Dow referenced a program underway in Nevada.
"Engineers at Virgin Hyperloop One are testing a mass transit system in the Nevada desert that could eventually move people at 600 mph," he said.
Dow also referenced self-driving vehicles that can be summoned on demand — a component of The Boring Company's proposed underground transit system.
"We're proud to do this work because we do it on behalf of an amazing industry, an industry that offers limitless possibilities that is driven by endless innovation, that delivers life-changing experiences and fulfills the aspirations of millions of American workers," he said.
"With the right policies in place, travel can continue to deliver these benefits, even as we expand travel's reach into new markets, deliver on the vision of seamless travel, unleash the future of mobility and lead responsibly."
Contact Richard N. Velotta at rvelotta@reviewjournal.com or 702-477-3893. Follow @RickVelotta on Twitter.
A previous version of this story and its headline incorrectly portrayed Roger Dow's remarks.