Travel to US expected to fall 6% amid coronavirus outbreak
Updated March 3, 2020 - 6:27 pm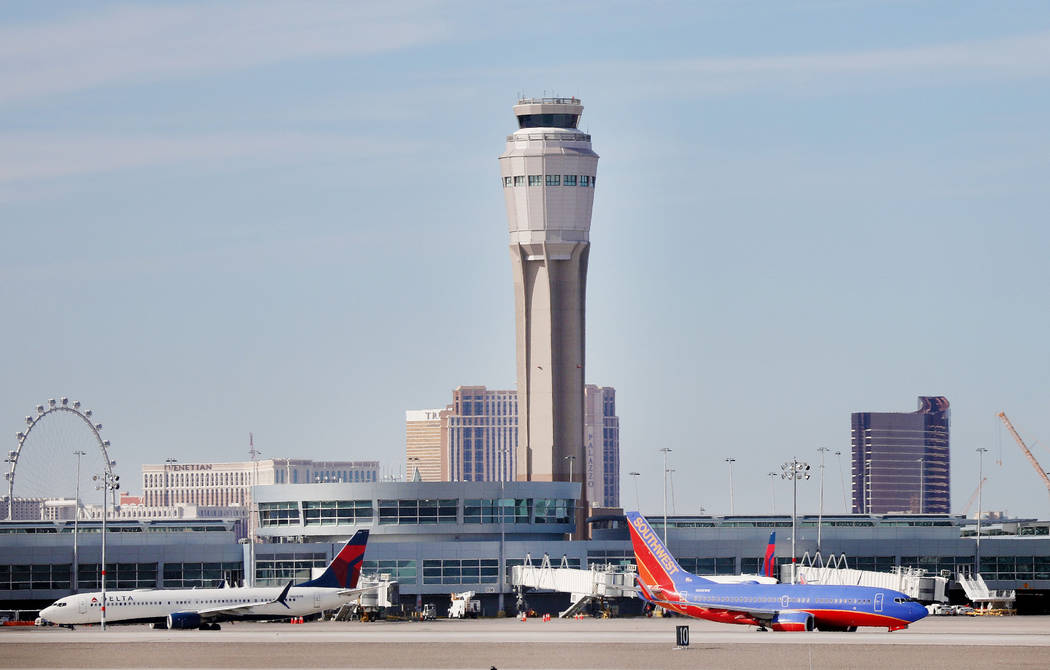 Inbound travel to the U.S. is expected to fall 6 percent over the next three months compared to the same period in 2019 amid the coronavirus outbreak, according to a Tuesday report from the U.S. Travel Association.
The expected 6 percent fall would be the largest decline in international inbound travel since the Great Recession.
The report captured data from January, when awareness of the virus began to ramp up in China — one of the biggest travel markets to both the U.S. and Las Vegas.
A dip in travel demand is set to impact Las Vegas' tourism market. One survey from investment company SunTrust Robinson Humphrey suggests some Strip properties' room rates are down 10 percent the week of March 13.
"There is a lot of uncertainty around coronavirus, and it is pretty clear that it is having an effect on travel demand—not just from China, and not just internationally, but for domestic business and leisure travel as well," said U.S. Travel President and CEO Roger Dow in a Tuesday press release.
Fewer flights to the U.S.
Nick Wyatt, of analytics company GlobalData, said the virus' impact on tourism business in the short term "will be damaging."
"Travel restrictions, flight suspensions and a general lack of confidence among would-be travelers means demand for travel is down," he said via email.
Lori Nelson-Kraft, a spokeswoman for the LVCVA, said the organization and its resort partners "continue to monitor" the virus and coordinate with health officials. Nevada Resort Association spokeswoman Dawn Christensen said the group is also monitoring the situation.
In 2018, there were more than 5.8 million international visitors in Las Vegas, according to the Las Vegas Convention and Visitors Authority. Nearly 237,000 — 4 percent — were from China, making the country the fifth largest market for international visitation to the city. Data for 2019 is not yet available.
Nancy McGehee, a hospitality and tourism management professor at Virginia Tech, said the absence of these lucrative tourists could lead to a major loss of revenue. Las Vegas visitors from China spent an average of $3,127 per trip in 2018, according to the LVCVA, compared with $819 per trip for the average visitor to Southern Nevada.
A January report from consulting firm Tourism Economics found the U.S. could lose 1.6 million visitors from mainland China from the coronavirus, resulting in a cumulative loss of more than $10 billion from Chinese visitor spending.
"This is not just a blip on the radar but a pretty deep hit from which it will take a while to recover," McGehee said in a Thursday statement.
Dow said it's important to keep in mind that travel restrictions and warnings are highly specific to countries that have pronounced outbreaks, and there is "absolutely no official guidance that people need to be reconsidering travel in the U.S."
As of Tuesday afternoon, there are more than 92,000 people worldwide that have been infected with the virus. 3,100 have died, including nine in the U.S. The majority of cases have been mild.
But Wyatt added that he doesn't think people are overreacting by choosing to cut back on travel.
"It's a naturally cautious reaction to what remains a relative known," he said. "With no cure or vaccine the only real option is to try to control the spread, and people are taking their lead from government advice."
Room rates down
SunTrust Robinson Humphrey published a report Sunday that found near-term Strip room rates have dropped, despite strong gross gaming revenue in the beginning of the first quarter.
Researchers looked at MGM Resort International's room rates as a proxy for the broader Las Vegas Strip market, and found room rates are down 10 percent the week of March 13, 4 percent the week of March 20, 13 percent the week of March 27 and 3 percent the week of April 3.
Bookings beyond that point remained largely unchanged.
SunTrust analyst Barry Jonas said other Strip properties have likely also dropped room rates as Las Vegas conferences begin to pull the plug on plans, resulting in the loss of thousands of visitors in Las Vegas.
Spokespeople for MGM, Red Rock Resorts and Boyd Gaming Corp. declined to comment. Las Vegas Sands Corp. spokesman Ron Reese did not respond to a request for comment.
Wynn spokesman Michael Weaver referred to comments Wynn CEO Matt Maddox made in the company's earnings call on Feb. 6, in which Maddox said the company feels "like things are fairly well contained, and we're just watching it very carefully."
Caesars Entertainment Corp. spokesman Richard Broome said the company has not changed room rates.
Wyatt said Strip operators may be dropping room rates in a bid to attract more guests, a sign occupancy rates could be faltering.
"This eats into profits, not just because of room rates, but also because there are fewer guests spending on food, drinks and other services," he said. "And a fall in occupancy could very well translate into a fall in gambling revenues."
Jonas said the room rate degradation at this point is "manageable," and expects a strong recovery.
"It's the question of, how much worse does it get?" he said. "We'll see how it evolves from here."
Shares for Las Vegas-based casino operators continued to fall Tuesday.
MGM shares closed down 7 percent to $23.30. Red Rock shares closed down 6.5 percent to $18.94. Boyd Gaming shares closed down 5.7 percent to $24.73. Caesars shares closed down 3.5 percent to $11.97. Wynn shares closed down 5.1 percent to $102.44. Sands shares closed down 4.1 percent to $55.90.
The Review-Journal is owned by the family of Las Vegas Sands Corp. Chairman and CEO Sheldon Adelson. Las Vegas Sands Corp. operates The Venetian.
Contact Bailey Schulz at bschulz@reviewjournal.com or 702-383-0233. Follow @bailey_schulz on Twitter.