Unseasonable spring winds blow Southwest off schedule course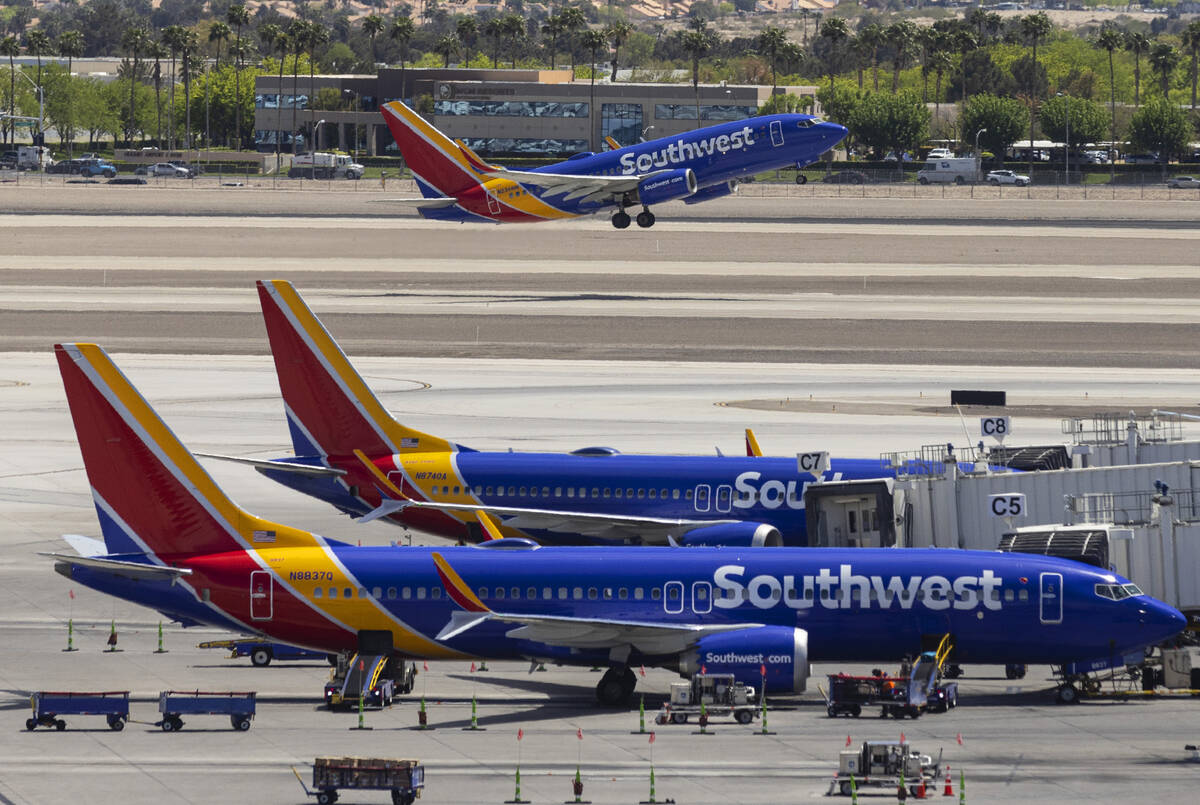 Unusual wind patterns are contributing to flight cancellations and delays for Southwest Airlines and other carriers at Harry Reid International Airport.
Southwest executives, responding to a question during its first-quarter earnings call Thursday, said the airline is making adjustments to its schedule on some flights to minimize the chance of late departures and arrivals.
Chief Operating Officer Andrew Watterson explained that a pair of parallel north-south runways at the airport are undergoing maintenance work, which has resulted in reduced capacity on days when unusual northerly winds blow.
"When we're in a north and south flow, it reduces capacity," Watterson said.
He said about 20 percent of the time, wind direction prevents airliners from using Runways 1L/19R and 1R/19L, runways that roughly run parallel to Las Vegas Boulevard. And when one of those runways are out of commission for maintenance, it affects schedules even more.
"In the last few days, there has been a spike in cancellations from the industry and ourselves, and delays in Las Vegas are a drag on our schedules," he said. "It caught the industry off guard and we've had to make some adjustments. We've made some (schedule) adjustments by changing our connect times and crew bids to lower (the delays) and we've changed the setup of our spares (aircraft)."
Watterson said the changes are short term and the airline has been working with the Federal Aviation Administration and Air Traffic Control to make operations smoother.
Reid International spokesman Joe Rajchel said in an email Thursday that the $15 million maintenance project, paid for with federal grant funds, would likely affect operations through summer.
"Runway 1L/19R is currently in the midst of a planned, two-month closure to perform routine maintenance," he said. "Once this is completed, we will be closing the 1R/19L runway for approximately six weeks for similar work."
Rajchel said any delays that are being experienced are the result of a combination of the maintenance work and unseasonable weather.
"We scheduled this work for this time of year because the weather historically would have us in a favorable runway configuration for takeoffs and landings," he said. "Spring and summer wind patterns generally mean the north-south runways see less air traffic during these months. However, the atypical wind patterns we have been experiencing has led to the need for a less favorable configuration and the occasional temporary reduction rate of arrivals per hour."
Officials with Southwest, which suffered its second consecutive quarterly net loss as a result of December's network meltdown, said the technological problems that led to an estimated 16,700 flight cancellations, many of them affecting Las Vegas passengers, was behind them.
Southwest CEO Bob Jordan said customers have returned and that bookings for summer travel are looking bright.
The Dallas-based airline, the busiest commercial air carrier at Reid Airport, reported a net loss of $159 million, 27 cents a share, on record first-quarter revenue of $5.7 billion for the quarter that ended Dec. 31. That compared with a loss of $278 million, 47 cents a share, on revenue of $4.7 billion a year earlier.
Southwest also affirmed that the customer experience would improve on the airline in the months ahead with new Boeing 737 MAX 8 twin-engine jets being delivered having larger overhead bins, increased WiFi bandwidth and in-seat power ports to charge onboard electronics, including phones, tablets and laptops.
Chief Financial Officer Tami Romo said Southwest would be taking delivery of 137 MAX 7 and MAX 8 jets in 2023, a reduction from the airline's order book because of Boeing's supply chain issues. It will retire 26 Boeing 737-700 jets this year.
Because of the delivery delays, Southwest has backed off on hiring the number of pilots it had expected to employ.
Southwest shares, traded on the New York Stock Exchange, were down $1.02, 3.3 percent, to $29.88 a share Thursday on volume more than three times the daily average.
Contact Richard N. Velotta at rvelotta@reviewjournal.com or 702-477-3893. Follow @RickVelotta on Twitter.
Southwest Airlines
First-quarter revenue and earnings for Dallas-based Southwest Airlines Co., the busiest commercial air carrier at Harry Reid International Airport. (NYSE: LUV)
Revenue
1Q 2023: $5.71 billion
1Q 2022: $4.69 billion
Change: +21.6%
Net income/(loss)
1Q 2023: ($159 million)
1Q 2022: ($278 million)
Earnings/(Loss) per share
1Q 2023: ($0.27)
1Q 2022: ($0.47)