Valley taxi fares set to increase, special event surcharge being developed
Updated June 7, 2023 - 5:46 pm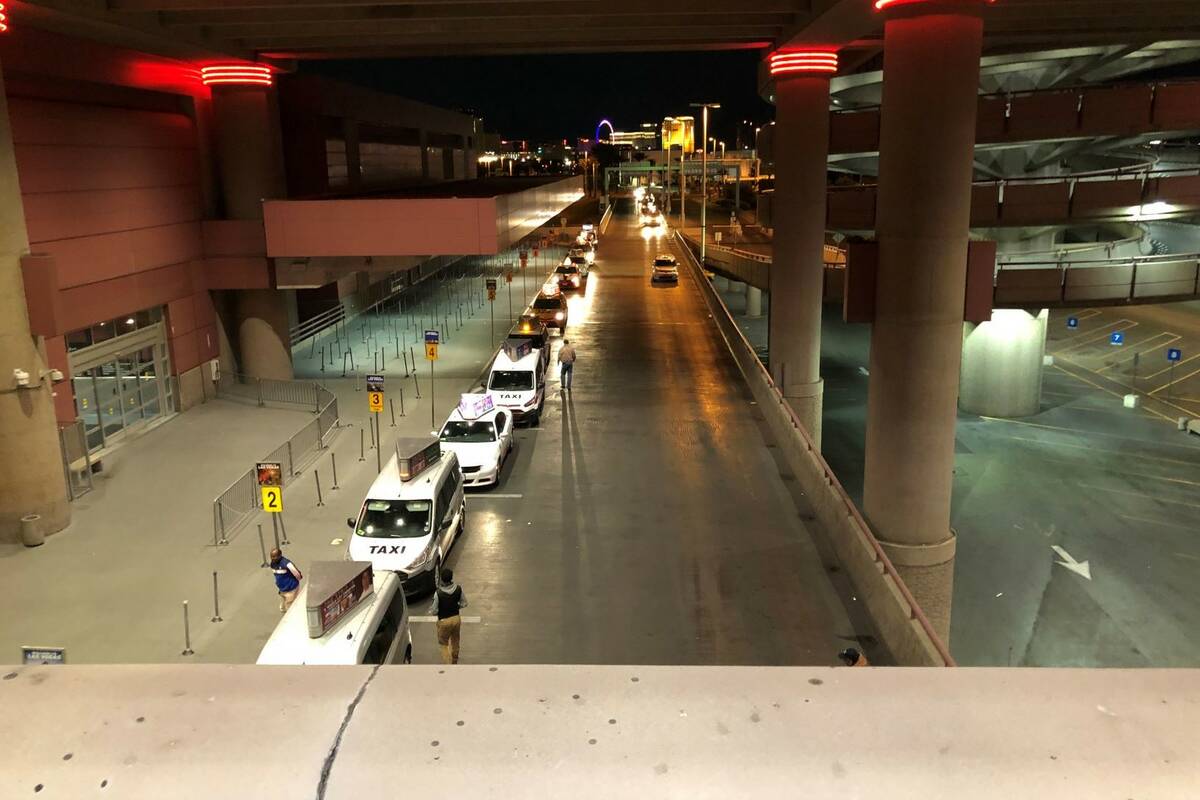 Those hailing rides via taxicabs in the Las Vegas Valley will soon be paying more, as heightened rates are set to be implemented and the addition of a special event surcharge is under consideration.
The drop rate, or the fee that is charged once a rider's trip begins, will jump from $3.50 to $5.25. After that, an additional 37 cents will be tacked onto the fare for every 1/8th mile traveled, up from the current 23 cents per every 1/12th mile. The fee for having a cab wait for you at a location will remain $32.40 per hour.
Fees tied to the zoned flat rate program that the Taxicab Authority introduced in 2019 between Harry Reid International Airport and the Strip to prevent potential long hauling also will increase:
■ Zone 1: Sunset Road north to Tropicana Avenue will jump from $19 to $21.
■ Zone 2: Tropicana north to Flamingo Road will increase from $23 to $25.
■ Zone 3: Flamingo north to the Strat will go from $27 to $29.
The new fare structure was approved at Monday's meeting of the Taxicab Authority.
"When you look at the overall increase, it's really just to keep pace with inflation," said Johnathan Schwartz, director of YCS and Newcab. "We increased the drop more than the other rates that are aggregated to create an overall fee so that the drivers would be more motivated to take shorter trips so that residents would be affected less."
Timing for implementation unclear
Exactly when the new fares will be implemented should be finalized by the board in the coming days, Taxicab Authority spokeswoman Teri Williams said in an email.
When finalized, the order will consider the time needed for the taxi industry to update meters and rate cards and allow for the Taxicab Authority staff to inspect the meters after the updates are completed, Williams said.
The taxi industry also is looking to add a surcharge similar to the surge pricing that riders deal with when booking rides on ride hailing services such as Uber and Lyft, a move that could help entice drivers with higher pay.
"When Uber and Lyft started implementing surge rates at times that are unpopular to get drivers to get in cars and actually transport people, it motivated drivers, and we've learned a lesson from that," Schwartz said.
Plan under development
The added fees would be used to pay drivers more when there is heavy traffic or odd hours tied to special events that occur in the valley, Schwartz noted.
"You've got to pay people efficiently to motivate them to work," Schwartz said. "If you don't, they are not going to do it."
Taxicab company executives are working to develop a plan that probably will be venue- or event-based and that will see special event fees added to trips when large happenings are occurring, such as when Electric Daisy Carnival is taking place at Las Vegas Motor Speedway or a Raiders game is at Allegiant Stadium.
"There are certain times of day, certain events, where it's so busy that just the standard meter rate doesn't motivate a driver or pay them enough to go out and do it," Schwartz said. "If they're going to deadhead all the way to the speedway at 5 or 6 in the morning, when an event lets out, one fare under the meter isn't enough to get them out of bed at 4:30 in the morning and do that trip."
Taxicab Authority Administrator Karl Armstrong will work with taxicab executives in the coming weeks to develop the special event surcharge proposal. After a plan is ready, it will be brought before the board.
"There's going to be a series of meetings about this," Schwartz said. "I would expect in the next 90 days you will see some movement on this and some more discussion at Taxicab Authority meetings about it. There's a definitely basis of support from the industry from the regulators, from divers to get something done so we can transport the public."
Contact Mick Akers at makers@reviewjournal.com or 702-387-2920. Follow @mickakers on Twitter.