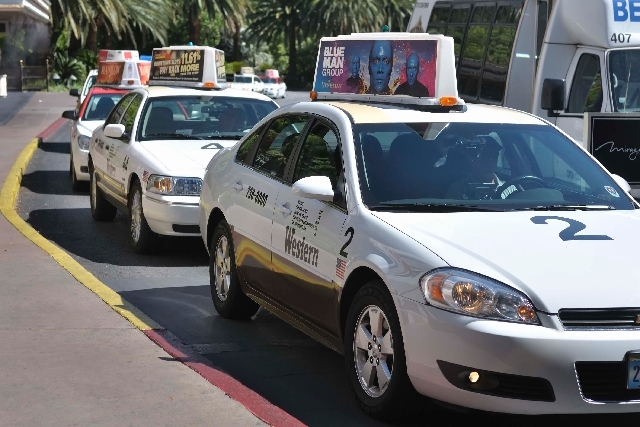 A bill making its way through the Legislature to pave the way for a new generation of taxi tracking technology has split the local industry.
By a 14-1 vote, the Assembly Ways and Means Committee on Thursday approved SB430, which sets an Oct. 1 deadline for the Nevada Taxicab Authority to start the process of purchasing a new system and spells out performance standards. The measure has already been approved by the state Senate.
The bill has been pushed by Frias Transportation Infrastructure, which has developed software and some of the hardware for what it calls its RideIntegrity system, designed to let regulatory bodies track and record cab movements in real time.
Frias, an affiliate of Frias Transportation Management, Las Vegas' largest cab company with five brands, has promoted the system as a way to update the current practice of having drivers fill out paper trip sheets and turn them in after their shifts. In addition, they tout features designed to curtail the long hauling of passengers between McCarran International Airport and Strip resorts.
But No. 2 cab company Yellow Checker Star Transportation has opposed RideIntegrity since it went to the taxicab authority's board in January. The board approved a limited test. The bill, according to Yellow Checker Star director Jonathan Schwartz, amplifies the drawbacks of RideIntegrity.
The performance standards included in SB430, proposed by Frias, will skew future bidding in its favor, Schwartz said.
"For the Legislature to basically dump this contract into the lap of one company is scary," he said.
In addition, he said, language ordering the taxicab authority to "commence the process" of implementing a tracking system by Oct. 1 is vague and short-circuits proper testing in Las Vegas' sometimes harsh conditions.
He obtained backing from five other cab companies in opposing the bill, with several filing written objections.
But Mark James, president of Frias, contends the bill merely includes "minimum requirements for a system but does not specify any technology." The detailed standards in bid documents would still be written by the state's Enterprise IT Services Division and the authority, as is standard practice.
Had this been aimed at giving Frias the inside track, he said, the standards would have mandated a certain type of onboard module for the cabs, which James said comprises the heart of RideIntegrity.
Frias also lined up allies in support of the bill. Brent Bill, the president of Whittlesea Blue Cab and Henderson Taxi, endorsed SB430 as a way to bring a new technology that would "stop illegal long hauling, unauthorized medallion use and ensure proper oversight of the industry."
But opponents argue that long hauling could be reined in through much cheaper and simpler methods, such as posting signs at McCarran showing estimated fares to the Strip.
The funding mechanism for a new technology will be left up to the taxicab authority. A previous version of the bill included a maximum 22 cents per taxi ride surcharge, which drew criticism that it could raise as much as $6 million a year. By contrast, the authority's entire budget runs about $5.5 million.
Contact reporter Tim O'Reiley at
toreiley@reviewjournal.com or 702-387-5290.