Veteran bull Bushwacker retiring after PBR World Finals
October 20, 2014 - 5:00 pm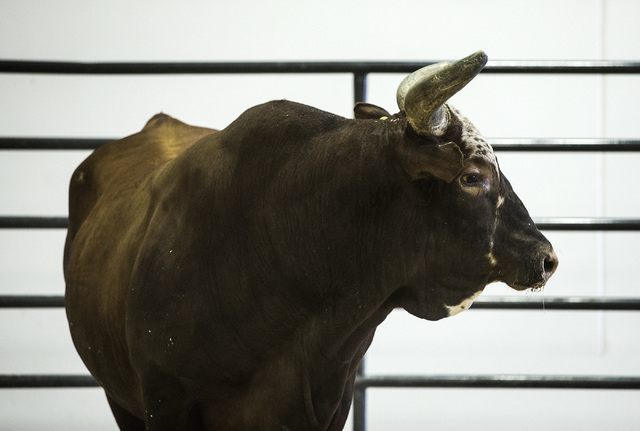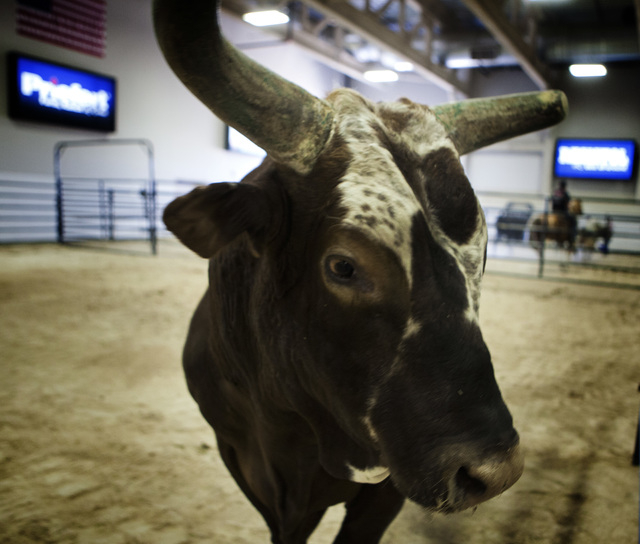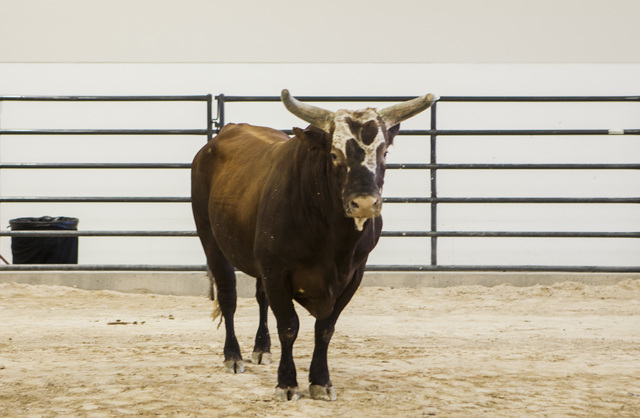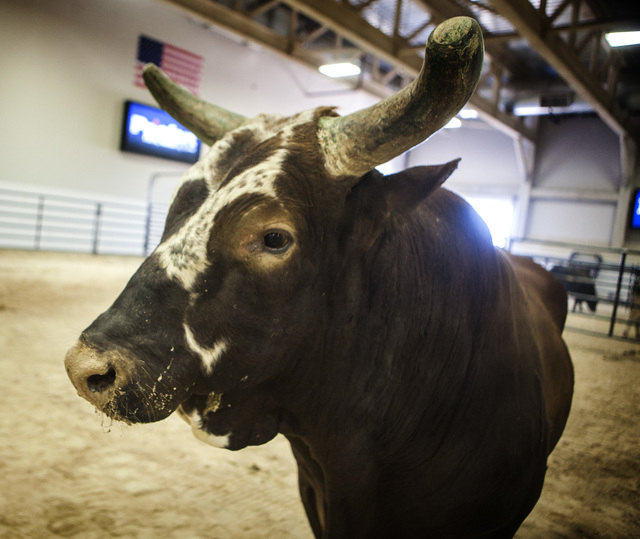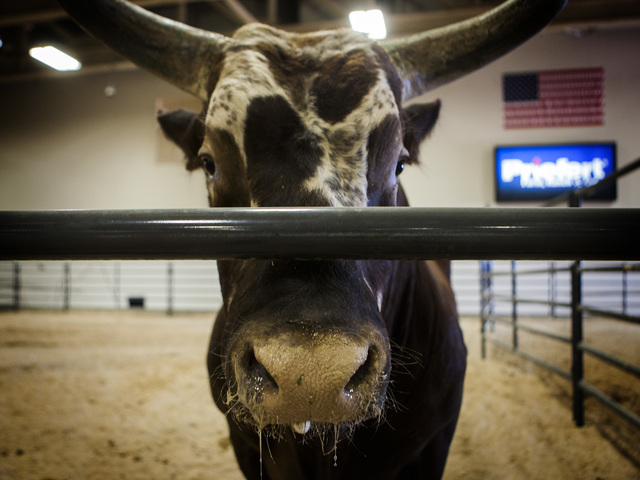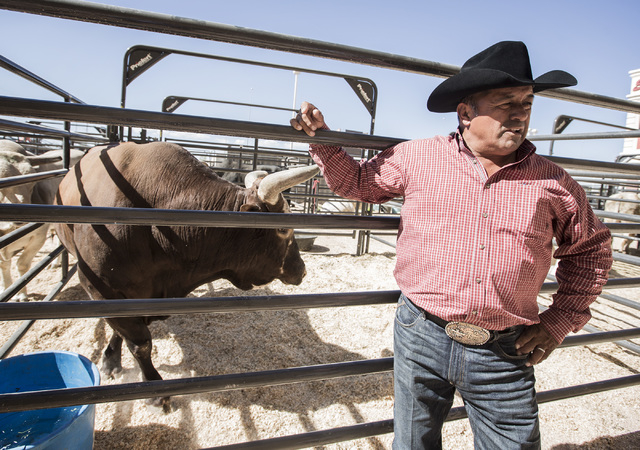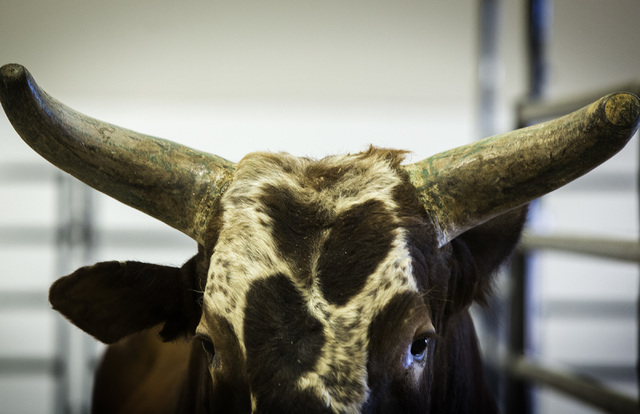 M ore tickets are sold. TV ratings are up. And he's on T-shirts and coffee mugs, appeared in ESPN The Magazine Body Issue and has his own action figure and Fathead.
Bushwacker, the baddest, most muscular bucking bull in the bull-riding sport, has meant big dollars to his owner, Julio Moreno, and the Professional Bull Riders Inc.
Eight-year-old Bushwacker, 1,750 pounds of brawn and athleticism, is retiring this year, and this week's 2014 World Finals at the Thomas &Mack Center is the bull's swan song.
"He's opened doors for the bulls," Moreno said Monday morning as he watched his prized bovine relax in an indoor ring at South Point's Priefert Pavilion. "PBR has put him out there, and they're marketing him good … He's a fan favorite. He's more of a favorite than the cowboys. He's put PBR on the map."
Moreno places Bushwacker's value at $2 million and said he turned down an $800,000 offer a few years ago.
Ticket sales are expected to jump 10 percent at the World Finals because of Bushwacker's last appearance on the bull-riding circuit, said Jim Haworth, chairman and CEO of Pueblo, Colo.-based Professional Bull Riders.
"Bushwacker has been a rock star and has given us an opportunity to sell merchandise and tickets," Haworth said. "He's been on every national TV broadcast."
Haworth noted TV ratings of PBR events with Bushwacker as the drawing card are up 20 percent this year and that T-shirt sales have increased 40 percent thanks to the star bull.
"He's probably the most popular athlete we've had in the PBR," said Flint Rasmussen, a veteran PBR entertainer. "We introduce him as a celebrity and people stand up and go crazy."
Added Rasmussen's friend, Shorty Gorham, a PBR bullfighter: "I know people who ordinarily wouldn't go to a bull riding event buy a ticket because it's Bushwacker's final year."
Just because Bushwacker is retiring at the World Finals and drawing Derek Jeter-like treatment at his final appearances, it doesn't mean the powerful bull won't be earning his keep when he soaks up life in the pastures of Moreno's ranch in Oakdale, Calif.
Bushwacker's semen will be likely worth $5,000 per unit as his job morphs from arena performer to calf maker, Moreno said.
"He'll have 21 girlfriends and all the pastures, hay and grain he wants," Moreno said.
Moreno said Bushwacker is at the peak of his athleticism and could perform for another three to four years. Bushwacker is in such good health that Moreno said he could live until 15 or 16 — or even longer — because of retirement at age 8.
Bushwacker makes money for Moreno in other ways, too. Moreno expects a Bushwacker calf to sell for $50,000 to $100,000 on Saturday and his nieces and nephews to sell for about $40,000 each.
That's not counting the $600,000 in earnings Bushwacker has piled up since he began bucking cowboys as a 2-year-old, Moreno said, adding he has a $100,000 insurance policy on the bull.
Bushwacker is drawing special treatment and protection at South Point, where two security guards and 24/7 video surveillance watch over the superstar bull. He hangs out in his 12-by-12-foot outdoor pen next to his half-siblings, Mr. Bull and Roy.
Bushwacker is among more than 400 PBR bulls being housed at South Point. They are transferred via trailer to Thomas &Mack for the nightly competition.
Bushwacker makes his first appearance this week at Thomas &Mack on Thursday, and his finale is Sunday.
"When he was 3 years old, I knew he had what it took," Moreno said. "He did whatever it took to get that cowboy off his back."
Contact reporter Alan Snel at asnel@reviewjournal.com or 702-387-5273. Find him on Twitter: @BicycleManSnel