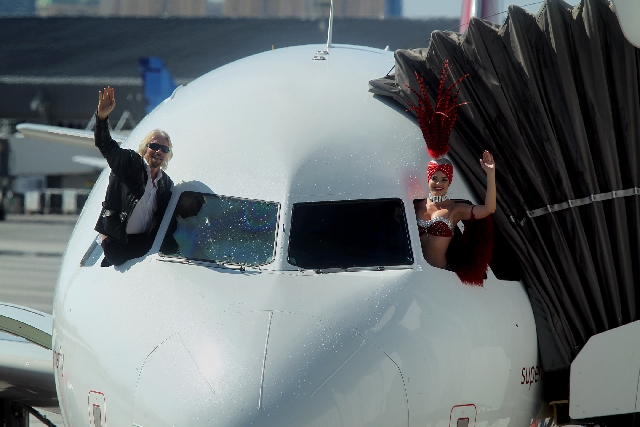 By the calculation of Virgin America CEO David Cush, it takes about three hours to fly from San Francisco to Las Vegas when you include ground time.
"We think most people are willing to pay an extra $10 or $20 to have a pleasant three hours rather than a miserable three hours," he said over the disco music played at the inaugural ceremony on April 22 for its new service to Los Angeles.
This synopsis of the overall strategy sounds pretty humdrum. A wide range of consumer sectors, hotels, for example, have companies that prosper on the idea that a segment of the market will gladly fork over a premium price for a premium product or service.
But airlines have long operated in their own orbit. After becoming synonymous with staggering losses and bankruptcies, the industry has hit a profitable stride in the past couple of years by seeing how much punishment passengers will absorb to save money.
True, those high enough on the upgrade list with a large enough expense account to snag one of the cushy seats in front of an airliner curtain have seen the perk menu increase and attempts at better food and drink selections.
Delta, American and United all have either started flying or announced plans to put into service planes with first-call seats that recline completely flat on routes from New York to Los Angeles, San Francisco and Seattle.
But most passengers have seen the loss of free meals, checked baggage, blankets and pillows, tighter legroom and more crowded cabins.
Unexpected luxury has been redefined as an empty middle seat and boarding early enough to find empty overhead bin space within three rows of where you are sitting.
Virgin America, launched in August 2007 with the characteristic flair of Richard Branson, has tried a different flight plan patterned after corporate cousin Virgin Atlantic. Branson's Virgin Group is a major shareholder in both.
Virgin America cabins come with mood lighting instead of the standard white lights that get dimmed after takeoff, a self-serve water bottle compartment, electric plugs at every seat for people with portable electronics and TVs at every seat with handheld controls that can also be used to buy drinks or food or text people in other seats.
As a result, Virgin America has finished on top of a number of surveys, such as Conde Nast Traveler's best domestic airline for five years running.
"Virgin America is the best airline in the states. It has won all the awards," Branson said. "It's like the best hotels in Vegas. The really classy ones are always full. If you throw Virgin up against most of the big airlines, we win hands down."
Not financially. From 2008 through the third quarter of 2012, Virgin America has piled up $458.5 million in losses, including $120.4 million in the third quarter last year, the most recent number available.
Branson and Cush attribute that to rapidly expanding the network since the launch that will include 23 airports when Anchorage, Alaska, comes on online in June. At that point, the growth will slow for the foreseeable future.
Branson said Virgin America operated profitable during the first quarter this year and is projected to do so for the balance of 2013. He said it would rank in the top half of the industry in measures such as operating margin.
This comes with maturity; Cush said it takes about 18 months for a route to carry its financial weight, with a large part of the system now nearing or past that point.
Maturity, as much as it may help the airline's profits, could prove a drawback for McCarran International Airport and the Las Vegas visitor industry.
In general, the airlines that have long led the market, such as Southwest, US Airways, Delta and United, are either barely growing or have scaled back. Some of the upstarts, such as Spirit, Allegiant, Alaska and Virgin America have added flights to fill the gap and kept McCarran's overall passenger count about level.
Virgin America's 26 percent gain in McCarran passengers last year was the second-highest growth rate among domestic carriers after Spirit. From 379,000 passengers in its first full year in 2008, the airline has expanded its local footprint to 646,000 last year.
Still, Cush said they eventually hope to boost the frequencies in the crowded LAX market, by far the busiest destination from Las Vegas, to about six a day from the current three.
Survey ranks World's airports
Like to travel through nice airports? Bring your passport.
The annual passenger survey by London-based Skytrax Research gave the highest U.S. ranking to Cincinnati/Northern Kentucky International airport at No. 30.
Other domestic airports included Denver, San Francisco, Dallas/Fort Worth, Seattle-Tacoma, JFK in New York, Minneapolis, Houston-Bush Interncontinental, Newark Liberty, Salt Lake City and Pittsburgh.
McCarran didn't crack the top 100, although it was not clear how much of the survey was conducted after the new Terminal 3 opened in late June.
The best was Singapore Changi Airport, which has invested heavily in trying to be the world's nicest place to change planes. Beside the usual amenities, its managers have included a gym and outdoor spa, a tropical garden with a koi pond, free theater and an outdoor garden.