Tracky debuts, tech scene shines
March 28, 2012 - 11:01 pm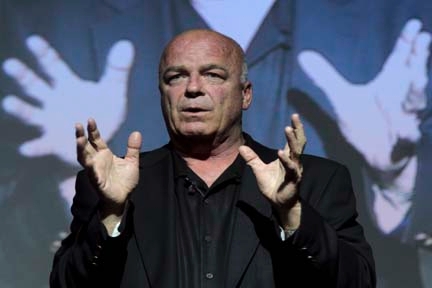 The world's most powerful data center on Tuesday hosted the debut of a small Las Vegas startup company.
It seemed incongruous, like a book club meeting on a science fiction starship, but there was a reason for the big to-do: Switch Communications' high-security SuperNAP facility stores data for Tracky, an online social collaboration platform that became available to the public on Wednesday.
"For a small tech company in a small tech town, Las Vegas, to be in front of the world is an amazing opportunity," said Tracky founder and CEO David Gosse.
Tracky combines elements of social media with project management tools, allowing users to manage their personal lives and collaborate with colleagues on the same platform at www.tracky.com.
Users can sign in with Facebook or Twitter logins, or create a new username and password. Users create groups on Tracky and invite others to join — say, a group for a nonprofit committee or an adult kickball team. Members are allowed to join five groups at no charge; after that, Tracky is $5 a month.
David and wife, Jennifer Gosse, have been developing the platform with their team over the past 18 months, going full-bore in the weeks leading up to the launch.
It's been a busy month: The company received $1 million in angel funding from friends, then the Gosses were at the South by Southwest festival in Austin, Texas, to demonstrate Tracky at the Startup Debut showcase.
That exposure boosted the company's profile; many of its 4,000 users signed on after South by Southwest, David Gosse said. The goal is to reach 700,000 users by year's end.
Achieving critical mass could be easier than expected. Tracky has already signed three corporate clients: local tech company Walls 360, the Church of God Worldwide Association (which created 1,000 accounts for its members alone) and Talk Radio Network host Jerry Doyle, whose show airs locally on KDWN-AM (720).
"He has seen radio die," Gosse said. "I said, 'You have 4 million people a week that listen to your show and you're not telling them to come to your website or follow you on Twitter or Facebook."
Doyle, who called himself a tech "dinosaur," integrated Tracky into his website to encourage listeners to participate in discussions related to his program.
Tuesday's soiree celebrated Tracky's launch, but was also something of a coming out party for the Vegas Tech community. The first Vegas Jelly tech coworking event last April drew 13 people. Now the weekly meetings attract 150 to 200 entrepreneurs, programmers and developers, some of whom come from other states to check out the Vegas tech scene.
The Gosses moved to Las Vegas 14 years ago, anticipating a tech boom that never materialized. They started a custom search engine company called Vortaloptics, from which Tracky developed. Tracky began attracting interest at last June's Startup Weekend, where developers and designers converged to take an idea from pitch to launch in one weekend.
The Las Vegas tech scene has grown rapidly in the last year, with an estimated 200 to 500 startups now in the works, said Zappos executive Rick Duggan, who mentors local tech entrepreneurs.
Tech entrepreneur Paige Craig, CEO of Better Works, traveled from Los Angeles to attend Tracky's launch. He told the Vegas Tech crowd that Los Angeles, too, had to work to develop a robust tech scene. Now, he sees Las Vegas following, and not far behind.
"You get to define how a new city works," he said. "You have an amazing template to work from."
After several months of alpha and beta testing within the Vegas Tech community, the Gosses are now ready to take Tracky nationwide. David Gosse said the company's next step is a second round of financing, this time from big-name, institutional investors.
Contact reporter Caitlin McGarry at cmcgarry@reviewjournal.com or 702-387-5273.