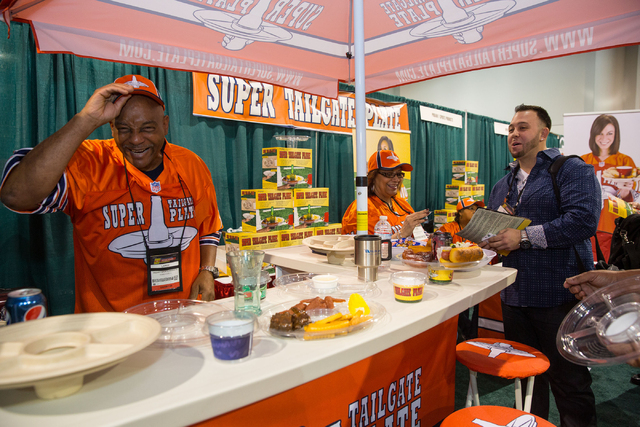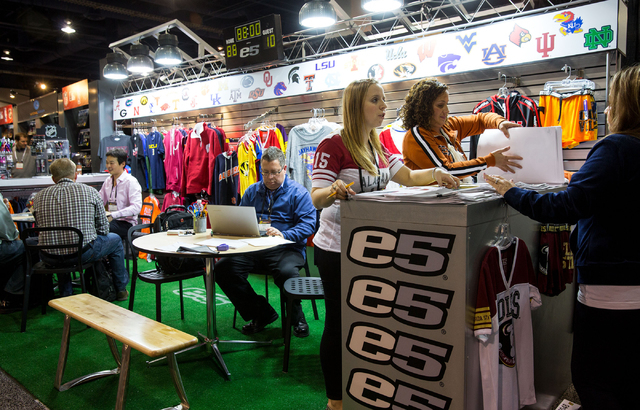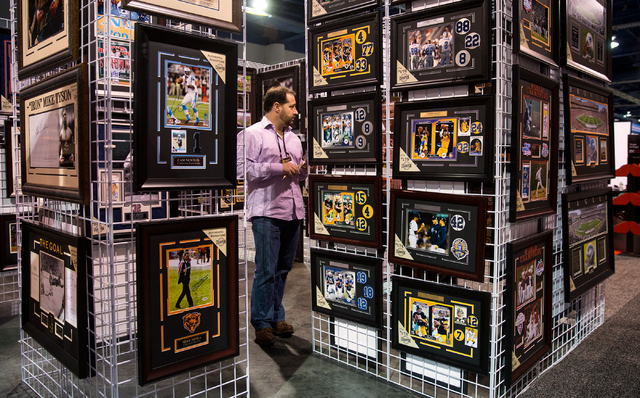 For sports lovers, this week's Sports Licensing and Tailgate Show offered a smorgasbord of logo gear coming to market that will feed their addiction.
If you can sew, print or blaze a brand logo of the New York Yankees, Texas Longhorns, Dallas Cowboys or Los Angeles Lakers onto a piece of merchandise, you will likely find it at the eighth annual trade show at the Las Vegas Convention Center.
More than 300 exhibitors showed off collectibles, framed signed photos, hats, jerseys, jackets, sunglasses, shot glasses, beer mugs, tents, bags, backpacks, gloves, socks, keychains, jewelry and an endless variety of tchotchkes. Several thousand retail buyers, brand owners, licensees and licensors roamed the show that was closed to the general public this week. It ends Saturday.
While the majority of sports merchandise bearing professional teams logos, the array of college sports merchandise was in full bloom.
For Jane Waterman who oversees women's collegiate sports logo clothing for her New York-based company, sales are driven by football — specifically, the football teams of the Southeastern Conference and America's heartland.
In fact, Waterman refers to that lucrative market as a group of states shaped in the letter "L," running from the Midwest down to Texas and then to Florida.
"Once football season starts, sales are football driven," said Waterman, senior vice president of the e5 company, overseeing the ladies division.
The hottest women college logo gear? It's V-neck shirts with bling-style embellished team logos made of rhinestones, "sugar" glitter and satin, Waterman said. The items retail for $28-$30.
Waterman's company was among several dozen pitching their collegiate logo wear and merchandise.
Retail sales for college licensed logo gear were more than $4.5 billion in 2012, with a kaleidoscope of merchandise ranging from barbecue grill tongs to baby clothing besides the usual T-shirts, hoodies, jackets and hats.
Three-by-five-foot flags bearing the college team logos were one of the top nonapparel sellers, with 3-D college mascot flags one of the fastest-growing items, said Steve Roth of BSI Products, Inc. of Columbia, Md. His company sells nine University of Alabama flag designs.
"You have new alumni every year and new students every year," Roth said.
Collegiate Licensing Co. LLC of IMG College, said in a previous statement that the top-selling school based on royalties reported July 1, 2012-June 30, 2013 on all collegiate merchandise sold on behalf of CLC-represented institutions were Texas, Alabama, Notre Dame, Michigan, Kentucky, LSU, Florida, Georgia, North Carolina and Arkansas.
Brett Durham, who came to Las Vegas to sell souvenir auto decals bearing college logos, said licensing costs to sell merchandise with a college team logo can range from $100 to more than $1,000, plus royalties.
Fans buy the college logo gear because it all about "local pride," Durham said.
Sam Hollingsworth, trying to sell college logo-theme jewelry to retailers, said rhinestone pins showing Alabama and other SEC teams are the big sellers. The jewelry items retail for $8 to $20, he said.
"They wear all this bling stuff," said Hollingsworth, senior sales representative for Seasons Jewelry in Springfield, Tenn.
Contact Alan Snel at asnel@reviewjournal.com or 702-387-5273. Follow Snel on Twitter at @BicycleManSnel.