Transplants help Nevada address effects of national labor shortage
December 6, 2017 - 5:30 pm
Updated December 6, 2017 - 11:12 pm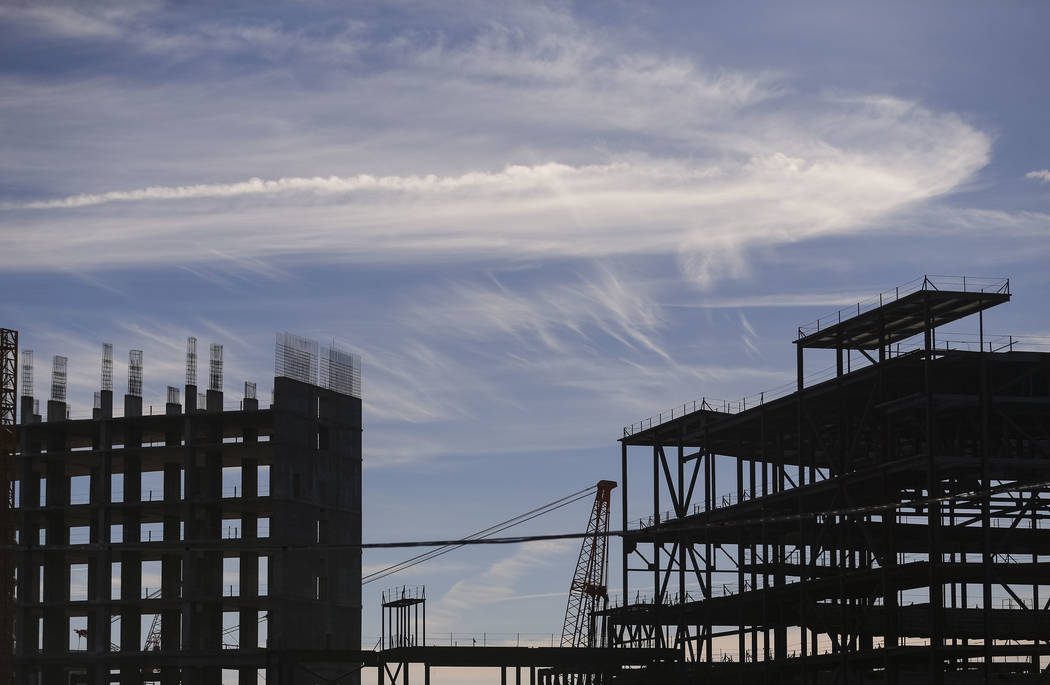 Nevada's pull with out-of-state transplants is helping to offset the effects of a national labor shortage.
Speaking Wednesday at an event sponsored by the Las Vegas Global Economic Alliance, economist Christopher Thornberg said national unemployment "is just about as low as it can get." But even so, job openings are near a record high as employers struggle to find workers with the skills they seek.
Job openings have been at or near record highs since June — with around 6.1 million job openings nationally, according to data from the Bureau of Labor Statistics.
"Every time any policy gets rolled out in Washington, D.C, including this current tax bill, it always revolves around the idea of jobs, jobs, jobs," said Thornberg, a founding partner of California-based Beacon Economics.
"The issue in the United States at this point in time is not jobs, jobs, jobs. It's workers, workers, workers."
The amount of new workers moving into Nevada is helping the state to address that challenge, said Jeremy Aguero, a principal at Las Vegas-based Applied Analysis.
Eight of the 10 fastest-growing states in America are in the Mountain West or on the West Coast, including Nevada, Idaho, Washington, Oregon, Colorado, Arizona and Texas, according to the Census Bureau.
Las Vegas had a higher population growth rate in 2016 than Los Angeles, San Diego and Salt Lake City, according to data compiled by Applied Analysis.
Data from mid-November, the most current information available, show that quarterly "new hire activity stands at 225,000 in the Silver State," according to a Nevada Department of Employment, Training, and Rehabilitation report. "Hiring activity peaked prior to the recession in excess of 325,000 per quarter."
Tax bill effects
Wednesday's event at the Four Seasons also touched on the economic impact of the pending federal tax bill and the possible long-term impact of the Oct. 1 shooting.
Stephen Miller, director of the Center for Business and Economic Research at UNLV's Lee Business School, said the tax bill has the potential to overheat the national economy in the short run.
Asked about the impact on Nevada, Miller said the tax bill could boost discretionary spending for consumers, which would mean a possible increase in tourism dollars.
Thornberg said the bill will have an "incredibly small" stimulating effect on the economy.
"The idea that you can cut corporate taxes and increase business investment — it does not exist in the data," he said.
Impact of Oct. 1
Miller and Aguero said they will take a "wait and see" approach to measuring the long term impact of the Oct. 1 shooting.
A gunman opened fire from a 32nd-floor suite at Mandalay Bay and sprayed bullets onto a crowd of more than 22,000 concertgoers at on outside venue. The attack killed 58 people and injured hundreds more.
The Las Vegas Convention and Visitors Authority reported Nov. 30 that visitation fell 4.2 percent to 3.6 million tourists in October, the second steepest year-over-year drop of 2017.
Miller said it might be that things bounce back to normal, as they did in Orlando, Florida, after the 2016 shooting at the Pulse nightclub.
"But the difference between Orlando and Las Vegas is that Orlando's shooting didn't happen on their main street, at Disneyland," while Las Vegas' shooting happened on its tourism centerpiece — the Strip, he said.
Aguero said it's too soon to measure the tragedy's long-term impact on the local economy.
Miller and his team wrote in a recent report that "the future of gaming and tourism in Southern Nevada remains bright."
Contact Nicole Raz at nraz@reviewjournal.com or 702-380-4512. Follow @JournalistNikki on Twitter.
Another recession?
Economists Chirstopher Thornberg and Stephen Miller also discussed the potential for another recession.
Miller said Nevada will continue to see improvement in the economy in 2018 and 2019, with the state seeing continued improvements in visitor volume, gaming revenue, employment, personal income, and population growth.
Thornberg said Nevada is in better shape for a recession than in 2008 given Nevada's diversification efforts. However, the leisure and hospitality industry still dominates Nevada employment.
"There's always going to be another recession. The question is: is that next recession going to be as hard on the Las Vegas economy as the last one was? No."