December 25, 2008 - 10:00 pm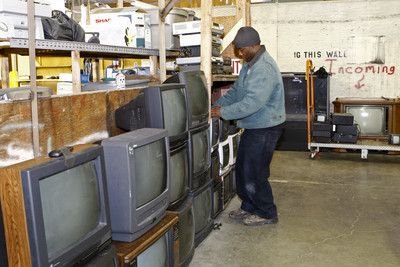 It's Christmas morning, and you just tore the wrapping paper off your new flat-screen television.
Everything's perfect, except for one thing: You need to unload your old clunker of a set.
But tossing that outmoded TV is tougher than you'd think. The garbagemen won't take it along with the rest of your trash, and few local charities accept older TVs. What's more, the Southern Nevada Health District, which licenses recyclers, says no Clark County recycling outfits are certified to break down or reuse televisions, though executives of a St. Louis company called EPC said they hope to open a TV-recycling site on Sunset Road sometime in the first quarter.
The lack of options could become a problem in coming months, as the transition to digital broadcasting renders analog TVs obsolete unless the sets connect to cable, satellite or a converter box.
Displaced analog TVs will join millions more already sitting in closets across America, said Barbara Kyle, national coordinator of the Electronics TakeBack Coalition in San Francisco. The U.S. Environmental Protection Agency estimates that Americans had 99.1 million sets stored and unused for a year or more at the end of 2007. Kyle said she believes those are all analog TVs that people set aside with plans to find a taker at a later date. With the digital transition, though, most folks could begin eyeing those sets as outmoded albatrosses no one will want. Hence Kyle's concern that tens of millions of televisions laden with toxic waste could be headed for the nation's dumps in the next few months.
"We think we're going to see a huge spike in the amount of televisions that end up in the trash," Kyle said. "People are already getting rid of their old TVs, and we expect that trend to increase after the (digital) transition."
Local trash observers say they have yet to see increases in unloaded sets.
Bob Coyle, area president of Clark County's waste manager, Republic Services of Southern Nevada, said his company hasn't seen gains in TV-dumping. Nor has in-home trash collector 1-800-GOT-JUNK noticed an uptick in local customers requesting that the business take away antiquated sets, said spokesman Travis Dudfield. And Steve Chartrand, president and chief executive officer of Goodwill of Southern Nevada, said the number of TVs donated to the nonprofit's area thrift stores has held steady.
Coyle said Republic isn't bracing for a surge in trashed TVs. Given the soft economy, he suspects consumers who have stuck with analog sets will simply upgrade to satellite or cable, or buy a converter box — all more affordable options than dropping several hundred dollars on a digital television.
Research from the Consumer Electronics Association in Virginia shows Coyle may be right. The trade group found that 48 percent of analog-TV owners plan to buy a converter box, and 12 percent expect to sign up for cable. And unlike, say, car tires or batteries, consumers don't necessarily make a one-for-one trade when they finish with a timeworn television. They'll just as often send the dated set to a back bedroom or basement recreation room, where the TV becomes a video-game terminal or movie-viewing screen.
Still, plenty of consumers might want to unload archaic sets. And that's where their options get thin locally.
On top of searching in vain for area TV recyclers, consumers will have trouble finding a private trash scavenger collect old sets. Dudfield said 1-800-GOT-JUNK urges customers to hang onto their old-fashioned TVs until the city has an "environmentally responsible" recycling operation where the company can take old sets for reuse.
And if it's left curb-side with the rest of the household's garbage, Republic will tag it and leave it on the spot, where it'll sit haunting the family like Aunt Myrtle's unwanted fruitcake.
Republic won't toss TVs into their trucks because trash compactors will crush the sets. And with four to eight pounds of lead in every television, plus chemicals including cadmium, beryllium and brominated flame retardants, the dust that results from grinding up sets becomes an environmental threat.
That's why Republic treats unwanted televisions as hazardous household waste, which means consumers wanting to trash them have to take them to one of two places: The company's Gowan Road recycling center or its Henderson transfer station. Customers can abandon their old sets at either site free. From there, Republic sends the sets to its Apex landfill about 20 miles north of Las Vegas. The dump is lined, Coyle said, to prevent waste from leaching into surrounding soil.
Even if consumers feel it's safe to send their ancient TVs to the landfill, Kyle and officials at the Consumer Electronics Association want them to reconsider. Televisions contain pounds and pounds of valuable commodities, including glass, plastic, metal and even wood, all of which can be reused, thus sparing natural resources. With recycling programs proliferating nationally (see sidebar), locals could try hanging on to their sets until an operation launches here.
Until then, what should Las Vegans do with sets they don't want to send to the area landfill? Locals' best bets for now are with philanthropies, retailers and electronics manufacturers.
Charities that accept and reuse computers and computer monitors, such as the Blind Center of Nevada and the Clark County Public Education Foundation, won't accept outmoded TV sets, so stick instead with nonprofits looking for goods to resell in thrift stores.
The Salvation Army takes sets younger than 10 years old. Army officials offer this simple rule: If a TV has the letters UHF on it, it's too obsolete to resell in their stores. But if the remote goes past 99 channels, the set will likely find a taker inside an army thrift store.
Goodwill also takes any working TV for its thrift stores, Chartrand said.
Don't bother dropping off nonworking sets at either charity, because the groups must pay a third party to haul away dead TVs.
"Our general rule is that we ask people to donate what they would give a friend," Chartrand said. "Hopefully, they'll give to their friend something that's in good working condition."
Passing off a broken TV to any charity can lead to unintended consequences, Kyle said. The companies that cart away busted sets sometimes sell those bum televisions to waste traders who export them to developing countries in Asia and Africa. Rather than going to sophisticated recycling plants with environmental controls, the TVs often end up in "primitive, informal" settings where poorly paid workers smash them open and breathe in lead dust, or burn them and inhale the resulting dioxins, Kyle said.
"The way we're managing getting rid of our old TVs is poisoning people on the other side of the globe," she said.
Manufacturers increasingly do offer take-back programs. Sony, Samsung, LG Electronics, Panasonic and Toshiba all run drop-off programs, but none operate locally yet. That could change: TV makers launch new locations constantly, and Sony says it wants to post drop-off sites within 20 miles of 90 percent of the U.S. population, said Parker Brugge, vice president of environmental affairs and industry sustainability for the Consumer Electronics Association. Best Buy is also testing a pilot program allowing consumers to drop off up to two electronics products, including TVs, every day at their stores, with no obligation to buy a new product. That program hasn't come to Nevada yet.
Contact reporter Jennifer Robison at jrobison@reviewjournal.com or 702-380-4512.