Troubled Las Vegas project co-stars in movie
September 26, 2012 - 1:00 am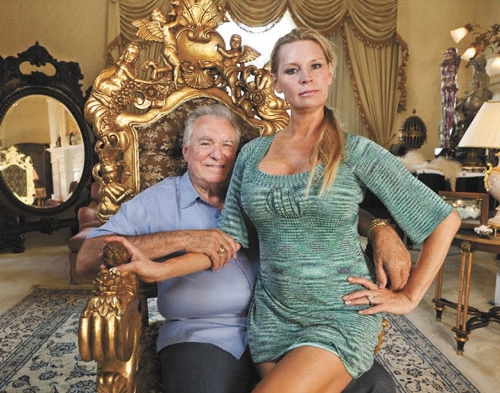 "Nothing makes me happy these days," lamented time-share mogul David Siegel, as the financial tsunami that devastated commercial real estate in Las Vegas threatened the PH Towers Westgate. "I'll be happy when I find a solution to this."
His grim struggle to hang on to what the company promoted as the world's largest time-share building, the crowning achievement of his Westgate Resorts, was chronicled in the new documentary "Queen of Versailles," including the undated remarks about his emotional state.
"He has built the largest time-share company in the world, and (PH Towers) is the pinnacle of it," said eldest son, Richard Siegel, in another scene.
As pressure mounted from lenders, however, he ceded control last November through a deed in lieu of foreclosure, which operates much like a short sale. The sign atop the 52-story, 1,201-unit glass-skinned tower, billed as having the largest letters on the Strip, was replaced this year by Hilton Grand Vacations.
Still, that did not solve all of the project's problems. A nonjury trial in front of Clark County District Judge Elizabeth Gonzalez is scheduled to start Thursday and will take a month or two to sort out a thicket of construction-related billing and legal issues.
Tutor-Saliba Corp., a subsidiary of giant contractor Tutor Perini Corp., alleges it is owed $23.3 million for unpaid work, not including interest and hefty legal bills.
Westgate has countered that it is owed about $30 million to cover defective work, such as a swimming pool deck that cracked, plus several alleged instances of overbilling and $100,000 a day in penalties for finishing more than three months late. Westgate attorneys have placed David Siegel, as chairman and CEO of Westgate, on their witness list.
While several similar disputes, usually smaller and less complex, have made it onto court calendars, none have held a movie co-star's role. Some attorneys in the case have privately mused about how they could enter "Queen of Versailles" as evidence, but no one has attempted to do so.
The movie has already finished its Las Vegas run and is not yet out on DVD.
BIG-SCREEN REALITY SHOW
Styled as a documentary, the movie bears more of a resemblance to a big-screen reality TV show that follows the extravagant lifestyle of Siegel, his wife, Jackie, and their eight children. Although David Siegel claimed in July that scenes of using a stretch limousine to make a McDonald's run and of Jackie wearing a fur coat while riding in a speedboat were staged, the couple's claim to fame – or infamy – isn't in dispute. They were building a 90,000-square-foot home in Orlando, Fla. – said to be the largest private residence in the United States – to replace their 26,000-square-foot mansion.
The new house is called Versailles, though David Siegel explained in the movie that its exterior "kind of copied the top three floors" of the Paris hotel- casino in Las Vegas, which in turn copies Parisian architecture.
Perhaps uniquely, the movie peels away the fabulous image crafted around many Las Vegas developments and exposes the sometimes overwhelming quest to fend off unpaid lenders and a struggling economy.
Construction on the PH Towers started in January 2007, while the economy was still strong, as the first time share incorporated into a Strip resort, the Planet Hollywood. Westgate staged the grand opening two years later, with "Queen of Versailles" cameras on hand, to the predictable gusher of shrimp and laudatory remarks by former Mayor Oscar Goodman.
With its huge sign lit by an LED system, the company boasted in a release, "The Westgate brand is now the brightest light in Las Vegas."
Although the recession was already well under way, David Siegel spelled out in the movie what he considered a luxury time share's innate appeal.
"Everybody wants to be rich," he said. "If they can't be rich, the next best thing is to feel rich. If they don't want to feel rich, then they are probably dead."
But the PH Towers ran up against a hard reality.
"My business depends heavily on easy access to cheap money," he told the documentarians. As the financial system began to wobble toward the end of 2008, his access to financing "came to a screeching halt."
Layoffs, attempted asset sales, pay cuts and reining in the Siegels' lifestyle – including halting work on Versailles – were all employed in the battle to hang on to the PH Towers and keep the company in one piece.
"Every day … he is looking for money to keep the Vegas project going," Richard Siegel said in one filmed interview.
"Vegas is what's causing our big problem, and the bank's answer to a solution is, 'Just hand over the keys and give up the $390 million you put in it,' " David Siegel added. "The answer is, 'Over my dead body.' "
THE AFTERMATH
According to Richard Siegel, the total cost of PH Towers was $660 million. A second planned tower has never left the drawing boards.
Even after the time-share market collapsed, Richard Siegel told the filmmakers, his father ordered all the furniture and equipment in the sales offices left in place in the expectation that full operations would someday resume. This came against a backdrop of advisers, banks and even family members pushing to give up the PH Towers to save the rest of the company, as David Siegel pondered a Chapter 11 bankruptcy filing to hang on.
All the while, different family members reviled banks in terms such as drug pushers and vultures. Just give up the PH Towers, Richard Siegel said of the terms laid out by banks, and the company and the family's personal opulence could go on.
In the end, David Siegel approved the sale of the PH Towers to Resort Finance America, a unit of New York-based Centerbridge Capital Partners L.P.
But in an ironic postscript that did not make the movie, the banks earned a measure of redemption. In a July 16 letter to attorneys for "Queen of Versailles" director Lauren Greenfield, just four days before the opening, David Siegel requested a final frame to say that he had refinanced and was restarting construction of Versailles and that the company had turned around.
"Simply put, Westgate is financially healthy – the most profitable in its 32-year history," Siegel wrote.
The letter was in addition to a defamation lawsuit Siegel filed against Greenfield early this year.
"The movie is an interesting but inaccurate portrayal of both the company and the family," Westgate chief operating officer Mark Waltrip said.