Two moms make Vegas hub for growing firm
September 29, 2014 - 12:00 am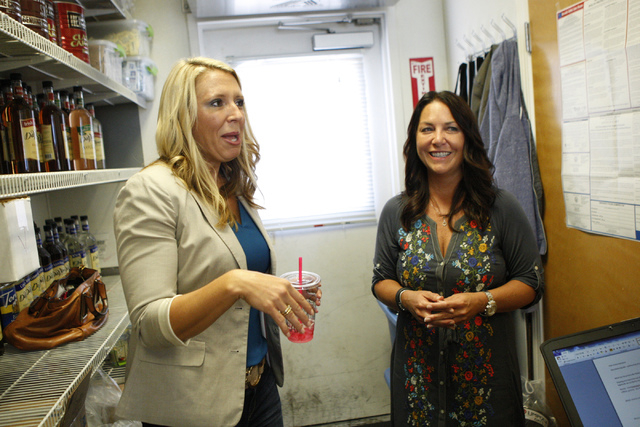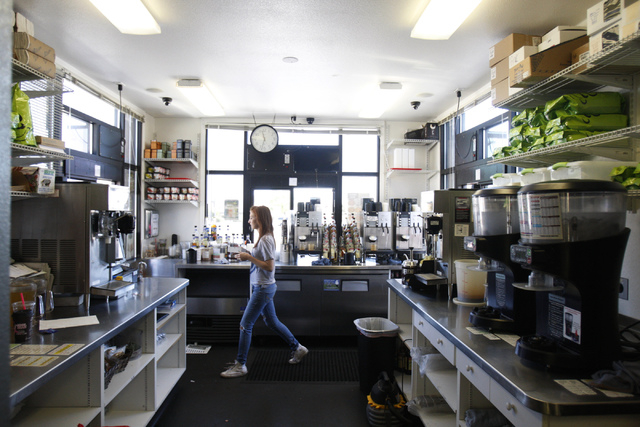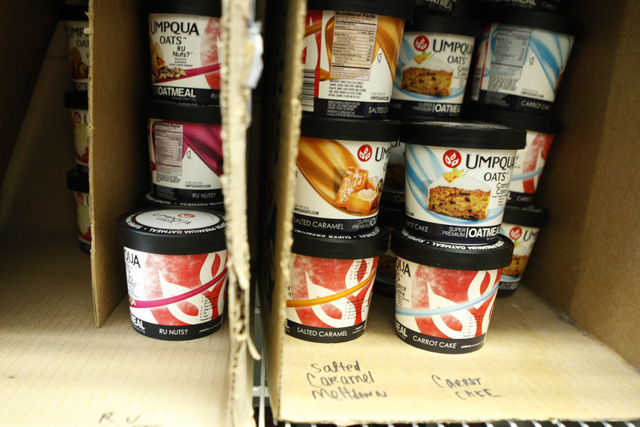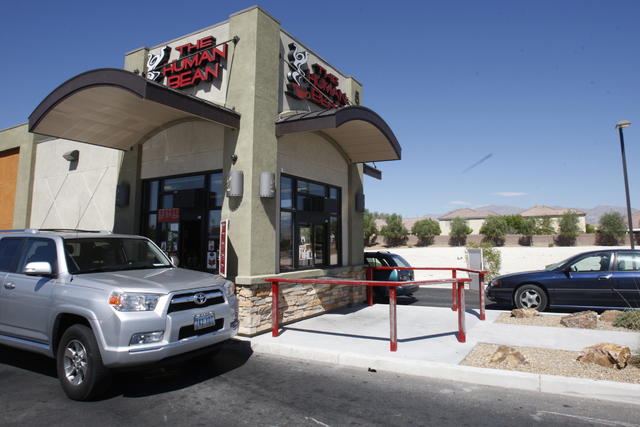 Sheri Price and Mandy Holborow were sick of the unhealthy grab-and-go breakfast options when they traveled together for their children's out-of-town soccer games.
"Our kids got tired of us complaining, so they told us we should create what we wanted," Price said.
Price, a third-grade teacher, and Holborow, a stay-at-home mom with a human resources background, didn't know much about starting a business.
"We called everyone we knew who knew something about business, and we took a ton of notes," Price said. "We were also put in touch with a woman who owned an international vegetable wash business and she helped us come up with our business plan while we got our recipes going."
The pair — originally from Roseburg, Ore., the Umpqua River Valley — created Umpqua Oats in 2008. The 12 oz. cups of oatmeal come in flavor offerings such as Not Guilty, a sugar-free option; Kick Start, which is full of fruits and nuts; and salted caramel and carrot cake.
To get the company off the ground, Price and Holborow sought help from their families, who scooped the oatmeal along with the toppings and hand-labeled the individual cups each night.
"We started with 100 cups, then 500 and then 1,000 cups a night," Price said. "We were growing so fast."
"The food industry was a learning curve for us," Holborow added. "As a consumer you think this is an awesome shelf product, but have no idea how many people were involved before you get it."
In 2010, Umpqua Oats became available in the specialty coffee shops such as the Coffee Bean &Tea Leaf and The Human Bean in Las Vegas. In the past six months, the oatmeal has become available in more than 2,000 grocery stores nationwide, including local Albertson's, Costco and Smart &Final.
Last July, Price and Holborow moved from Oregon to Las Vegas with their families to set up their corporate office on Harrison Drive so they'd be closer to their manufacturing facility in Rancho Cucamonga, Calif.
"Shipping was expensive out of Oregon, so logistically we needed to move," Price said. "The ease of travel also logistically made sense since we fly a lot and we're also only three hours from our manufacturing facility."
Attending the various trade shows throughout the valley has also been an added perk of being in Las Vegas.
"We're the face of the company, and it's so important to get to know our customers," Price said.
"To see your customers is key," Holborow added. "We set up and tear down our own booths ourselves, and owners of huge companies are always amazed that we do that."
"We travel once a week and in the beginning we'd sit next to someone on the plane and chit chat about our business but now people actually know the product," Holborow said. "We've always been excited about it but when our fans find it and they're excited that's when it pays off."
Throughout the entire process, Price and Holborow have learned a lot about themselves and the trials and tribulations of starting a business.
"When you get stuck is typically when entrepreneurs quit, and we've learned that there's always a way over that," Holborow said.
"We don't have tunnel vision and we don't mind asking for help," Price added. "It's always better to ask for help because there's always someone out there who knows more than you, and it's important to take good advice and know what to do with it."
According to Price, Umpqua Oats recently shipped its oatmeal to China for the first time.
"I'd like to see it available more internationally," Price said. "And in every grocery store."
"I want the excitement that's created on a college campus when kids are buzzing about products like Nutella or Red Bull; that's the same brand recognition I want for us," Holborow added. "I believe we'll get there … it's definitely happening."