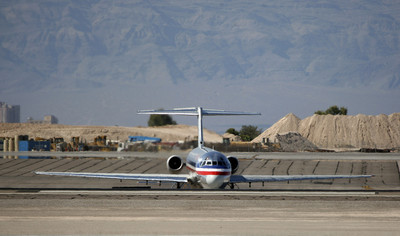 NEW YORK — Domestic airlines improved their on-time arrival rates in May, although more than one in five flights still failed to get passengers to their destination as scheduled, government data released Monday show.
Twenty-one percent of commercial flights in the U.S. arrived at least 15 minutes late, were canceled or diverted in May, according to the Transportation Department's Bureau of Transportation Statistics.
That is down from more than 22 percent of late flights in the same month last year and in April 2008. The previous month's figure was higher partly because AMR Corp.'s American Airlines, the nation's largest carrier, was forced to ground thousands of flights amid tighter government scrutiny of maintenance issues.
For the third month in a row, American ranked last in on-time service. Passengers on just over two-thirds of the Fort Worth, Texas-based carrier's flights — 67.3 percent — got to their destinations on time in May.
"Unfortunately, the main reasons include weather and significant (air-traffic control) delays at three of our main network operating areas" in Chicago, New York, and Dallas-Fort Worth, as well as in Miami, American spokesman Tim Smith said in an e-mailed statement.
UAL Corp.'s United Airlines, the second-largest carrier, which reported 72.4 percent of arrivals were on time, and Continental Airlines, with 75.4 percent, rounded out the bottom of the on-time list.
Hawaiian Airlines was able to stick closest to its timetable, delivering passengers as scheduled 88.9 percent of the time.
Weather was by far the biggest cause of late flights nationwide in May, accounting for just over 44 percent of all delays. Only about 39 percent of flights were late because of weather a year earlier.
U.S. carriers also improved their baggage handling in May.
About 4.6 passengers out of every 1,000 reported a mishandled bag during the month, compared with nearly six per 1,000 a year earlier and five per 1,000 in April.