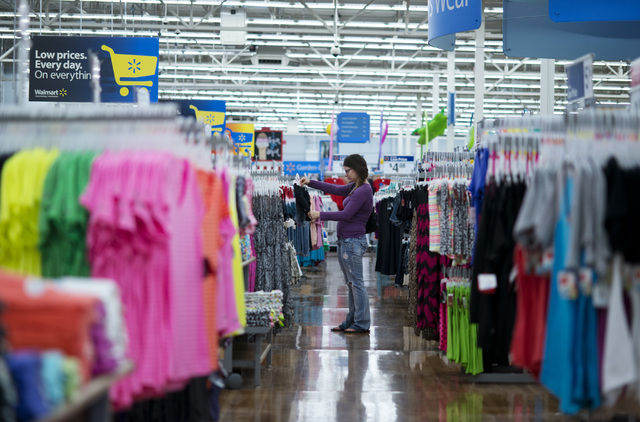 U.S. retail sales rose modestly in May as consumers turned cautious in their spending.
But the weaker-than-expected result is unlikely to derail stronger overall in the second quarter. And Nevada continues to carve its own distinctive path with at least one merchant recording a strong month.
Retail sales rose 0.3 percent in May, helped by a jump in demand for autos, the Commerce Department said Thursday. The result follows a 0.5 percent climb in April, which was revised up from an initial estimate of 0.1 percent. March sales surged 1.5 percent — the biggest one-month gain in four years.
Bryan Wachter, director of public affairs for the Nevada Retail Association, said Nevada doesn't often follow the rest of the country in terms of retail sales.
"Nevada doesn't match up 100 percent of the time with national figures because a large portion of our customer base is transient due to the influx of people who come and go in Las Vegas," he said. "For the past two years our retail sales have increased, and we had a huge increase in March by more than 25 percent."
Nationwide, analysts said any disappointment in May was offset by the change in April's figure.
"May retail sales fell short of estimates, although upward revisions to April make it about a wash versus consensus forecasts," said Jay Feldman, director of U.S. Economics Research at Credit Suisse.
Retail sales had fallen sharply in January as winter storms cut into shopping and various other types of economic activity. Overall economic growth went into reverse in the first quarter, shrinking at an annual rate of 1 percent. But the revival in consumer spending has led economists to predict a solid rebound to 3 percent growth or better in the current April-June quarter.
For May, auto sales increased 1.4 percent. The rise in auto sales had been expected after dealers reported last week that sales in May jumped to a nine-year high, helped by brisk demand for SUVs and pickup trucks. But sectors outside of autos did not fare as well.
Paul Dales, senior U.S. economist at Capital Economics, said that the declines at department stores and appliance stores was hard to understand, given the rapid rise in employment. Households are also are feeling wealthier with the strong gains in the stock market and in home prices.
"We expect it won't be long before sales start rising more rapidly," Dales said in a research note. "Overall, the fundamentals suggest that the U.S. economy remains healthy."
Sales at hardware stores and furniture stores increased, but department store sales fell 1.4 percent. A broader category that includes department stores and big box stores such as Wal-Mart and Target saw sales fall 0.6 percent.
Peter Kemp, manager at McFadden-Dale Industrial Hardware at 5580 S. Decatur Blvd. in Las Vegas, said the store experienced higher sales last month.
"I think home buying is recovering in Vegas so that of course helps us. And the mines out here are doing well, and solar projects have spurred some business," he said. "We have stores in Phoenix and Southern California and we saw about a five percent increase in sales across the board, which is decent."
Kemp added that he doesn't anticipate the increase will last throughout the summer.
"When it gets hot, business slows down," he said. "Our best month is usually in May."
Sales were also down at specialty clothing stores and electronics stores but posted a solid gain of 0.6 percent in the category that includes Internet shopping.
Wachter added that retail sales figures differ across the board because of the types of items being purchased.
"Auto sales can be up at a given point, but once you buy a car you're usually out of that market once you purchase it," he said. "Also, in the spring, home improvements and items being purchased for the outdoors and backyard soar. At the end of the summer, there's back to school shopping, followed by Halloween, and by the fourth quarter, it's holiday shopping so they feed into each other."
Many economists are forecasting that overall economic growth will remain at a solid 3 percent level in the second half of the year.
Part of the optimism reflects expectations that employers will keep increasing their hiring, with extra jobs boosting incomes and supporting stronger consumer spending.
The remainder of the year for the Las Vegas retail market, according to Wachter, should be bright.
"We couldn't be more excited and confident going into the rest of 2014," he said. "We projected a four percent increase in sales for 2014 and we're well on our way to meeting that goal."
The Associated Press contributed to this report.