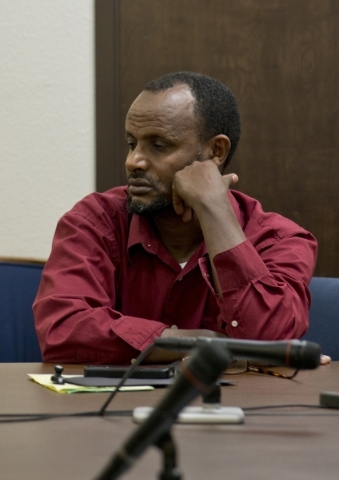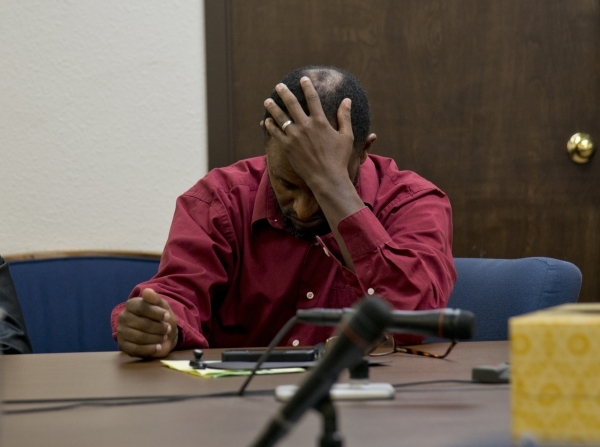 The first transportation network company driver to be disciplined by the Nevada Transportation Authority was assessed a $2,500 fine at a hearing Tuesday for offering a ride to a plainclothes enforcement officer while not operating on the Uber platform.
Transportation Authority Commissioner Keith Sakelhide, serving as hearing officer in the matter, assessed the fine to Kelil Ebrahim, who spoke through an interpreter for most of the hourlong hearing.
Earlier, Ebrahim had asked Sakelhide for a delay in the vehicle impoundment hearing so that he could hire an attorney to represent him, but he reconsidered that Tuesday morning request and appeared without an attorney later in the afternoon.
Sakelhide could have assessed a fine as high as $10,000, but issued the fine of $2,500 recommended by Deputy Attorney General David Newton. Ebrahim asked for a lower fine, but Sakelhide left it at $2,500 because he said he felt he should have known the regulations for transportation network companies. Ebrahim also has worked as a taxicab driver for the Frias Transportation Group for seven months.
The Tuesday hearing was for the violation of regulation for the unauthorized use of a vehicle as a limousine and had to be conducted within 48 working hours of the incident because the vehicle was impounded. Ebrahim will have a second hearing and could face more fines on Oct. 21 for allegedly violating a regulation for operating as a common carrier without a certificate.
When Ebrahim was cited Friday, it was the Transportation Authority enforcement staff's first time out looking for drivers working off the platform.
According to a report filed by enforcement investigator Rachel Martines, Ebrahim's gray Toyota Prius was spotted in a bus loading zone at the Miracle Mile Shops at Planet Hollywood just before noon Friday. The driver asked the officer, "You looking for a ride?"
After acknowledging he was an Uber driver, the officer said she didn't have the Uber app on her smartphone and had no credit card.
The driver responded, "Well, that's OK, I can still take you." When asked what the cost would be, the driver responded, "I can do it for $20. Get in."
In testimony Tuesday, Ebrahim said he had received a ride hail on the Uber app and was trying to confirm whether the woman was his customer.
He also testified that he did not realize that he could not operate off the platform.
In a telephone interview late Tuesday, Uber spokeswoman Kayla Whaling said after the action by the Transportation Authority, the driver would not be allowed back on the Uber platform.
She said based on the number of rides Ebrahim had performed while on the Uber platform, it was clear that he understood the procedures. In addition, all of Uber's contracted drivers are required to accept the terms and conditions of the application in an emailed check-off box accompanying those terms.
The Transportation Authority has a database of drivers working for transportation network companies that can be used to prevent violators for working for other companies.
Ebrahim, an 11-year resident of Las Vegas, speaks Oromo, an Ethiopian dialect. An interpreter translated his testimony in the Tuesday hearings.
Contact reporter Richard N. Velotta at rvelotta@reviewjournal.com or 702-477-3893. Find @RickVelotta on Twitter.