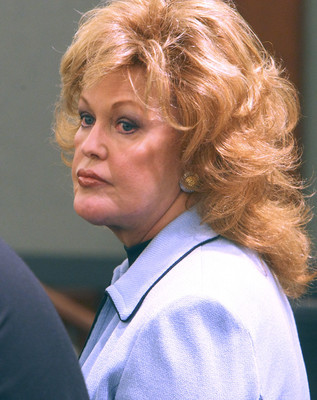 Clark County District Judge Elizabeth Gonzalez on Wednesday sentenced Nancy Nash to two consecutive prison terms of four to 10 years for operating a continuing criminal enterprise and selling unlicensed securities to individuals older than 60.
As Gonzalez sentenced Nash, an officer handcuffed the defendant for her transfer to prison. The defendant appeared downcast but did not cry.
Nash, 67, who once made $30,000 to $50,000 a month, earlier watched about a dozen former investors testify about how they were devastated when Nash cheated them out of their life savings.
Nash acknowledged that she broke a law on selling unlicensed securities but said she did not seek to cheat elderly investors.
"It's really sad that they lost money," Nash said before the hearing. "It breaks my heart, actually."
The defendant said she was defrauded by a developer in Utah, but John Kelleher, assistant chief deputy attorney general, said many of the victims cited in the criminal case thought they were investing in Clark County real estate.
Nash arranged for some investors to refinance their homes with adjustable-rate mortgages so they could invest in her schemes, Kelleher said.
Kelleher said $333,000 of the $2.8 million that Nash obtained from investors went to the Utah project.
Public defender Craig Jorgenson suggested Nash was being used as a front person by white-collar criminals.
Nash told Jorgenson: "I know that things got messed up and I didn't handle them properly but I didn't have malice."
Mark Medina, who investigated Nash for the secretary of state, applauded the sentence.
"In my 22 years in law enforcement, I have never met anyone more worthy of the sentence that she received than she is," Medina said. "Nevada senior citizens are safer today because of her incarceration."
Victim Diane Munroe said: "Nancy Nash is a predator. She deserves to spend the rest of her life in prison."
Contact reporter John G. Edwards at jedwards@reviewjournal.com or (702) 383-0420.