UNLV professor plays role in U.S. oil exports
January 22, 2016 - 6:29 pm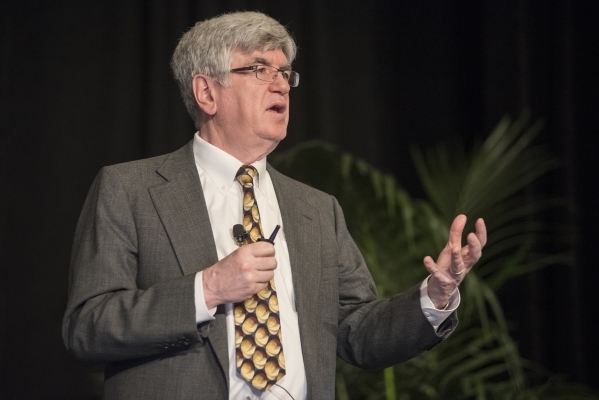 The U.S. economy experienced a landmark moment this month when the nation began exporting crude oil for the first time in four decades.
And a local professor played a role in making the international trades happen.
UNLV economics professor Steve Brown co-authored a study that helped shape a federal law that ended the 40-year ban on petroleum exports. The 2014 report, "Crude Behavior: How Lifting the Export Ban Reduces Gasoline Prices in the United States," found that trading U.S. oil globally would push down the price of gasoline, which is made from crude.
Brown, an energy economist who worked for Washington think tank Resources for the Future and the Federal Reserve Bank of Dallas before moving to UNLV's economics department in 2010, joined the effort after co-author Alan Krupnick asked him to lend his expertise.
Brown and Krupnick, a senior fellow and co-director of the Center for Energy and Climate Economics at Resources for the Future, have been friends since U.S. oil exports ended the first time around: They met in graduate school at the University of Maryland in the mid-1970s.
Krupnick said Brown was a natural to help with the study.
"Steve is my go-to person when we get into the modeling aspects of oil markets," Krupnick said. "He's nationally known as a person who understands oil markets and has the ability to construct models that are accurate and credible, and that get at the heart of the issue."
Brown's models showed that opening U.S. oil to export markets would cut gasoline prices at the pump by 1.7 cents per gallon, although it could take five years for exports to phase in completely and have their effect.
It might not sound like a big difference, but the findings were important because they changed the debate, Krupnick said. In late 2013 and early 2014, environmentalists and heavy oil users alike argued before Congress that removing the ban would raise oil and gasoline prices because it would cut domestic supply.
The economists' analysis proved the opposite: Lifting the ban would mean the United States would produce more crude, because oil companies would have more markets to sell to.
In addition to Brown and Krupnick, Charles Mason, an economics professor at the University of Wyoming, and Jan Mares, a senior policy adviser at Resources for the Future, helped write the report.
"Ours was really the first technical paper by respected economists that showed we wouldn't have to worry about gasoline prices spiking if they lifted the oil export ban," Krupnick said. "It helped the debate. We were quoted by a lot of people who wanted to lift the ban. They said, 'These respected economists at the University of Nevada, the University of Wyoming and Resources for the Future said it would be a good thing.'"
Congress lifted the ban Dec. 18 as part of a $1.1 trillion budget bill. President Barack Obama signed the package a day later.
Crude prices have tumbled since the law passed, falling from $34.55 a barrel Dec. 21 to $26.19 Wednesday, though they rebounded to $32.19 Friday.
Brown said the new law isn't behind the lower prices. Rather, the downturn comes from weaker demand for oil in China, plus expectations that loosened trade restrictions on Iran will mean more output from that country.
Officials at UNLV praised Brown's role in changing the law.
"One of the best things that a university can do is have active, engaged professors whose research contributes to solving real problems," said Nancy Rapoport, interim executive vice president and provost. "We're very proud of professor Brown's work and its impact on lifting the ban on U.S. oil exports."
Brown said he's also enjoying seeing his work in action.
The first shipments of U.S. crude oil arrived in Europe Thursday, after leaving Corpus Christi, Texas, at the beginning of January. Brown said said he's gotten a kick out of watching coverage in the news.
"I was excited when the law passed. We all exchanged emails on it," Brown said. "It was fun. It was exciting."
Contact Jennifer Robison at jrobison@reviewjournal.com. Follow @_JRobison on Twitter.