UNLV students capture national accounting prize
January 12, 2015 - 1:58 pm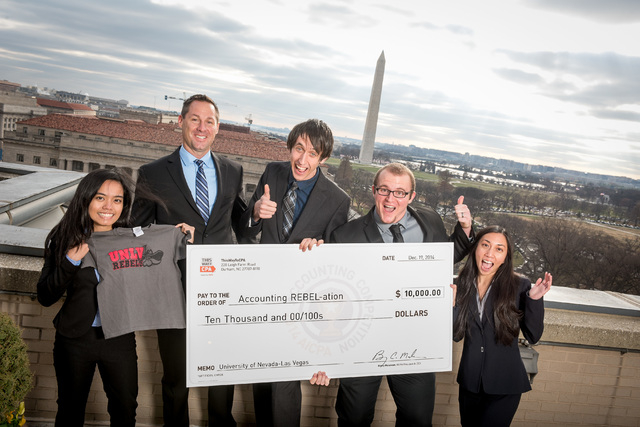 For four UNLV students, winning a national accounting competition was easy as pie, literally.
The Lee Business School accounting students, Annegenelle Figueroa, Kayla Shim, Brett Sebastian and Kevin Curry, and their faculty adviser, Danny Siciliano, were honored Monday by the Lee Business School.
The team competed Dec. 19 in Washington, winning the fifth-annual accounting competition, sponsored by the American Institute of Certified Public Accounts. It was the first time UNLV participated in the competition.
The UNLV group defeated North Carolina State University and the University of Southern Indiana in the finals. By winning, the Lee Business School team won $5,000 that will go toward future competitions and networking events.
Think of the accounting contest as a college version of the reality television show "Shark Tank." Instead of persuading investors to infuse cash into their businesses, as the TV show contestants do, the accounting contest students aimed to assure a board of directors —the judges — that they had sound strategies to handle the finances, operation and management of the fictional Humble Pies Inc.
"We came into this with absolutely zero expectations, and then with each round we gained a little confidence and by the time we got to Washington, D.C., we really thought we were the best," Siciliano said. "I think it was clear we were the best team by our presentation and quality of our ideas. The judges were corporate types, CPAs and executive officers of companies, and they asked a lot of tough questions."
In the finals, the student teams determined which of two merger-and-acquisition opportunities North Carolina-based Humble Pies should pursue. UNLV's team recommended expanding the business by purchasing a new factory in Tennessee rather than acquiring five steakhouses. To generate revenue, Figueroa said, the factory would include a kitchen for testing new pie flavors.
"We looked at the numbers and knew the numbers," Curry said. "But the biggest thing was also we made a lot of other recommendations that are just good business practices for being innovative, creative, growing your product and being out there and different.
"The flavor lab serves as research and development," Curry added. "That is the biggest thing that separated us from others."
UNLV's team emerged from 140 entries to make the 15 semifinalists in October based on its system to track and budget pie manufacturing costs.
UNLV's team reached the finals and won $10,000 with its video analyzing two capital expenditure options for the pie company. The video depicted company officials landing at McCarran International Airport and showcasing the Las Vegas landscape.
"We showed that Vegas is a fun town, and we had a fun attitude going through it and being more lively and energetic than the other teams," said Curry, the lone junior on the team with three seniors.
When they graduate, all four students plan to work for public accounting firms. Curry said he'd like to own a business, but has no idea what kind. He said, however, that it wouldn't be an accounting firm.
Team captain Figueroa said she decided to participate in the competition over the summer after learning about it in a newsletter. She had Siciliano help her assemble the team.
Although the team's four students were classmates in the accounting program, they didn't know one another well.
That didn't hinder them.
"I think what I learned the most," Shim said, "is how to work with other people especially when you don't even know them."
Sebastian said the contest taught him real-world business applications he can use in the future. His teammates said they learned other lessons.
"I think I learned how to present to professionals and that would be the greatest thing you should learn once you get into the real world," Figueroa said.
Curry added, "It gave us a lot of real-world experience, because in the real world, you're never given all of the information that you ever need, so you have to make assumptions based off the research you have done. The worst thing you can do is sit there and wait."
Siciliano said the students learned how companies, even fictional ones, should know themselves and their cultures and should let that knowledge guide decision-making.
Attitude, teamwork and ideas matter for success, he said.
"We were businesspeople that knew accounting and not accounting people first and that's what separated (us)," Siciliano said. "There is more to life than numbers. They're a starting point and not an ending point."