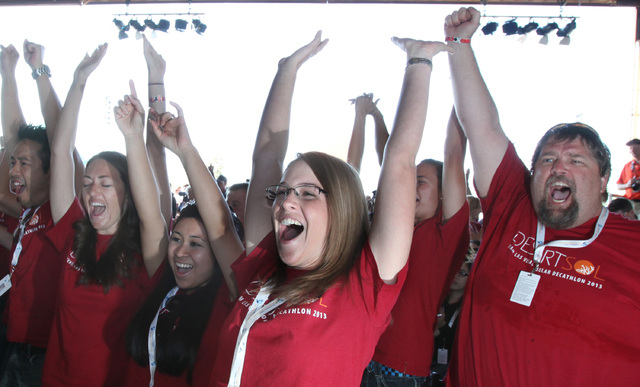 University of Nevada, Las Vegas' entry into its first-ever design-build competition was a success, judging by the public's reaction and the judges'.
Team Las Vegas' DesertSol vacation home took second place in the Department of Energy Solar Decathlon, a biennial competition that challenges college students to build solar-powered homes that are attractive, affordable and efficient.
Team Austria, from Vienna University of Technology, placed first, with 951.9 points out of 1,000.
UNLV's entry earned 947.6 points. The Czech Republic placed third.
The 4.35 difference was the closest win in the history of the decathlon, which has held six competitions since 2002. In 2011, winning teams of Maryland and Purdue were separated by nearly 20 points. In 2009, Team Germany beat Illinois by almost 11.
"The second place finish by UNLV's DesertSol house is remarkable for a first time entrant," said Richard King, director of the Solar Decathlon.
"Incidentally, UNLV tried to get into previous competitions, but their proposals were not deemed worthy," King said. "Over 40 proposals are typically received, but only 20 accepted. … After two years of design and hard work, they had a lot to prove, and they did."
UNLV architecture professor Eric Weber, who oversaw the project, said that he went into the competition feeling confident, but that the performance still exceeded his expectations.
"We certainly surprised a few people outside our region and outside our university," Weber said. "We know we have good people, but now others do."
UNLV competed against prestigious American universities Stanford, ranked fifth, the University of Southern California, ranked 10th, and Caltech, ranked 14th. Weber said USC is one of the top architecture schools in the country.
"It was a major, major accomplishment," he said of UNLV's ranking. "If only I could convey to everyone what a big deal it is to win a competition like this with our first design-build."
Alexia Chen, project leader and recent UNLV graduate, said she has received several emails from people who are interested in buying the 754-square-foot house, valued at $320,000.
"During the public exhibit, a lot of people were interested in how to buy the house," Chen said. "One lady was ready to write a check."
Tempting as the offers may have been, DesertSol had plans in place. It is now parked at Springs Preserve, awaiting permanent installation.
According to a study by McGraw-Hill Construction, green building revenue totaled $85 billion last year and is expected to reach $98 billion to $106 billion this year.
Last year, 20 percent of homes built were energy-efficient; this year, that number is expected to rise to 22 percent to 25 percent.
In the past, at least one university partnered with a builder to manufacture homes, though the results were underwhelming.
Appalachian State, which placed 12th in the 2011 decathlon, offers its house in a homebuilder's catalog, but no one has bought it, Chen said.
DesertSol blueprints are available at www.solardecathlon.gov and are considered public record, open for anyone to re-create.
"It's more complex than a typical modular home, but I'm sure we could work with companies to fine tune the production process," Chen said.
DesertSol was built to function on or off the grid, meaning it can run with or without electricity from traditional means, although it would have to be outfitted with batteries to store the energy it produces.
It is outfitted with photovoltaic panels and solar-thermal collectors, which provide enough power for the house to sustain itself and generate power.
For the competition, the houses operated on the grid, and the energy produced went toward paying electricity bills for Orange County Great Park in Irvine, Calif., where the event took place Oct. 3-13.
Judging consisted of five measured and five juried contests. In juried contests, UNLV won first place in market appeal, second place in communications and third place in engineering. In measured contests, the team tied for first in Hot Water and Energy Balance categories.
All teams earned a perfect score in Energy Balance, or a home's ability to use no more power than it creates.
Chen credited that to sunny Southern California weather.
In years past, the event was held in Washington, D.C., and energy balance results weren't as strong.
The real-life experience earned is invaluable, Chen said.
"It's a great way for students to learn hands-on. Over 85 percent or 90 percent of what we learned doing this project we would have never learned in school," she said. "Everyone took construction technology in architecture, but you only learn what things are called and how they're supposed to be used."
As for her career plans, Chen is going to transition from an intern at the architecture firm where she works to a full-time employee — "after taking some time off," she said.
Contact reporter Kristy Totten at ktotten@reviewjournal.com or 702-477-3809. Follow @kristy_tea on Twitter.