UNR dominates in Governor's Cup
April 23, 2010 - 11:00 pm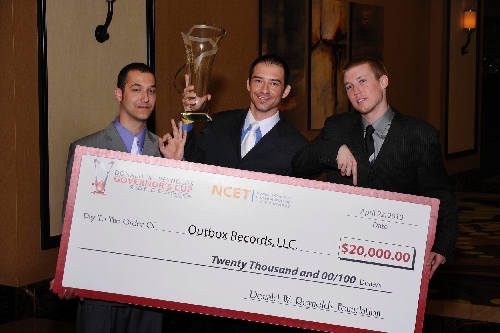 The University of Nevada, Reno swept first-place awards in the 2010 Donald W. Reynolds Governor's Cup Collegiate Business Plan Competition. Seven teams of students from around the state nabbed a share of $200,000 in prize money for their startup ideas during the awards ceremony at the Atlantis Casino Resort Spa in Reno on Thursday night.
The vast majority of the awards — six out of seven — were given to UNR students, including first-place awards in both the graduate and undergraduate categories, along with the top spot in the Lieutenant Governor's Awards.
The awards were presented by Nevada's Center for Entrepreneurship and Technology.
NCET CEO Dave Archer said the trend among the 54 entrants in the business plan competition was toward renewable energy ideas. The three first-place winners consisted of two in green energy and one in the music industry.
"Every year, there is one category that is heavily overrepresented. This year, it was green energy," he said.
The renewable ideas have a good chance of becoming actual enterprises, he said.
"These students have great business plans, and they will go out and get better jobs, and they'll make some money to get started in their business."
A team of UNR graduate students won first place and $20,000 for their Glyzen Technologies business plan. Students York Smith, Narasimharao Kondamudi and Zeina Randall devised the renewable energy-focused business plan, which involves taking waste generated by the biodiesel industry and converting it into clean or renewable energy.
Outbox Records LLC, which Archer calls an "iTunes for alternative and independent artists," won first place in the undergraduate category. Outbox founders and UNR undergraduate students Daniel and Joseph Fiorentini and Christopher Aarskaug took home one of the $20,000 cash prizes.
Daniel Fiorentini, who graduated in December, is already operating the Web-based Outbox. The independent music label sells and promotes music using the Internet.
NOVAE Nanotechnology chemical engineering student team members Eric Hill, Alex Braganza, Vance Jaeger, Orion Hanbury netted the coveted Lieutenant Governor's Award and $5,000. Fifty percent of the startup's equity will be sold to established companies First Solar Inc. and Samsung, providing NOVAE with revenue of up to $172 million by 2015.
First- and second-place graduate and undergraduate recipients will go on to the Governor's Cup's May 18 tristate competition in Las Vegas. The winning Nevada students will take on Arkansas' and Oklahoma's top participants.
Contact reporter Valerie Miller at vmiller@
lvbusinesspress.com or 702-387-5286.
OTHER GOVERNOR'S CUP WINNERs
UNR graduate students Holly Soltani, Jacquelyn Long, Danielle Farris and Gholamreza Amayeh received the second-place graduate prize of $10,000 for their hand-based authentication concept Biometric Recognition Inc.
A University of Nevada, Las Vegas graduate student team broke up a UNR sweep with a third-place award for Tiki Ice. UNLV students Jean Triechel-Bridges and Robert Bateman developed the idea for all-natural flavored Italian Ice.
UNR students John Feeney, Andrew Jurado, Clifford Bliese and Matt Foster were awarded second place in the undergraduate competition for their handheld protection device business idea, Innovative Protection Systems. Third place in the class went to three Reno undergraduate students, Cameron Howard, Jeffrey Olson and Jonathan Crane, for their Nevada Paper Fuels business plan. The business would use a proprietary process to convert waste paper into cellulosic ethanol.
LAS VEGAS BUSINESS PRESS