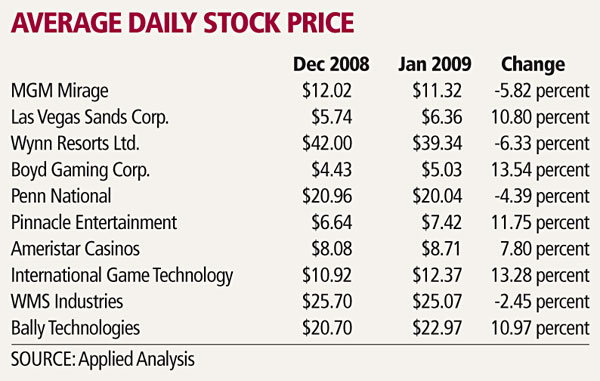 Volatility marked the gaming sector in January.
Half of the publicly traded casino companies and slot machine makers tracked by Las Vegas business advisory firm Applied Analysis saw their average daily share price record double-digit jumps during the month. Last year, many gaming stocks fell to all-time lows.
"Concerns about the national economy persisted," Applied Analysis principal Brian Gordon wrote in the report Friday. "Speculation of economic stimulus efforts is uncertain. Also during the month, consumer confidence levels dipped to their lowest levels in history, a sign that demand in the leisure industry may be impacted.
Applied Analysis' Gaming Index fell just 6.17 points in January to close at 223.84, a modest decline compared with several double-digit drops the index recorded last year.
Boyd Gaming Corp. (up 13.68 percent) and International Game Technology (up 13.31 percent) had the largest average daily price increases in the index. On the downside, the average daily stock price for Wynn Resorts Ltd., which opened the $2.3 billion Encore at Wynn Las Vegas at the end of December, tumbled 6.34 percent.
Despite another down month for certain gaming stocks, some on Wall Street believe investors may soon start seeing some value in historically low stock prices.
Deutsche Bank gaming analyst Bill Lerner said in research note released Friday that attitudes may be shifting.
"We're encouraged by changing dynamics in recent weeks related to gaming investor sentiment," Lerner said. "Investors are beginning the process to ultimately position for an early cycle move in gaming stocks."
Most investors, he said, figure fourth-quarter earnings will be negative for most casino operators and slot machine manufacturers. Last week, International Game Technology said its profits in the recently completed quarter fell 42 percent.
"Equity investors know that Las Vegas continues to weaken." Lerner said. "They understand that structural issues and credit dynamics will exacerbate revenue declines in Macau yet expect visa restrictions to ease at some point. There is very little interest in regional casino market dynamics."
Contact reporter Howard Stutz at hstutz@reviewjournal.com or 702-477-3871.