US Airways cutting LV flights
October 29, 2009 - 9:00 pm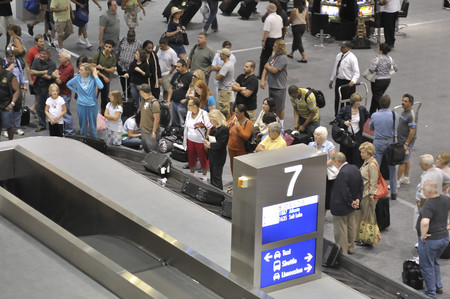 McCarran International Airport's second-busiest air carrier will cut its service to and from Las Vegas by nearly half starting in February.
The announcement by US Airways marked the second time in two years the Tempe, Ariz.-based carrier said it was reducing Las Vegas service. The move was part of an realignment by US Airways, which will cut 1,000 jobs, end service into several markets and close stations and crew bases in several U.S. cities, including Las Vegas.
US Airways employs 880 people in Las Vegas. A spokesman for the airline said it was unclear yet how many of the Las Vegas employees will lose their positions because some workers will be able to transfer to other markets.
In Las Vegas, US Airways operates 64 daily flights. The number will fall to 36 by February, a 44 percent reduction. In a statement, the airline said high fuel prices and the lack of customer demand were the reasons behind the reduction.
US Airways is also ending nonstop service between Las Vegas and Detroit; Minneapolis; Seattle; San Jose, Calif.; Orange County, Calif.; Orlando, Fla.; Fort Lauderdale, Fla.; Chicago (O'Hare); Vancouver, British Columbia; and Toronto.
"The schedule changes in Las Vegas are being made for similar reasons to what we announced in the first half of 2008," said Morgan Durrant, a spokesman for US Airways.
US Airways Chief Executive Officer Doug Parker said the cutbacks in markets like Las Vegas were being done to focus on the airline's hubs in Philadelphia, Phoenix and Charlotte, N.C., and its base at Washington's Reagan National Airport. Parker is working to return US Airways to profitability after net losses in seven of the past eight quarters.
The current airline was created in 2005 following the merger of America West Holdings Corp. and the US Airways Group Inc. The carrier cut some 1,300 jobs among pilots, management and other work groups in 2008.
US Airways is second only to Southwest Airlines in the number of passengers it services at McCarran. In September, US Airways flew 359,923 passengers in and out of McCarran, a decline of 26 percent. For the first nine months of the year, the airline had serviced almost 3.8 million passengers, a 34 percent decline from a year ago.
Clark County Department of Aviation Director Randall Walker said the airport only learned of the planned changes Wednesday.
"We're analyzing the details to determine how this will affect Las Vegas-bound passengers versus those who were just hubbing through, looking at each market individually, in order to determine how this will impact the community," Walker said.
The news concerning the Las Vegas flight reductions was viewed negatively by Wall Street.
Janney Montgomery Scott gaming analyst Brian McGill has said in recent investor notes that the airlines need to increase flights by 10 percent to 15 percent to serve an increasing number of hotel rooms.
The Golden Nugget will open 500 hotel rooms at the end of November, while CityCenter will bring almost 6,000 hotel rooms to market by the end of December.
Based on a planned 15,000 new hotel rooms, McGill believes the city needs to attract an additional 3 million visitors annually.
"We continue to remain cautious on the outlook for Las Vegas given the additional hotel supply and lack of airline capacity into the market," McGill told investors. "With 43 percent of the visitors arriving by air, this would mean an additional 1.29 million visitors would need to arrive on planes. Given these airline capacity cuts, we expect the Strip to become more reliant on the less profitable drive-in customer."
The Las Vegas Convention and Visitors Authority viewed the news as more of a reflection of how US Airways wants to modify its business model. Vince Alberta, the convention authority's chief spokesman, said the agency expects other domestic air carriers could pick up flights vacated by US Airways.
British Airways just started a once-a-day nonstop flight between McCarran and London's Heathrow Airport. XL France is expected to begin a nonstop flight between McCarran and Paris next year.
"Other carriers have demonstrated an interest in this market," Alberta said.
Durrant said US Airways could resume flights if demand increases.
Contact reporter Howard Stutz at hstutz@reviewjournal.com or 702-477-3871.