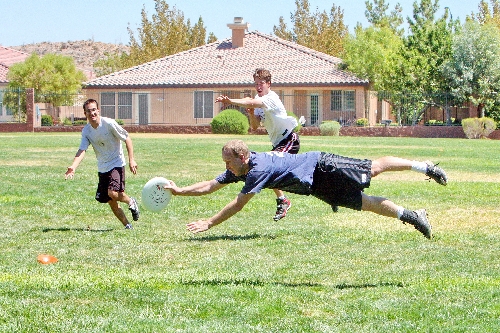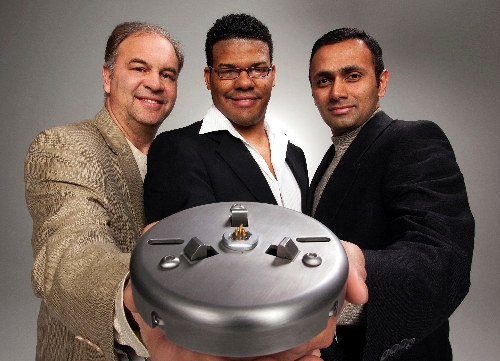 After toying for several years with ideas for Internet fundraising, John Lynn finally went live Aug. 2.
He spent the previous four months honing the concepts and details that evolved into www.givingsports.com and www.givingsquare.
com, building on the platform he had written to win the first Southern Nevada Business Plan Competition in January.
"I just decided it was time to live my dream," he said. "It was time to see if this is going to work."
But Scott Hillman already has his answer. He placed as one of four other finalists with his proposal to install large, flat-panel televisions in shopping malls as advertising vehicles. He even lined up potential locations.
However, investors who talked of investing in his EyeSpy Media never delivered checks, so Hillman could not finance the startup phase. About all that's left of the company now is a lawsuit by General Growth Properties, which gave him a contract for sites in three of its malls, seeking to collect more than $600,000.
"EyeSpy is pretty much over," Hillman said.
The finalists' divergent experiences illustrated what entrepreneurs have long known: A well-constructed business plan hardly guarantees sales and positive cash flow.
Nevertheless, the University of Nevada, Las Vegas Center for Entrepreneurship will launch its second annual competition Sept. 6 because business plans have become facts of life for people going on their own. The Las Vegas Business Press co-sponsors the contest.
"Business plans provide you with that road map you need to develop your business in a coherent way," said Greg Twedt, chairman of SCORE Southern Nevada, which counsels small businesses.
Lenders and investors demand plans, he said, especially in a slow economy, as concrete evidence that a business owner has a realistic idea of how to proceed.
"It's part of the due-diligence process," he said.
Even businesspeople who intend to use their own money should draft a plan to ensure that their effort is based on strategy and not wishful thinking. After that, he said, a plan provides benchmarks to evaluate whether the business is on course, even if portions need to be rewritten periodically.
"To me, the biggest value of a business plan is that it helps provide you with some discipline," said Mike Ballard, a founder and board member of the Vegas Valley Angels investment group. "You have to make choices when you start a business. You can't be all things to all people."
He recalled that when he started a public relations firm earlier in his career, he contacted a consultant who would not take him as a client until he wrote a plan.
"I didn't understand it because my money was as good as anyone else," he said. "But it really helped me to decide what I could do and what I had to focus on."
Professor Andrew Hardin, who will oversee the contest as the director of UNLV's Center for Entrepreneurship, said part of the goal is to promote the economic diversification of Las Vegas by spurring people to create new businesses. In addition, the contest can put entrepreneurs in touch with potential financiers and receive feedback about the viability of their ideas and presentation.
Adjustments figured prominently when Lynn launched his websites, starting with the company's name. He won the $5,000 cash prize and the $65,000 package of services, such as office space and advertising, for a business named Sportsriffic.com.
"As I went along, I learned that people didn't know how to spell it," he said. "Is it one S, one R, two R's. So I changed the name to something much easier."
His basic platform would let amateur sports teams register and post pages about themselves to draw donations, reducing or eliminating the need for traditional fundraisers such candy bar sales. Although givingsports.com takes a cut, Lynn calculated it would still net the clubs more than other methods.
Although his plan called for signing up school-related clubs, he launched with a $5,000 target for Las Vegas Ultimate, which supports Ultimate Frisbee, a sport Lynn enjoys.
After canvassing other potential clients, he detected a desire for a similar vehicle for nonsports groups. So he developed givingsquare.com.
As his plans progressed, he decided to use his own resources and not seek outside financing.
"When you get investors involved, they want to know how you can scale up the business," he said. "I wanted to establish the model first before I reached that stage."
The cash he won and the connections he made came in handy. The free legal services included among the prizes helped, too, he said.
Because his startup costs ran higher than building websites, Hillman needed to tap outside financial help. But he found no takers.
Finalist Howell Shaw also has shelved his Optimal Irrigation Systems due to a lack of funding. Instead, he has focused on growing his green building material supplier.
Optimal Irrigation tried to bring to the U.S. an underground irrigation system based on a membrane developed in Japan that promised much less water loss to evaporation than conventional drip irrigation.
"We did get some visibility out of the (business plan) contest but not any funding," Shaw said. "We are still talking about it, but until someone provides startup capital, there's not much more we can do."
Executives of the Rhema Co., which selects what it considers promising ideas and tries to bring them to market, could not be reached for comment.
But the Rhema's website contained an entry on June 14 announcing the company had secured funding to produce the Fox Lock, a snap-together device for mounting ceiling fans. The company also said it lined up a patent lawyer and a sales team, but did not specify when sales would begin.
The fifth finalist is in roughly the same position as it was during the business plan contest in January. Medsonix, a physical therapy based on people sitting and absorbing low-frequency acoustic sound waves, has continued operating at locations in Las Vegas and Naples, Fla.
President Alphonse Cassone said he plans to add clinics in the Houston area by a franchise or licensing arrangement as part of a strategy to expand this company's geographic footprint. Potential locations in Los Angeles and New York's northern suburbs that were mentioned during the contest have not fallen into place.
Contact reporter Tim O'Reiley at toreiley
@lvbusinesspress.com or 702-387-5290.
2010 SOUTHERN NEVADA BUSINESS PLAN COMPETITION SCHEDULE
Sept. 6: Starting date for entries. At this point, only executive summaries of a business plan are accepted. All entries must be electronic. Visit www.lvbusinesspress.com for more details.
Oct. 4: Deadline for discounted entry fee of $75.
Oct. 22: Final deadline with fee of $100.
Nov. 19: Ten semifinalists picked from executive summaries. Reviews will be conducted by members of the University of Nevada, Las Vegas faculty and members of the Las Vegas business community. The judges have not been picked.
Dec. 20: Plans due from the semifinalists, going into much greater depth with sections covering spreadsheets, detailed market analysis and backgrounds of the proponents.
Jan. 7: Judges winnow the competition down to five finalists.
Jan. 10: Five finalists announced.
Jan. 14: Finalists begin to receive coaching from SCORE on how to buff their plans.
Jan. 21: Finalists make in-person presentations to a panel of judges in the morning. Judges from the business community deliberate and select a winner in the afternoon. The winner will be announced at an evening reception. Prizes have not been set.