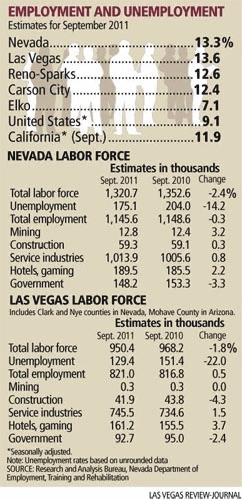 Nevada's battered construction sector is showing signs of life, according to unemployment numbers released Friday.
Overall unemployment in Las Vegas fell from 14.3 percent in August to 13.6 percent in September, as most of the region's key job sectors added workers.
But it was construction that surprised the most, adding jobs for the fifth-straight month and growing year over year statewide for the first time in five years. Local builders added 1,000 jobs from August to September, and though jobs in Las Vegas fell by 1,900 year over year, that was the smallest rate of decline since the recession's 2007 start.
The improved numbers are a hopeful sign, but economists and construction experts say the industry's looking at a long road back to health, given continued oversupplies of homes and commercial space. Nor will the sector return to peak employment any time soon — though that is not necessarily a bad thing.
"The bottom line is, there's potentially encouraging news, but we're going to have to wait and see how things unfold in the coming months," said Bill Anderson, chief economist for the state Department of Employment, Training and Rehabilitation, which tracks unemployment.
PUBLIC WORKS OFFERS A BOOST
Anderson credited public works and infrastructure projects for the 200-job annual gain in statewide construction.
Steve Brown, director of the Center for Business and Economic Research at the University of Nevada, Las Vegas, agreed that infrastructure spending is boosting the state's building industry.
Locally, job declines may have slowed simply because the market is near the bare minimum of construction workers needed in a city of 2 million people, Brown said. Las Vegas had 41,900 construction workers in September, down from a peak of 112,000 in June 2006.
But Brown said small upticks in remodeling also helped the sector hold its ground. Employment has held up better among specialty contractors, such as plumbers, electricians and carpenters who fashion intricate, custom woodwork, an indication that finish work is now driving construction, he said. Hotels are improving rooms, and local businesses are moving into higher-grade offices that were unaffordable during the boom. Those new spaces need building out.
"The people who haven't had trouble finding (construction) employment are highly skilled, and frequently, they're qualified in more than one area," Brown said. "It's actually been that way in general: The recession has hit hardest among the least-educated."
Brad Peterson, a senior vice president specializing in office properties with commercial brokerage CB Richard Ellis, said he has seen a "definite flight to quality," as local businesses move into higher-class space. He also sees tenants cutting deals with landlords to stay put in exchange for renovations.
Specializing in finishes and upgrades is helping Las Vegas Rock grow.
The company concentrated on landscaping in good times, providing crushed rock for local gardens, as well as flagstone, boulders and landscaping for swimming pools. At its peak, the business had 70 workers, said co-founder Steven Wickman.
Landscaping dried up when the economy collapsed, and the company's payroll shrank to around 22.
Now, Las Vegas Rock is ready to hire again. It's looking for 15 workers for its factory in Jean. The company has lined up $24 million in business, making and installing natural stone countertops and walls. It worked on Aria and The Cosmopolitan, and it has deals spanning the globe, from Hawaii to Kuwait.
"What saved us was our factory for specialty stone. That business transcends Las Vegas, whereas landscape rock does not," Wickman said. "The stone industry is a mature business that has worldwide demand."
Las Vegas Rock also expects to add 15 more staffers in 2013, for a total of 55.
no mass exodus yet
Like Las Vegas Rock, Nevada's construction employment remains well below its apex. The Silver State had 148,800 construction workers in June 2006, compared with 59,300 workers in September. Don't hold your breath waiting for those lost jobs to return: Overhangs in housing and commercial space mean little need for general construction labor for years to come, and big public works projects, such as the new Las Vegas City Hall, are wrapping up, said Brian Gordon, a principal of the Applied Analysis research and consulting firm.
Still, there's no indication that unemployed construction workers are leaving Nevada en masse — yet.
While the share of construction workers receiving unemployment benefits in the state has fallen from 28 percent of recipients to 14 percent, that's likely because benefits expired, Anderson said.
The figures that include underemployed and discouraged workers haven't budged much, Brown said, so his hunch is that jobless construction laborers are sticking around for now.
That could change if residential building picks up in other regions. However, homebuilding remains weak nationwide, with no pickup in sight.
Nevada homebuilding is even weaker.
"It would be nice to see construction workers back on the job, but there's not much incentive to build anything right now, when houses are selling below replacement cost, and shopping malls and office complexes are selling for 10 to 50 cents on the dollar," Brown said.
Peterson said the office sector is at least two years from needing new space.
It's conceivable the city could return to peak construction employment, but not until it has 2.5 million to 3 million residents, Brown said.
Neither Anderson nor Gordon expect peak building employment to come back in the foreseeable future.
But experts agree a smaller construction jobs base could be better for Las Vegas in the long run.
At the height of the boom, building claimed more than 12 percent of the local jobs base, an unsustainable rate driven by easy money and a lending bubble, Brown said.
Today, construction makes up around 5 percent of the jobs base, right in line with the national average.
"Sustainable growth is going to be key going forward for the local economy," Gordon said. "While many benefited and profited from the boom cycle that erupted from 2004 to 2006, others are being penalized during the downturn. Finding a more sustainable balance will be critical to the long-term well-being of the employment base going forward."
Contact reporter Jennifer Robison at jrobison@reviewjournal.com or 702-380-4512.