Vestin, CEO surviving hard times for lenders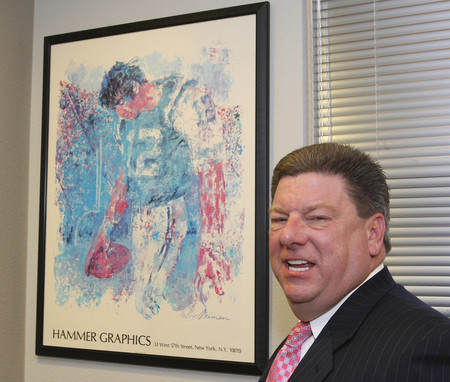 Hard money lender Mike Shustek helped finance the growth of Southern Nevada during the boom years but he drew more regulatory flak than a dive bomber.
However, Shustek has successfully defended his companies against the serious allegations and so far is surviving the worst economic crisis in decades.
Vestin Real Estate Mortgage I and II, Shustek's two publicly traded real estate investment trusts, have been losing money, but so have many of his competitors in the hard-money business.
Lenders like Shustek solicit money from investors to make short-term loans that are secured by real estate. During the boom years, investors in hard-money loans enjoyed double-digit returns, but they got slammed when real estate crashed.
While Shustek has maintained a relatively low profile for several years, he hasn't changed his lifestyle. He still owns race horses as a hobby and travels widely. NFL legends Joe Namath and Paul Hornung are his friends and former business associates.
Question: What brought you to Las Vegas?
Answer: I came out here and became a craps dealer. I was tired of school at the time.
Question: Where did you work?
Answer: The Orbit Inn (which has closed), The California Club, and then Union Plaza. Then, down at the Silver Slipper, Imperial Palace and the Tropicana.
Question: Did you enjoy being a craps dealer?
Answer: It was not what I wanted to do. I went on to sell life insurance and annuities. I obtained my real estate license, because I saw the growth of this town.
I started buying single-family and multifamily properties from the (Resolution Trust Corp., which sold properties foreclosed by savings and loan associations). I would have to go locate the property, locate the investor and put the whole deal together. Borrow money, fix them up and sell them and make a profit.
In '95, I started Del Mar Mortgage (a hard-money lender later renamed Vestin Group).
Question: What was the market like then for hard-money loans?
Answer: It was great. We lent to the small homebuilders. We made a $36 million loan so the Herbst brothers could buy the Continental and reopen it as Terrible's Hotel & Casino. We did a $57 million loan to the Cannery in North Las Vegas. I think it was in escrow (for sale) for over a $1 billion. We lent Shawn Scott $20 million for Delta Downs Race Track in Louisiana, and he sold it to Boyd Gaming for $135 million.
Question: You ran into flak from state regulators a few years ago?
Answer: There was anonymous letter sent out to our investors. It caused panic, and it was sent to the Financial Institutions Division. They audited the company in 1999, and they found none of the funds were amiss.
Question: How did you get in the cross hairs of the Securities and Exchange Commission?
Answer: In December 2003, the SEC gave us a notice of an informal inquiry. At the very end, there was an allegation that one or two of the slides out of 40 that we used (in presentations) might not have been accurate. I personally paid $100,000 (to the SEC). However, at the same time, they let me take Vestin Realty Mortgage I and Vestin II public (as mortgage real estate investment trusts).
Question: Former New York Jets quarterback Joe Namath was your spokesman for advertisements and appeared in Vestin ads for a while. How effective was Namath?
Answer: I only averaged about $400,000 a day without Joe. When he was spokesman, we raised more than $800,000 a day. Joe is very down to earth. When Joe would come here and just to save the company money, he would stay at the house. He didn't want a limousine. Joe's treat was to go to the Dairy Queen.
Question: When he was embarrassed on television trying to kiss a female sports reporter, you fired him?
Answer: As a CEO of a company and a person managing $400 million at the time, my clients come first and my personal feelings toward a friend, I have to put second.
Question: Paul Hornung, who played fullback for the Green Bay Packers under coach Vince Lombardi, also served as a spokesman for a short time.
Answer: Yes.
Question: Didn't investors in hard-money do well for a number of years?
Answer: Our investors never lost a penny of principal from 1995 until 2005. So for several years, they were getting double-digit returns, an average of about 12.5 percent to 13 percent return.
Question: What caused the real estate crash in Southern Nevada?
Answer: A medium-priced house should go for about 21/2 times (the average homeowners') income.
Our income in Nevada was not going up, but the average house was going for $370,000. The average household income wasn't $148,000. We thought there would be a slowdown or a little bit of a decrease. Nobody saw it being this tough.
Question: Why should someone invest in hard-money loans now?
Answer: I buy $10,000 worth (of Vestin Realty Mortgage II shares) every day.
This REIT expires 2020. The book value is $10, and you can buy it at $2.50. If you can buy $10 bills for $2.50, how many are you going to buy?
If you lend at 60 or 50 percent of current value, hopefully it won't go down another 50 to 60 percent. I don't feel real estate can go down another 40 percent.
Contact reporter John G. Edwards at jedwards@reviewjournal.com or 702-383-0420.
VITAL STATISTICS
Name: MICHAEL SHUSTEK.
Position: PRESIDENT AND CHIEF EXECUTIVE OFFICER OF VESTIN REAL ESTATE MORTGAGE TRUSTS I AND II.
Family: WIFE, PEGGY; CHILDREN, ANDREW AND KATHRYN.
Education: BACHELOR'S DEGREE IN FINANCE FROM THE UNIVERSITY OF NEVADA, LAS VEGAS,1993.
Work history: CASINO CRAPS DEALER, INSURANCE AND ANNUITY SALESMAN, REAL ESTATE INVESTOR, FOUNDER AND OWNER VESTIN GROUP SINCE 1995.
Hobbies: TRAVELING, OWNING RACE HORSES, SPORTS.
Favorite book: "THINK AND GROW RICH" BY NAPOLEON HILL.
Favorite movie: "RIDING THE BULLET" AND "TOP GUN."
Hometown: SAN DIEGO.
In Las Vegas since: 1980.
Vestin Group is at 6149 S. Rainbow Blvd., and can be reached at 227-0965.