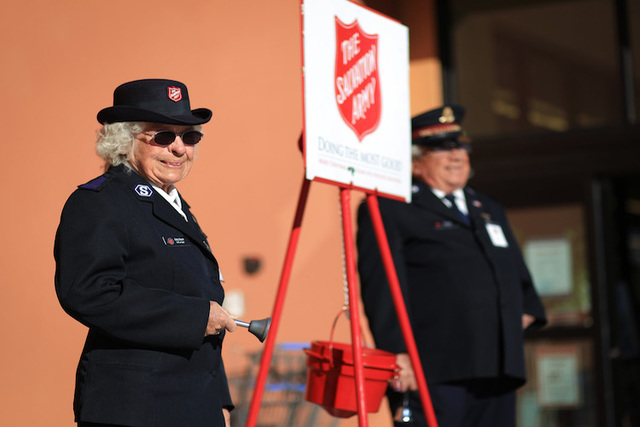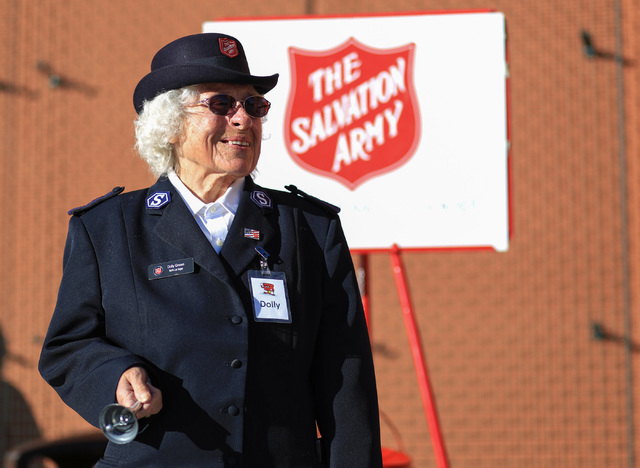 From the California mall scene and the trans-Alaska pipeline of the '70s to North Las Vegas, this couple have traveled and witnessed the flow of American generosity.
Calvin and Dolly Groom — 71 and 70, respectively — have done it all while ringing bells for the Salvation Army's Red Kettle Campaign. The kettles are a worldwide staple of holiday culture, and the campaign is in its 125th year, according to the Salvation Army of Southern Nevada's website.
The Grooms started ringing the bells in 1973. They've spent the past 13 years in Las Vegas, ringing bells for the past three. It's a five-day-a-week routine, from 9 a.m. to 5 p.m., during the holiday season.
There's a quote about the evangelically rooted, nonprofit Salvation Army that Cal likes: "It's Christianity with its sleeves rolled up."
On a biting December afternoon, the husband and wife appeared in Salvation Army uniforms in front of a Hobby Lobby. Because of the weather, their sleeves weren't rolled up. But they handed off bells to each other, and occasionally, to little kids slipping currency into the red kettle. Bells chimed unceasingly.
"Would you like to ring my bell?" Dolly said to a little girl who had popped in a dollar.
The little girl walked off with the bell, but changed her mind and brought it back.
As for the eye-averters who hurry past, Dolly said, "It used to bother me. It doesn't anymore."
"Most people react because they feel a little guilty," Cal said. "I'm not here trying to make them feel guilty. I'm here trying to call attention to a need."
Salvation Army Capt. Sheri Ferguson oversees North Las Vegas' 29 bell ringers at 32 sites. She said the money slotted into red kettles in that brief span between the day after Thanksgiving and Christmas Eve supports the nonprofit group's initiatives throughout the entire year. That includes food boxes, youth programs and Salvation Army thrift store vouchers for those who need clothing.
The operating budget for North Las Vegas alone last year: $90,000, with only 12 cents of every dollar going for overhead. The campaign provided about 50 percent of that budget, Ferguson said.
Bell ringers receive minimum wage or volunteer. Some quickly learn that standing in the cold for hours "is not for them," Ferguson said.
Ferguson attended Sunday school in California when she was 9 years old. Her teacher was Dolly, who took "top kettle" last year, bringing in about $10,000.
But even the queen of the kettle sees stretches of emptiness on the sidewalk, alongside of an entertaining sampling of generosity.
She once stepped out of a Salvation Army coffee and pie fellowship, briefly removing her hat. Someone flipped a cool $100 bill into it.
One of Cal's favorite stories of Christmas past: the time a mall security officer in Valencia, California, rounded up a questionable panhandler and herded him over to the kettle. The young man's choice was to hand over his booty or deal with the cops. Cal's kettle overflowed.
The occasional jammed kettle over decades can be deceiving, however. In the past few years, since the recession, donations in Las Vegas have improved somewhat, but haven't kept up with the need, Cal said.
"People pick out certain statistics and say our economy is rebounding," he said. "From what I've seen, it's not."
Dolly said she and Cal needed a little help themselves in 1973, in Hayward, California. They showed up at the Salvation Army, seeking food for their two children. They were invited to Sunday school and church. They joined, and the next year, headed to Alaska to open a women's emergency lodge.
Since then, they've cooked, traversed bad neighborhoods, helped at least one runaway escape a molesting parent and helped run youth programs, they said.
And they've talked to people, whether about the Bible or the challenges of getting by.
For example, one time Cal was explaining the increased need he'd been seeing to a woman, who promptly offered a check for $10,000. He wasn't ringing the bell then. He also recalled the "6-foot-12" guy in Anchorage who picked him up to cry on his uniform.
One visitor from Pennsylvania told Dolly, in awe, that it took a trip to Las Vegas to see someone at the kettle in uniform.
"She took a picture," Dolly said. "That way, she has permanent proof."