ViaWest, Switch data centers investing in Las Vegas Valley sites
February 24, 2017 - 2:24 pm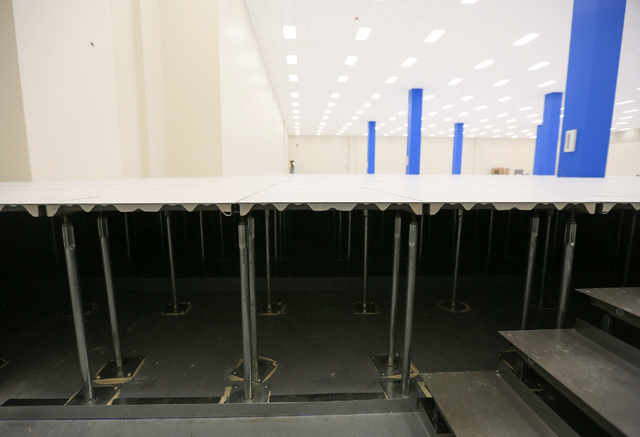 Two data center companies are investing in their Las Vegas Valley locations.
Earlier this month, ViaWest received a construction permit for the largest of its three buildings in the valley.
The Lone Mountain Data Center at 3330 E. Lone Mountain Road, near Interstate 15 in North Las Vegas, received a permit from the city for $7.16 million worth of work to the building.
The center will add about 42,000 square feet of space for servers used to store data for businesses like credit unions, medical imaging services and companies in hospitality and gaming, said Alex Gerrard, ViaWest regional vice president of sales.
Businesses pay a monthly rate to ViaWest to store information on its servers. The company is also adding services to manage information technology for businesses, Gerrard said.
The company, based in Greenwood Village, Colo., has 30 data centers across the U.S. and in Canada.
ViaWest opened its first site in the valley in 2001 and a second one in 2008. The Lone Mountain building opened in 2013.
Construction will finish in March, around the same time the first client for the new space is brought in.
ViaWest will hire a few engineering and technician positions for the data center. But a data center's role in economic development is indirect, Gerrard said. The company contracts out for work on infrastructure and maintenance, plus other businesses in expansion need somewhere to store growing data.
"We're part of a healthy business community," he said. "If we succeed, they succeed."
While multiple regions in the U.S. want a reputation as data center-friendly environments, the Southwest is best for cheap land, cheap labor and dry air, in which machines cool easier than in humid weather.
Gerrard foresees construction of another ViaWest data center in the valley, but not for years.
Meanwhile, a locally based data center company, Switch, received construction permits in January for electrical work for its site at 7365 Lindell Road, near the intersection with Warm Springs Road.
The permits show a total of $58,000 worth of electrical work installing new wires and related equipment. It's unclear if the electrical work is related to the build out of Switch's Nap 10, a planned 343,000-square-foot data center still under construction, according to the company's website.
Representatives from Switch could not be reached for comment.
Permits issued in December for the same site detail electrical work for Nap 10 valued at $5.14 million and plumbing work for the project valued at $314,000.
In November, the company received a permit for the construction of three power systems and an office complex related to the Nap 10 project. The value was listed at $9.46 million.
Switch received a permit in December for a 493-by-8-foot wrought-iron fence at its site at 5325 W. Capovilla Ave., near the intersection of Decatur Boulevard and Warm Springs Road.
The project is listed as related to Switch's other project listed as under construction, called Edge 1. October permits for the site describe construction on a metal building for office space and a data center, valued at $5 million, plus $3 million of electric work for Edge 1.
Earlier this February, the company announced the opening of what it calls the largest, most advanced data center campus in the world: the Citadel Campus at the Tahoe Reno Industrial Center east of Reno.
Contact Wade Tyler Millward at wmillward@reviewjournal.com or 702-383-4602. Follow @wademillward on Twitter.