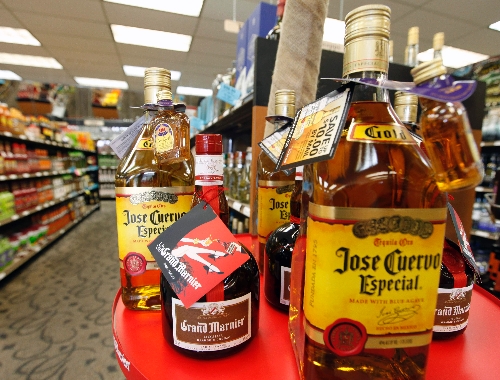 BOSTON — So much for virtue. Sin is in.
That's according to a mutual fund manager who's finding plenty of investment opportunities in companies profiting from vices like smoking, drinking and gambling.
Jeff Middleswart's aptly named Vice Fund is beating the house in a down market. For the year, the Dow Jones industrial average is down about 2 percent. Yet stocks of cigarette makers are up an average of about 12 percent.
The Vice Fund's three biggest holdings are cigarette stocks: Philip Morris International Inc., Lorillard Inc. and Altria Group Inc. That explains why the fund is up about 4.5 percent this year, ranking in the top 3 percent of its large-blend fund peers, according to Morningstar.
Defense contractors — another fund mainstay — are up an average of 12 percent. Some group contractors in this category because their profits are tied to the escalation of conflicts. Alcoholic beverages? Up about 6 percent.
Vice is the lifeblood of a fund that's a counterpoint to investment products touting themselves as socially responsible because they favor companies ostensibly benefiting society. This year, those stocks aren't doing anything special. An index of socially responsible stocks, the MSCI USA Large Cap ESG, is down 1.7 percent.
Vice Fund (VICEX) is rebounding from lagging returns in 2008 and 2009. Its turnaround would be even bigger if not for the average 30 percent decline for stocks of gaming companies.
Vice is the only fund explicitly focusing on sin stocks. Its portfolio of about 30 stocks is divided almost equally among cigarettes, alcohol, gaming and casinos, and defense — industries that typically hold up well in tough times.
Middleswart replaced previous manager Charles Norton in February, after more than two decades as an investment analyst. The 40-year-old Dallas resident manages the eight-year-old fund for USA Mutual Funds, along with the smaller Generation Wave Growth Fund (GWGFX), which invests in stocks expected to profit from spending by baby boomers. Both were founded by Dan Ahrens, who left in 2005 after writing a book that explained his investment thesis. Its title: "Investing in Vice: The Recession-Proof Portfolio of Booze, Bets, Bombs, and Butts."
Here are excerpts from a recent interview with Middleswart about the Vice fund, and this year's standout performance for many sin stocks:
Question: Were you at all reluctant to manage the fund because of its focus on sin stocks?
Answer: Not at all. I've always been a contrarian, and I've always looked for deep value stocks. If you listed everything you look for in a stock — companies with growing cash flow, that pay dividends and buy back shares and have clean balance sheets — you'd find a huge list of sin stocks.
Yet people look at them and say, "I don't want to own that, it's tobacco, it's an industry that's going out of business." Or they say, "I don't want to own an alcohol stock."
These are stocks with the (financial) characteristics everybody says they want, and we're getting them at a discount. That's because certain people don't want to own them.
Question: Is there anything unique about the types of investors drawn to the Vice fund?
Answer: For the most part, they're individual investors. We have a higher-than-average percentage of people in the military who own the fund.
Question: Your top holding, at about 12 percent of the fund's assets, is Philip Morris. What do you find attractive about one of the world's largest tobacco companies?
Answer: Philip Morris has international tobacco exposure, which is still growing. In emerging markets, people are smoking more, and they're going for brand-name cigarettes. With this stock, you're getting a dividend yield of nearly 5 percent, and they also have enough cash flow to buy back shares.
You've got a company that doesn't have to spend a fortune every year remaking itself, in terms of research and development, and signing new distribution agreements.
Question: Another one of your favorites is Anheuser-Busch InBev SA, the product of a 2008 deal pairing U.S. and Belgian brewers. What do you like about the stock?
Answer: The company is paying down debt rapidly, and it has solid cash flow growth. The way they're going, they'll eventually start rewarding shareholders with a bigger dividend, perhaps in the 5 to 6 percent range. It's also got a big presence in growing markets like Brazil. I think the stock will have a decent pop over the next year and a half, and at that point it will become a cash machine for shareholders.
Question: Why have you cut back on gaming stocks?
Answer: Because gaming companies hold so much debt, and their U.S. growth prospects are limited. You've got lots of city and state governments saying they want to get into gaming in a bigger way. So they're authorizing new casinos. But that's essentially dividing up the same dollars. As you divide the pot among more players, you will see a lower return.
Question: Your fund owns stocks in two makers of game terminals: Bally Technologies Inc. and International Game Technology. Why do you prefer these to casino stocks?
Answer: As long as casinos expand, they'll have to buy new slot machines and video lottery terminals. These companies will benefit. They don't have a ton of debt the way many casinos do.
Also, the casinos in Las Vegas used to be on a 4- to 5-year replacement cycle for new machines. But because of all the debt troubles they had in 2008 and 2009, a lot of those replacements have been postponed. There's a lot of pent-up demand.
Questions? E-mail investorinsight@ap.org.