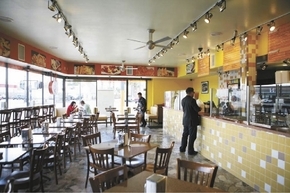 Inside Viva Las Arepas, smells of wood-fired chicken, beef and pork fill the air. Plates piled high with yuca, fried plantains and meats leave the kitchen with glasses of fresh, tropical fruit juice while customers at the counter order the restaurant's signature arepas.
On any given day, Chef Felix Arellano can be found cooking up his homemade Venezuelan food for a swarm of hungry customers waiting in the dining room.
When it opened in 2011, Viva Las Arepas primarily served arepas — fried or baked cornmeal cakes — filled with succulent meats, cheeses and spices, and snacks such as empanadas . The eatery was located in bright yellow kiosk just outside Dino's at 1516 Las Vegas Blvd. South, and seating was limited to a few barstools outside the kiosk and one picinic-style table.
In late January, the eatery moved into its new, 1,200-square-foot location at 1616 Las Vegas Blvd. South, a permanent space with a 10-year lease. With it came new menu items, including the aforementioned wood-fired meats.
"It's better," Arellano said. "It's more comfortable for the customers."
Sales, too, are up — 50 percent since the move indoors. Prices are modest, with an overflowing plate of meat and sides selling for around $9.
The relocation has also provided more opportunity for Arellano to expand his empire.
Already, he re-styled the kiosk into a hot dog-taco stand that debuted on March 1. Open from 3 p.m. until 10 p.m. weekdays (and until midnight on weekends), Arellano is planning to add lunch hours and an expanded menu to include burritos and quesadillas in the near future.
And in the empty space next door to Viva Las Arepas, Arellano and a partner are planning Art of Flavors Gelateria. The 2,000-square-foot location would sell candy, gelato and ice cream cakes. Customers could have their gelato flavors mixed a la Coldstone Creamery while they watch. Construction could start in early April if the venture receives municipal approvals next month.
If that weren't enough, the chef is half-finished with a project to build out a mobile kitchen, which he estimates will be completed by the end of 2013. He has purchased a retired school bus and had the ceiling raised 20 inches so he can create a custom kitchen inside.
"It's going to be one of a kind," he said with a grin.
Arellano, however, isn't finished perfecting Viva Las Arepas. He plans to offer delivery and maybe catering, but he said he wants to wait until the right moment.
He and his wife, Alix Molina, have set their sights on some pretty specific expansion plans and are methodically seeing them through. Their recipe is simple.
"If you put a lot of work into what you do," he said, "you'll be successful."
Contact reporter Laura Carroll at lcarroll@reviewjournal.com or 702-380-4588. Follow @lscvegas on Twitter.