Volkswagen dealers, execs to meet in Las Vegas to discuss moves to improve sales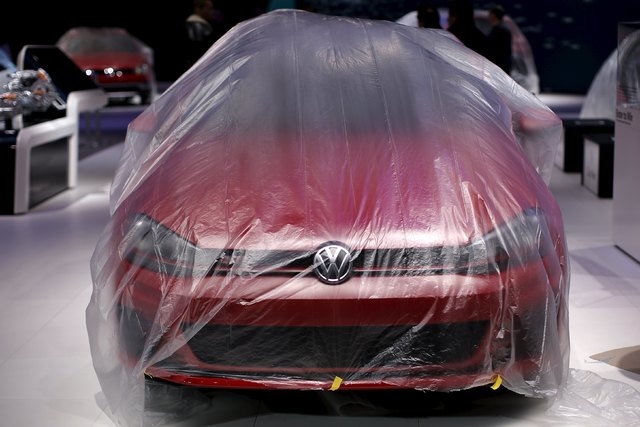 Hundreds of Volkswagen dealers from across the country will descend upon Las Vegas this week seeking some answers and help in rebuilding their sales following months of controversy over emissions cheating.
A closed meeting between dealers and Volkswagen executives is set for Saturday morning, a day after dealers hold an internal meeting at the Las Vegas Convention Center. The VW dealers are in town for the National Auto Dealers Association convention Thursday through Sunday. More than 90 percent of the 652 dealers nationwide are expected.
In September, Volkswagen told its dealers to stop the sale of four-cylinder diesel engine vehicles after federal regulators accused the Germany-based automaker of falsifying emissions tests by using illegal software. About 600,000 vehicles on the road were affected.
The Las Vegas meeting comes less than two weeks after dealers traveled to Germany to meet with Herbert Diess, who heads the Volkswagen brand. Dealers have been on edge since Michael Horn, president of Volkswagen of America, departed last month. He was replaced by Hinrich Woebcken.
In Germany, Diess told dealers about the need to boost sales. There are plans to introduce new SUVs in the American market in 2017, said Alan Brown, chairman of the Volkswagen National Dealer Advisory Council and a VW dealer in Texas.
Brown said dealers are excited to hear from Volkswagen top executives about short-term and long-term goals. "A lot of dealers don't come to NADA, but a lot are coming this year because of how important this conference is especially to hear from Dr. Diess and Mr. Woebcken," he said.
The conversation is expected to cover everything from the investigation by the U.S. Environmental Protection Agency, reparations for lost sales, lower prices and introduction of new models.
Although every dealer has different struggles, Brown stressed the importance of getting back into volume selling in its stores. "That was a big part of our discussion in Germany … how do we take the product we have so we do well against the competition?"
Brown said Volkswagen dealers have plenty of inventory, but the question remains whether its vehicles are competitively priced against Honda, Toyota and Nissan. Some models are struggling to compete, he said, citing the Passat sedan and its price point against the Toyota Camry. Brown said the difference in price between the two cars is about $3,000 to $5,000.
Volkswagen sold about 350,000 vehicles in 2015, and the volume is expected to fall to 330,000 in 2016, Brown said. "The high was 424,000 in 2012, and the number keeps going down, and down and down."
Volkswagen invested significantly — more than a billion dollars — in infrastructure in 2007 and 2008, building up for volume, Brown said.
Besides a price drop, updated models and new models will help with sales volume, he said. The last models were introduced 18 months ago.
Brown said Volkswagen has committed to selling two new sport utility vehicles in the U.S. market: an entry-level SUV coupe derivative of a midsize SUV by 2017 and an all-wheel drive vehicle by the end of the year.
Doug Fleming, general manager of Findlay Volkswagen in Henderson, said he is glad new models will be introduced. Giving customers more options will bolster sales, he said.
"That's exciting news," Fleming said. "I'm really excited for the new SUVs because that's going to be great for families."
As for existing product, Volkswagen had a March 24 deadline from a federal judge to come up with its plan to fix vehicles that cheated the emissions test. That deadline has been extended to April 21 since the company has been dealing with engineering issues to solve the problem. Some have suggested the company might buy back some of the vehicles.
That's not the only problem.
In November, Volkswagen issued a recall of more than 90,000 vehicles for a camshaft failure. Volkswagen has recalled more than 900,000 vehicles this year to deal with a problem with the driver's side airbag inflators of a Japanese supplier.
"All of these things that have hit in the last six to seven months have taken the winds out of our sails," Brown said.
Volkswagen leadership has a chance to make some headway during the National Auto Dealers Association meeting on a plan to help dealers "get some wins with the product that we have," Brown said.
"We're trying to be very positive and optimistic," he said. "At the end of the day, the dealers got their livelihood tied up in these stores, and we have to keep a winning attitude and start getting some wins under our belt quickly."
Fleming, who will attend this week's conference, commended Volkswagen executives for their accessibility to discuss what's happening. He said manufacturers have their ups and downs, but he remains optimistic everything will work out.
"Volkswagen still one of the greatest companies in the world. They own Lamborghini, Bugatti, Audi, Bentley, and Porsche," Fleming said. "They have some great days ahead."
RELATED
What you need to know about the Volkswagen scandal
Volkswagen emissions scandal could cost up to $87 billion