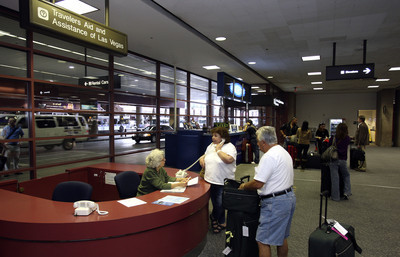 Lost or down-and-out Las Vegas visitors will have one less source of help at McCarran International Airport.
That's because the airport's $236 million annual budget no longer has room for the Travelers Aid Station, a volunteer-run information booth that cost the airport $21,715 annually.
The service, which launched in 1981 at McCarran, is a partnership with Catholic Charities of Southern Nevada Retired and Seniors Volunteer Program, or RSVP, and mostly hands out directions to lost and confused passengers.
But volunteers can also offer a meal voucher and a cab or bus ride to folks who find themselves stranded in Las Vegas without a friend or family member who can help.
"People are actually coming in and spending all their money and getting to the airport with absolutely nothing," volunteer Cynthia Virgil said. "We've actually had people fly in and come to our booth and look for shelter referrals."
Airport officials notified Catholic Charities that the contract to run the booth would be cut from the budget early this year, McCarran Deputy Director Rosemary Vassiliadis said. The booth will operate through March 31.
"It is not an essential function to the operations of the airport," Vassiliadis said.
With travel to Las Vegas declining by more than 7 percent in 2008, including double-digit percentage declines late in the year, airport officials are under pressure to cut the budget.
The airport is funded by fees to passengers and airlines and rent from terminal concessionaires, to spare local taxpayers the expense of operating the nation's sixth-busiest airport.
Fewer passengers means less money, which means airport officials are looking to cut budgets without reducing staff.
"We are doing everything we can to preserve our most valuable assets, our employees," Vassiliadis said.
It was January when McCarran Director Randall Walker outlined $30 million in proposed cuts for the 2009 fiscal year, reducing the budget from $266 million to $236 million.
More cuts are expected in the budget for the upcoming fiscal year, too, Vassiliadis said.
She said there are airport employees who work at information desks and complete other tasks in the terminal who duplicate much of what RSVP volunteers do.
Also, in the wake of the Sept. 11, 2001, terrorist attacks, the Metropolitan Police Department rolled out a volunteer-staffed program of its own for the airport, which doesn't require McCarran to foot any bill, she said.
"So we do have some layers in this customer service area that we are still providing," she said.
Sharon Mann, community relations director for Catholic Charities, said the RSVP volunteers provide useful assistance of the type that could fall through the cracks of airline, police and airport workers' duties.
For example, Mann said RSVP volunteers would help out if a customer in a group wandered out of a secure area after leaving their bags or passport with a friend or family member.
In that situation, an RSVP worker could learn from the traveler where the friends or family were waiting and coordinate a rendezvous with security workers to recover the identification so the traveler could make it back through the secure checkpoint.
In other instances, volunteers would sometimes provide food to travelers who were stranded for an extended period of time with no money. Or offer information about and transportation to local shelters or other assistance sites.
"It was basic help, but it did give people a basic place to go to begin getting back on their feet from whatever crisis they might have had at the airport," Mann said.
Virgil and her husband, Max, another volunteer, said when a freak snowstorm stranded travelers in December, the station stayed open several hours past its normal closing time to help people suddenly stuck at the airport.
"There were tons of people," Max Virgil said.
But for the most part, the volunteers simply provided a friendly welcome to Las Vegas and quick directions to a resort, restaurant or some other local destination.
"It was a very good service to anybody coming into Las Vegas," Mann said.
Contact reporter Benjamin Spillman at bspillman@reviewjournal.com or 702-477-3861.