Wal-Mart closing 269 stores, 1 in Las Vegas
January 15, 2016 - 6:26 pm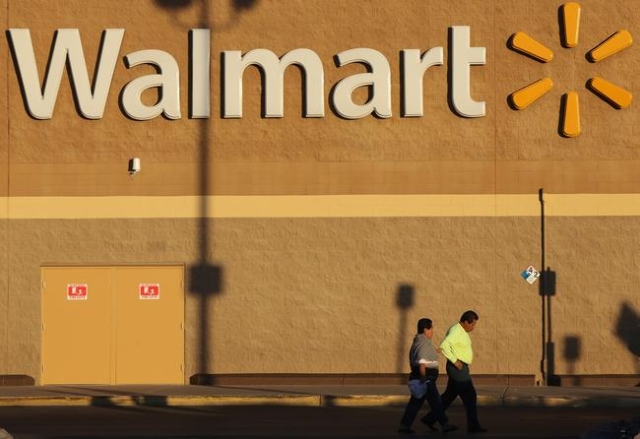 Wal-Mart Stores Inc said on Friday that it would pull the plug on its smallest store format, Wal-Mart Express, and close 269 locations as it contends with higher costs in its home market of the United States and disappointing results overseas.
The move includes Wal-Mart's largest-ever single culling in the United States, where the company is closing 154 stores. The other 115 stores are in Latin America, including 60 in Brazil.
The list of planned closings from Wal-Mart Stores Inc. includes a Supercenter at 4350 N. Nellis Blvd. in Las Vegas.
Delia Garcia, a spokeswoman for Wal-Mart, said the store, which opened August 2000, would close at 7 p.m. Sunday. She said the 350 store employees learned early Friday the store would close.
In an email, Garcia said that once the store is closed to customers, associates will continue report to work to help remove merchandise and fixtures.
"We expect to complete the process by Feb. 10, if not before. At that time, those not transferred to other stores will begin receiving 60 days' pay. If associates have not been transferred at the end of 60 days' pay, if eligible, they will receive severance," she said in an email to the Review-Journal.
Shoppers shuffled in and out of the store Friday afternoon, and the Nellis location parking lot was about half-full. Most people who spoke to the Review-Journal were not aware the store was scheduled to close Sunday.
Most said the store's closing wouldn't affect them aside from having to commute to other Wal-Mart locations or the nearby Smith's supermarket.
Other shoppers, like Roberto Vega, 61, said the closure would affect his family.
"We need this store," he said of regular shoppers, adding that the store is usually busy.
The Nellis store is closest to where he lives and he uses it to buy toothpaste, shampoo, clothes and shoes.
"If they close this location, I will have to find another store."
William and Gloria Clark, 72 and 71, stay at the nearby Hitchin' Post RV park.
"It will affect us quite a bit," William said, noting that they shop at that location "a lot."
A woman, who identified herself only as Rosie, told the Review-Journal, that visiting the store has become a routine that follows lunch with her friends.
"I'm going to feel really bad because I like this store," she said.
When seeking further comment inside the store, a man who only identified himself to the Review-Journal as Robert, of "asset protection," deflected questions to Wal-Mart's media relations office.
The world's largest retailer said it hoped to transfer many of the 10,000 U.S. and 6,000 Latin American workers in the closed stores to other locations.
Wal-Mart's earnings have been under pressure due to last year's decision to raise entry-level wages as well as higher investments aimed at closing the gap online with Amazon.com Inc. At the same time, Wal-Mart is struggling overseas, where a strong U.S. dollar reduces the value of local sales.
The closings come three months after Chief Executive Officer Doug McMillon disclosed plans to review global operations and shut underperforming stores. Friday's announcement marks the first step in that restructuring effort.
Wal-Mart said the closures represented less than 1 percent of its global revenue. The biggest cuts are in the United States, including all 102 Wal-Mart Express stores.
At 12,000 to 15,000 square feet, Express stores are less than one-tenth the size of a typicalWalmart Supercenter. The format had been in pilot since 2011 but did not deliver the desired results.
Moody's retail analyst Charlie O'Shea described the closures as a long-overdue "pruning."
"I've always wondered why it's taken so long to cull the U.S. store base because they really haven't done much of it over the past several years," O'Shea said.
Wal-Mart said the move would reduce earnings by 20 cents to 22 cents a diluted share, with nearly all of that to be booked in the fourth quarter ending this month. In November, it forecast a full-year profit of $4.50 to $4.65.
The company's shares fell 2.6 percent to $61.39.
The other 52 U.S. stores to be closed are a mixture of Supercenters, Wal-Mart's largest format; discount stores; Neighborhood Market groceries; and outlets in the company's Sam's Club bulk-selling wholesale chain.
The closings highlight the challenges Wal-Mart faces in finding growth opportunities in both its home market, which it has blanketed with some 4,500 stores, and overseas, where it has grown to more than 6,000 locations but has struggled to generate consistent returns.
In an internal memo to staff, McMillon said a regular review of the company's assets was vital for growth. "Doing this ensures we focus and align our resources in ways that build a strong company positioned to win in the future," said the memo, which was seen by Reuters.
The Arkansas-based retailer said it would still open 142 to 165 stores in the United States in the year ending in January 2017. For the first time, it also disclosed plans to open 200 to 240 stores overseas in the coming year.
The company said about 95 percent of the closed U.S. stores were within 10 miles of another that it owns, making it possible to move some workers to other locations. It said it would provide 60 days of pay and severance for eligible workers not placed.
The cuts drew criticism from a group backed by the United Food & Commercial Workers International Union, which for years has been behind a campaign pushing for better wages and benefits for Wal-Mart employees.
"Sadly, these latest store closings could very well be just the beginning," Jess Levin, communications director at Making Change at Walmart, said in an emailed statement. "This sends a chilling message to the company's hard-working employees that they could be next."
— Review-Journal writer Ricky Torres contributed to this report. Find him on Twitter: @rickytwrites.