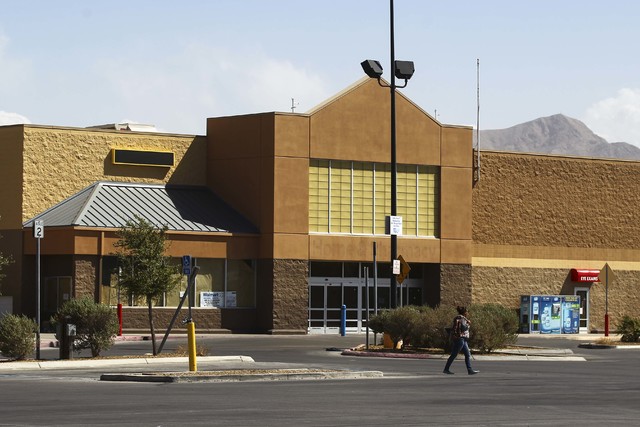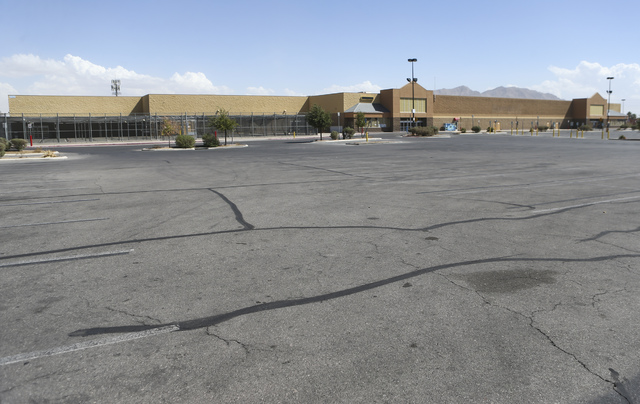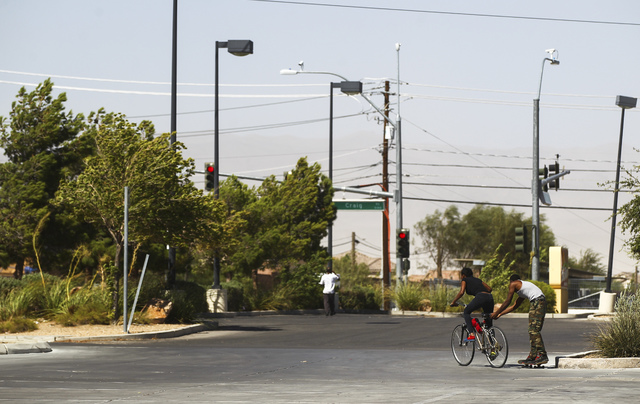 On a recent Friday, a woman took count of the stream of people funneling into a church food bank.
She waved on those she recognized, checking them into a spreadsheet on her laptop, and requested an ID from those she didn't.
In recent months, there had been a lot of new faces.
The woman taking count, Margaret Whipple, is secretary of Nellis Baptist Church, which sits directly across from a vacant Wal-Mart in the northeast part of the valley.
The brand's January departure from this neighborhood near Nellis Air Force Base surprised brokers and residents alike and left the area with few nearby grocery options.
The local closure was part of a larger plan that shuttered 154 stores nationally and 115 in Latin America. The company said in a January statement that the closures followed a review of its properties that considered factors including "financial performance" and "strategic alignment with long-term plans."
Whipple said attendance at her food ministry has almost doubled since Wal-Mart closed.
"We give them what we can, but it's not always enough," Whipple said.
According to Three Square Food bank data, over the six months preceding October 2016, Nellis Baptist Church increased its food distribution to more than 112,000 pounds, an increase of approximately 43 percent, compared with the same period last year.
The location of the former Wal-Mart falls within the 89115 ZIP code, which is among the most food-insecure places in the valley, according to a 2015 map by Three Square Food Bank.
A map from the Department of Agriculture also puts the area in a "food desert." The department considers urban areas with high population concentrations that are more than 1 mile from a grocery store to be lacking in access. In rural areas, the distance is 10 miles.
In 2015, a Food 4 Less closed just three miles south of the Wal-Mart. Kit Graski, director with ROI Commercial Real Estate, which represents the landlord, said no one has moved in, but his team is in talks with a grocer.
On a recent Friday afternoon, the parking lot of the Wal-Mart was empty except for a security patrol car parked on the store's front curb.
The faint outline of the company logo was visible against the brown stone wall outside.
Broker Douglas Albright of Albright Callister & Associates, which represents Wal-Mart, said the building was for sale but that nothing was under contract yet.
Skylar and Alejandra, a young couple that live in the neighborhood, said they have frequented the food bank more often since Wal-Mart's closure.
The couple, who asked to be identified by their first names, said the food bank was helpful but didn't have a lot of vegetables or meat.
Skylar said they take the bus to grocery options farther down Nellis Boulevard, but bringing a lot of groceries back can be difficult, even if they bring a backpack to carry them.
Standing on the street across from the vacant Wal-Mart, Skylar said he was hopeful that another grocer would move into the property.
"It would make things a lot easier," Skylar said.
Jerad, 27, who lives in apartments directly across from the Wal-Mart and who also declined to give his last name, said he frequented the store up to three times a month before it closed.
To get baby formula and groceries, Jerad said he now takes the bus or comes to the food bank "to see what kind of help I can get."
'FORGOTTEN CORNER'
The food "desert" also has caught the attention of nearby elementary school principals.
Anthony Nuñez, principal of Manch elementary school, a block east of the Wal-Mart, said his school has about 100 students that qualify as homeless and sends about 100 bags of food home with students every week. The Wal-Mart was significant for the community, Nuñez said, because it was within walking distance in a neighborhood where many lack personal transportation.
Louis Markouzis, principal of Lowman Elementary School, just south of Manch, said that it has become a struggle for residents to get basic living essentials. "Our families now have to go miles and miles away to do that," said Markouzis.
Markouzis said the neighborhood stands in contrast to other parts of the valley, where many take for granted having access to nearby grocery stores. "It's almost like the forgotten corner of the city," said Markouzis.
At both schools, 100 percent of students qualify for free breakfast and lunch.
Dan Williams, chief operating officer of Three Square Food Bank, said there are several factors that contribute to the area's food-insecure designation.
"No grocery stores," he said. "That is the main factor. When you look at impoverished neighborhoods, you don't see a lot of retail chains entering those markets."
That void translates into a lack of access to a wide variety of foods, which results in people leaning more on convenience stores, according to Williams.
Convenience stores end up patching up some of that food insecurity because they accept EBT or food stamps, said Williams. Many resident in low-income neighborhoods lack reliable access to transportation or can't carry as many groceries on the bus, he also said.
To combat food-insecurity issues in the area, Three Square works with Nellis Baptist Church to distribute food there.
"(There are) a lot of barriers that food-insecure people are up against," said Williams.
Contact Alexander S. Corey at acorey@reviewjournal.com or 702-383-0270. Find @acoreynews on Twitter.