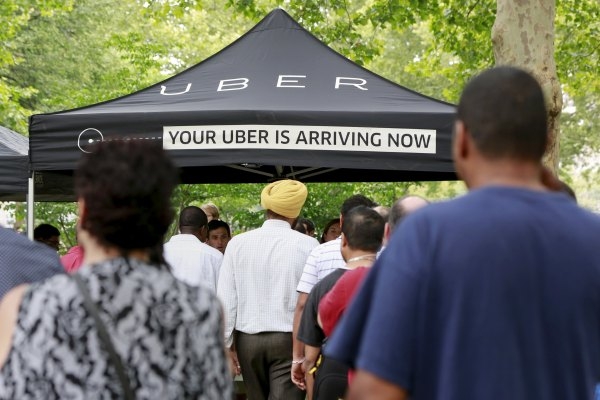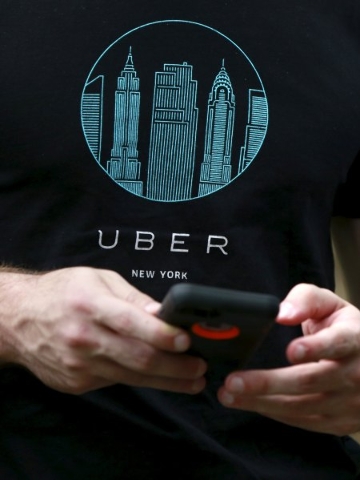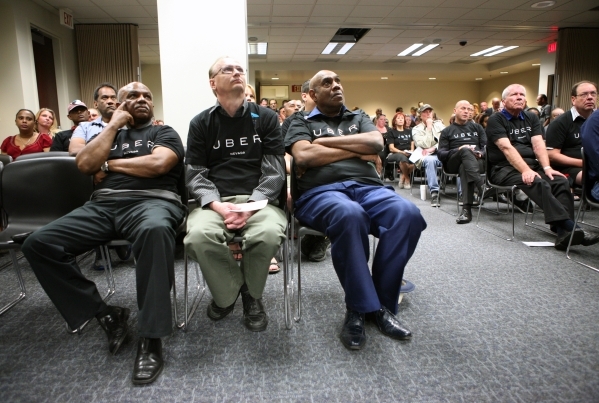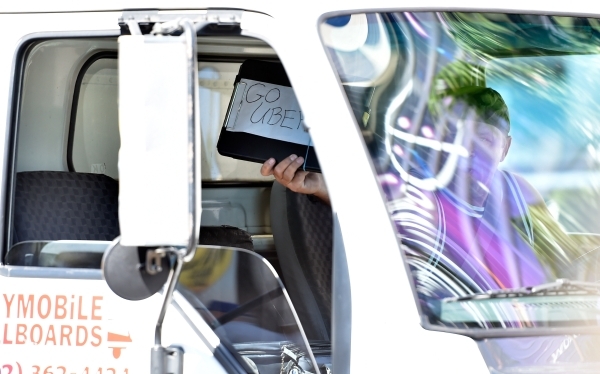 So you want to make a little money by become a ride-hailing driver, eh?
Uber and Lyft are expected to be running in Southern Nevada within a few weeks.
Uber tells prospective drivers it offers "serious life-changing money."
And Lyft has something called a "power driver bonus," which allows drivers to keep up to 100 percent of their ride earnings. To qualify drivers must drive at least 30 hours a week, drive during peak hours and maintain a 90 percent acceptance rate. Lyft is also the only ride-booking company that allows passengers to tip and drivers get to keep all of that as well.
But local experts warn it isn't as easy as just signing up with Uber or Lyft and driving people from place to place. There are numerous expenses to consider before a driver can earn "serious life-changing money."
"Uber driving is good for guys that are bad at math," said Joseph Gottlieb, a three-year Desert Cab driver in Las Vegas who drove taxis in New Jersey for 15 years before relocating.
Gottlieb cited the calculations of a colleague who recently became an Uber driver in Canada. In a recent three-week period, he worked 60 hours and collected 102 fares totaling $782.77.
During that time frame, he paid $150 for gasoline (fuel is more expensive in Canada than the United States) and $1 of each fare was collected by Uber as a "safety fee" to fund driver background checks. Uber also collected 20 percent of the fares as its commission.
So, of the $782.77 collected, $150 went to fuel, $102 went for Uber's safety fee and $156.55 was Uber's commission. That means the driver took home $374.22, or $6.24 an hour for 60 hours. Minimum wage in Canada is $11 an hour.
Those calculations don't even count other expenses an Uber driver would encounter with insurance, vehicle maintenance and taxes.
A white paper published last month by financial expert Lawrence Meyers, CEO of Asymmetrical Media Strategies, concluded that Uber drivers in New York City pay between 29 and 42 cents a mile in expenses.
Driving in Las Vegas is different
Drivers are the first to admit that driving in Las Vegas is different than any other place in the nation. Sometimes that favors the Uber driver, sometimes it doesn't.
Daniel Griffith, general manager of Wally's Independent Honda & Acura Service Center in Las Vegas, said Southern Nevada's hot temperatures take a toll on car engines. While much of the wear will depend on the vehicle, the make and model and the size of the motor, Griffith generally recommends an oil change every 3,000 to 5,000 miles with major service once a year or every 15,000 miles.
A major service can run between $400 and $700, and people who transport people for money are going to get to 15,000 miles faster than the average motorist.
Griffith also noted that in-town driving is more damaging than freeway driving, mainly because brakes are going to be worn down much faster in stop-and-go traffic.
"Fuel costs are also going to be a little higher here," Griffith said. "Our gasoline prices always run higher than the national averages."
While Las Vegans dodge plenty of taxes and have no toll roads to contend with as in many other cities, Uber and Lyft drivers still have to deal with federal tax liabilities.
Mark Sherman, a 25-year certified public accountant who has practiced in Las Vegas since 2001, noted that Uber and Lyft drivers may confront significant tax challenges if they make more than $20,000 a year and don't plan properly.
Most transportation network company drivers are paid weekly, and companies issue drivers federal Internal Revenue Service 1099 forms for income other than wages, salaries and tips for contracted workers.
Sherman said income levels above $20,000 often produce audit flags because workers are still responsible for paying into Social Security and Medicare as well as federal taxes.
Big earners, he said, could establish limited liability companies or sole proprietorships to ease the tax burden.
"There are several dynamics to consider," Sherman said. "I'd recommend that when someone makes this kind of a decision on employment that they consult a financial professional to make sure they're making the right decision on tax planning."
And then there's insurance
Insurance coverage is an evolving issue.
Janet Ruiz, a spokeswoman for the Insurance Information Institute, said several insurance companies are developing rates to cover transportation network company drivers.
The legislation enabling the companies to operate in Nevada clearly spells out that drivers have to be insured. In other cities and states, a pivotal issue has been when a driver's personal insurance ends and the company's coverage begins.
Ruiz said it has been clearly established that a ride-booking company's coverage starts when a driver turns on the application and ends when the passenger exits the car.
But there are other elements that determine the cost of a policy, including the type of vehicle and whether the driver intends to drive full- or part-time.
"At first, Uber didn't take any responsibility on accidents," Ruiz said. "(The company's) insurance coverage didn't assume liability when there was no passenger in the car. Most state regulators concurred that drivers must carry coverage at all times and Uber has upped what they needed to provide."
Nevada's law requires $1.5 million liability coverage while a driver is providing transportation services, and at least $100,000 in liability coverage to two or more people in one accident while a driver is logged onto the application and awaiting a hail. The law also allows for the company or the driver to provide the coverage.
Bob Compan, vice president of the Nevada Insurance Council, said on average, the cost of a commercial insurance policy to cover an Uber or Lyft driver runs 30 percent more than standard coverage on a passenger vehicle.
The law differentiates between the times when the driver is responsible for coverage and the when the company takes over.
The driver's commercial coverage begins when he turns on the app and is awaiting a customer. It continues until the time the customer enters the vehicle, when the company's $1.5 million coverage takes over, and ends the minute the customer exits the car.
"The state law requires a driver to carry $50,000 for liability, $100,000 liability for two or more people and $25,000 for property damage," Compan said. "The law for personal vehicle use is $15,000, $30,000 and $10,000 minimum for the same coverage. The advantage to having the commercial coverage is that it often adds collision coverage as well."
Compan said an average personal car insurance policy runs about $1,200 a year, meaning commercial coverage for the same vehicle used for Uber and Lyft would run at least $1,500 a year.
Policies for drivers for transportation network companies haven't been approved by the Nevada Division of Insurance, but policies are expected to be available by the time the companies are ready to operate.
Farmers Insurance sells policies to drivers in Colorado and California, and the company is expected to be a market leader in Nevada.
Knowing the shortcuts
Southern Nevada cab companies fully expect to lose some drivers when Uber and Lyft begin operating. But company executives believe many of those drivers will return, saying they will discover driving for Uber and Lyft isn't what it was cracked up to be.
Gottlieb and taxi driver Michael Friedman, a cabbie for five years and a driver with the Frias Cos. since May, find it hard to believe that drivers would pass up the health insurance benefits, retirement programs and vacation pay offered by most Southern Nevada taxi companies. Cab companies have an army of car repair personnel who maintain the vehicles and some companies pay for gas.
Gottlieb believes veteran cab drivers will provide better, more efficient rides than their Uber and Lyft counterparts simply because they know their way around better.
"It's really a matter of a professional competing against an amateur driver," he said. "We know all the shortcuts and we use them every day."
Gottlieb said while Frias and Yellow-Checker-Star have taken the stance that they'll fire drivers who try to free-lance with Uber or Lyft, Desert Cab is encouraging drivers to try it if they feel inclined so they can see what they would miss if they left to become an independent contractor.
Friedman also makes the case that there's an extra level of safety cabs provide that doesn't exist for Uber and Lyft — cameras.
"I've learned that the camera is my friend," Friedman said. "Whenever something happens in my cab, it's recorded."
He said while some regard cameras in cabs as intrusive, he looks at them as a tool for exoneration in a dispute with a customer.
Cameras also keep the driver safer because customers aren't as likely to commit a crime when there's photographic evidence available to convict them.
Gottlieb also isn't sure how the public will react the first time Uber initiates its dynamic pricing model — higher fares assessed during busy periods.
"I can't wait to see the fallout when there's surge pricing," he said. "It's like everything else that's a part of this. There are a lot of things that are going to change."
Contact reporter Richard N. Velotta at rvelotta@reviewjournal.com or 702-477-3893. Follow @RickVelotta on Twitter.