Want your Las Vegas hotel room cleaned daily? So does the Culinary Union
Updated September 26, 2023 - 11:38 am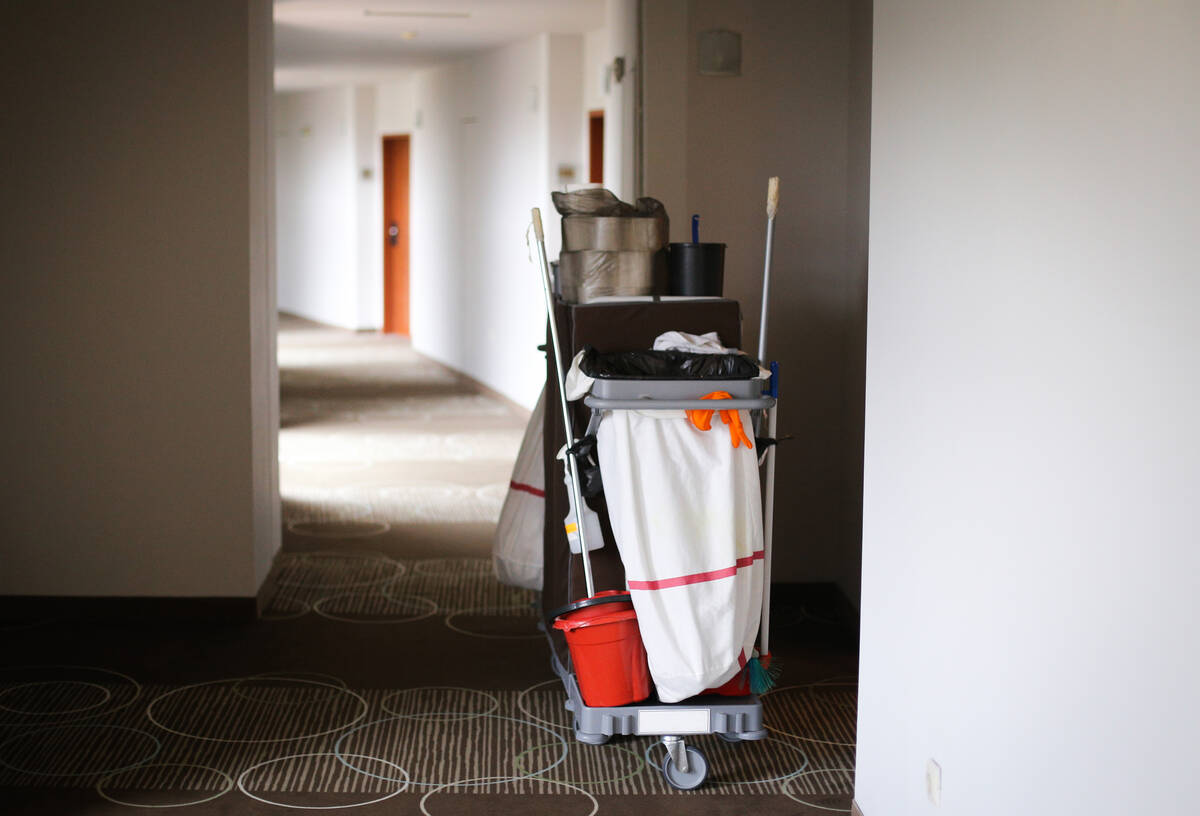 Daily room cleanings are becoming less common in Las Vegas, workers say — but the Culinary union is hoping to reverse that trend in ongoing contract negotiations.
Elsa Roldan, a guest room attendant at the Bellagio since 2008, said she's part of the negotiating committee of Culinary Local 226 that is trying to bring back daily room cleanings as part of the citywide contract. She said the workload has changed noticeably since the pandemic as fewer people work in housekeeping and fewer guests request the services.
Bringing back a daily requirement to clean guest rooms will help manage the workload for each room, Roldan said.
"This has been bringing us a lot of stress," Roldan said. "Of course, it's a lot of work. Since we don't do the daily room cleaning, then the rooms are very difficult. Since the pandemic, people's stations are open. Many people didn't come back, or there's a shortage of workers, it makes things more difficult."
Boyd Gaming and Station Casinos declined to comment on their current housekeeping policies. Representatives for Caesars Entertainment, Circa hotel-casino and The Venetian and Palazzo did not respond to requests for comment.
An MGM Resorts International spokesperson said the policy hasn't changed and that a guest can opt out of daily cleanings.
During the spring legislative session, MGM representatives told state senators that 40 percent of guests, on a 12-month average, declined housekeeping services or used a "do not disturb" sign during their stay.
But without daily room cleaning, Roldan said she and other housekeepers have more work pile up at checkout time. The rooms may take longer because more grime built up. On top of it, Roldan said the room attendants are expected to prioritize cleaning certain rooms instead of staying on one floor or wing, which makes them feel less safe as they don't get to know the guests by staying in one area.
Ruben Garcia, a professor at UNLV's William S. Boyd School of Law, said the union's demands related to housekeeping are not unusual. Most union negotiations relate to minimum staffing and workload requirements.
The Nevada Legislature repealed a pandemic-era requirement to clean rooms daily in June and Garcia sees this as the union "trying to get that back at the bargaining table rather than the Legislature."
Roldan said the housekeeping-related demands come down to properly addressing the department's workload.
"Every single second, every single minute is important for us to get our job done right," Roldan said. "We are overworked, we are burnt out, we are tired."
What happens after a strike vote?
On Tuesday, Culinary and the associated Bartenders Local 165 will host a strike authorization vote at the Thomas and Mack Center. More than 53,000 hospitality workers will decide whether to authorize the union's negotiators to call for a strike if necessary. A timeline has not yet been set.
Culinary officials say they are negotiating for wage increases; lowered housekeeping quotas and mandated daily room cleanings; stronger on-the-job safety programs; extended recall rights and more.
About four in five of the Strip's union membership are employed by the three largest gaming employers in the state — MGM, Caesars and Wynn/Encore Resorts. Contracts with those three employers have expired, clearing the way to a potential walkout.
Garcia said a strike vote is not generally surprising and could be a way to push harder to close a deal. During the last contract negotiations in 2018, a significant majority of the 25,000 union members voted at the time to go on strike if a deal wasn't reached in time, but a walkout was ultimately averted.
The contracts cover nongaming employees, including guest room attendants, servers, porters, bellmen, cooks, bartenders, laundry workers and kitchen workers at about 50 Strip and downtown properties.
"It's a particularly busy time, particularly on the Strip, with all the events coming up," Garcia said. "The union has a bit of leverage because of the labor market, and because of the upcoming Super Bowl and events and things that they'll need to be fully staffed for."
McKenna Ross is a corps member with Report for America, a national service program that places journalists into local newsrooms. Contact her at mross@reviewjournal.com. Follow @mckenna_ross_ on X.