Washoe County appoints 3 legislators for special session on proposed Raiders stadium
September 27, 2016 - 9:39 pm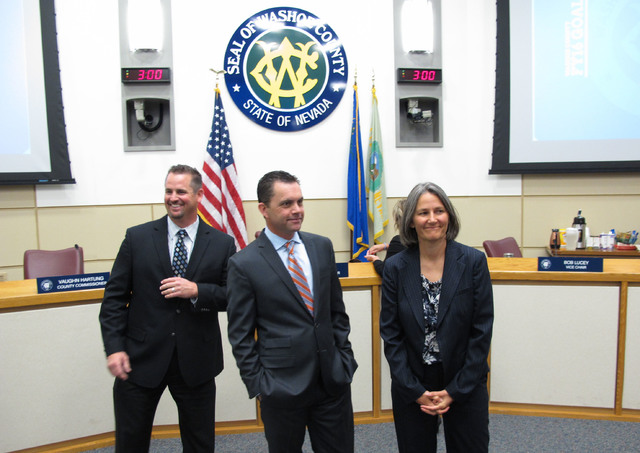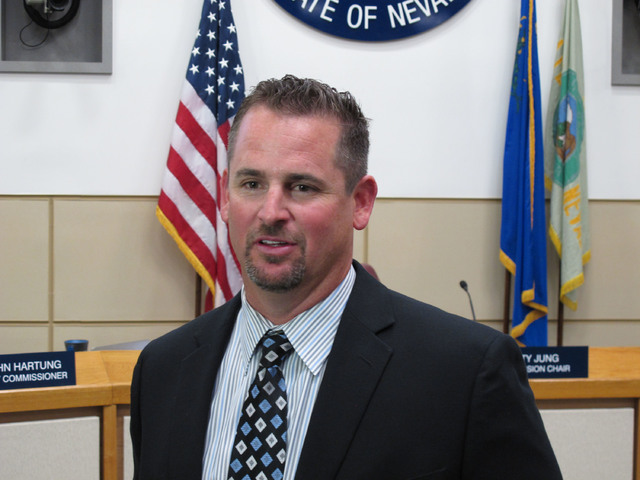 CARSON CITY — Washoe County commissioners Tuesday appointed three people to temporarily fill vacancies in the Nevada Legislature in anticipation of a special session to consider financing for a $1.9 billion football stadium and $1.4 billion convention center expansion in Las Vegas.
Julia Ratti, a Democrat and Sparks city councilwoman, was the only candidate nominated by commissioners for the Senate District 13 seat. She replaces the late Sen. Debbie Smith, who died in February. Ratti is also running for the seat in November and faces Republican Kent Bailey and Libertarian Brandon Jacobs on the ballot.
Ratti has said she doesn't support the stadium proposal as written and raised concerns about taxpayer bailouts should room tax revenues fall short to cover general obligation bond debts.
"Is this the best thing for us to be spending our money on?" she said at a news conference after her appointment.
She also thinks any special session should be called after the November election.
Jesse Haw, a Reno developer, was appointed to Senate District 15 and replaces former Republican Sen. Greg Brower, who resigned to take a job with the Justice Department in Washington, D.C.
Haw said he hasn't read the specifics of the proposal and speculates details may change before lawmakers convene. He said it's hard to "give it an up or down" and he needs to study the particulars.
"You're weighing a whole lot of money for Clark County," he said, adding, "What happens if Clark County can't pay it back? What happens if the room taxes aren't there?"
Dominic Brunetti, a commercial real estate agent, will replace former GOP Assemblyman Pat Hickey, who resigned and was appointed by Gov. Brian Sandoval to the State Board of Education.
Brunetti said he's "studying up on the package" and needs to catch up. But he said he views the proposal as a benefit and opportunity for economic development.
The terms of Haw and Brunetti will expire after the November election.
The Clark County Commission is scheduled to meet Friday to fill its two vacant Assembly seats.
Sandoval last week accepted recommendations of the Southern Nevada Tourism and Infrastructure Committee and said he planned to call lawmakers into special session sometime between Oct. 7 and Oct. 13 to consider raising Clark County room taxes to help finance the stadium and an expansion to the Las Vegas Convention Center.
Oakland Raiders owner Mark Davis has said he will move the team to Las Vegas if a stadium is built and provided NFL team owners approve the move when they meet in January.
Under the stadium proposal, an increase in Clark County room taxes would be used to fund $750 million in construction costs over 30 years for the 65,000-seat domed stadium.
The deal would require the family of Las Vegas Sands Corp. Chairman Sheldon Adelson, Majestic Realty and the Raiders to pay the remainder of the construction costs for the stadium, along with any cost overruns.
Adelson has pledged to contribute at least $650 million, while the Raiders would pay $500 million.
The stadium would also be used by UNLV's football team.
A separate room tax hike is proposed to help fund expansion and upgrades for the Las Vegas Convention Center.
Votes on those two measures will require a two-thirds majority in both the Senate and Assembly.
Another proposal to raise Clark County's sales tax rate to fund more police officers is also slated for the session. That measure, as is being discussed, would authorize Clark County commissioners to impose the increase, thereby requiring only a simple majority for passage by legislators.
The Review-Journal is owned by the family of Sheldon Adelson, chairman and CEO of Las Vegas Sands Corp.
Contact Sandra Chereb at schereb@reviewjournal.com or 775-461-3821. Follow @SandraChereb on Twitter.
RELATED
Cowboys owner Jones urges aggressiveness in bringing Raiders to Las Vegas
Gov. Sandoval plans to call special session for proposed Raiders stadium
Investment group offers to buy Oakland Coliseum to keep Raiders from moving
Las Vegas committee sends Raiders stadium plan to governor
MGM's buy-in was key to Las Vegas stadium project gaining recommendation
Oakland Raiders owner Mark Davis says 'everybody wins' in Las Vegas stadium vote