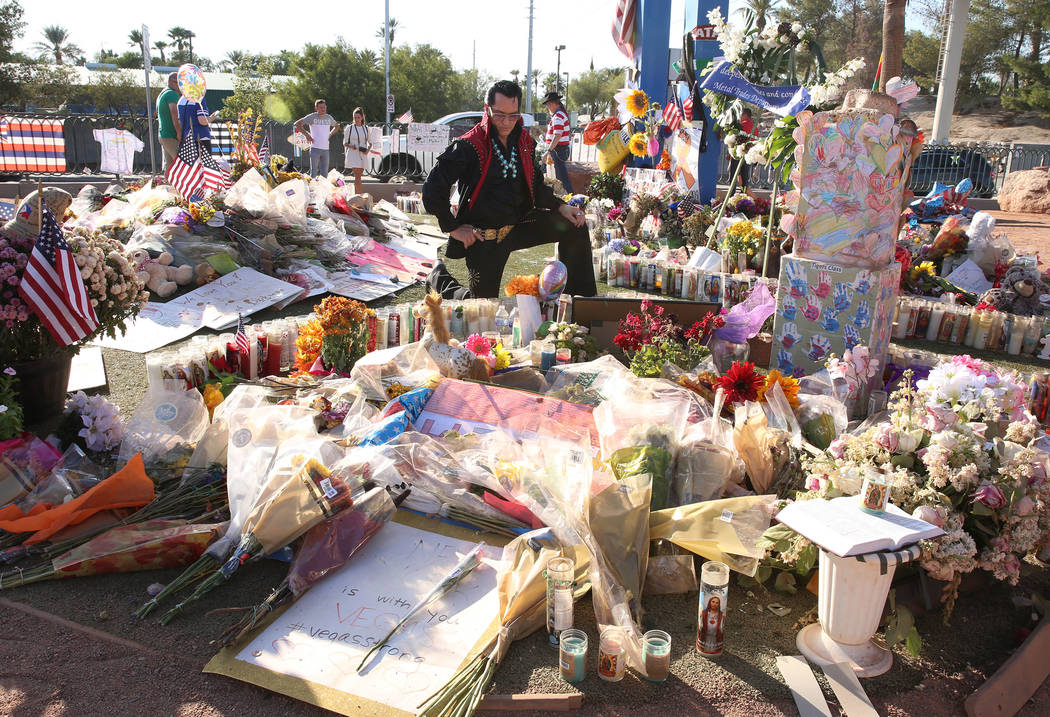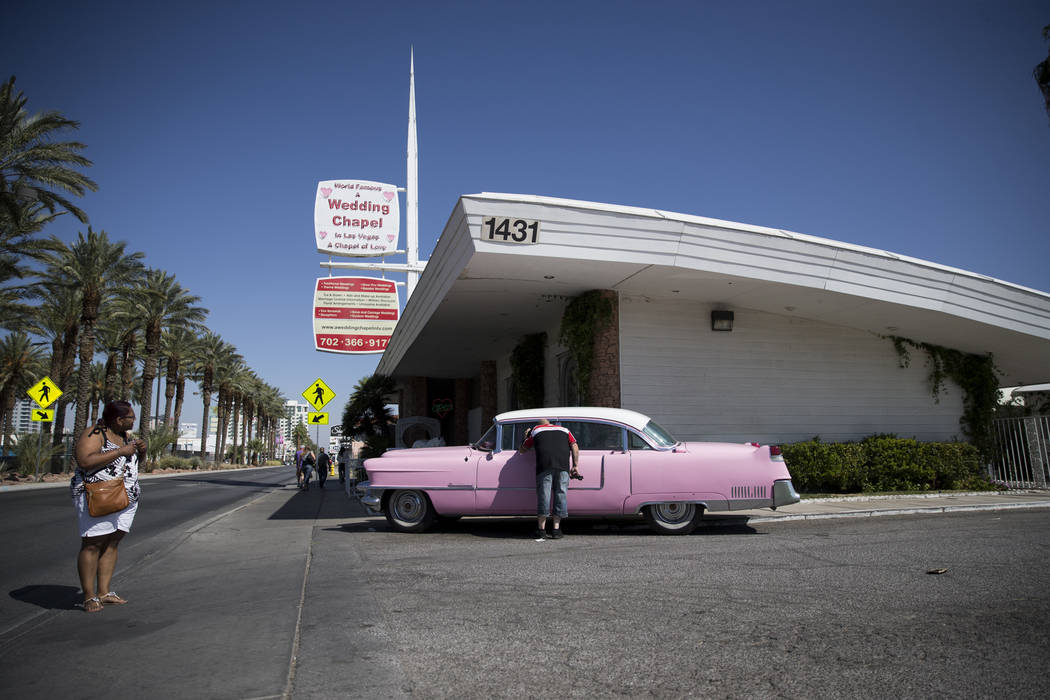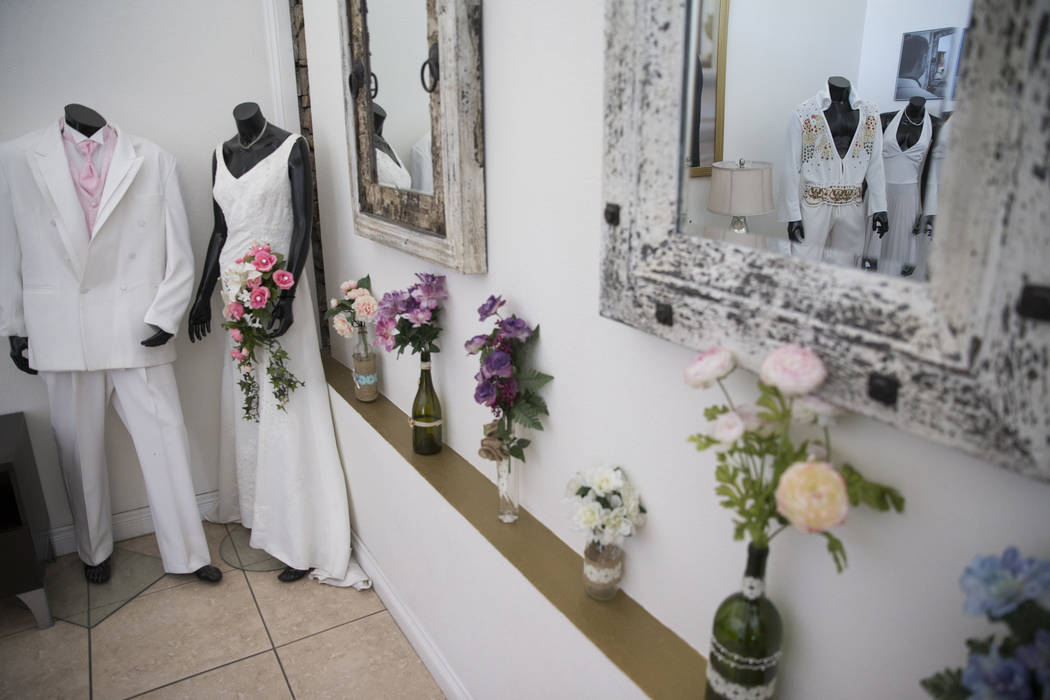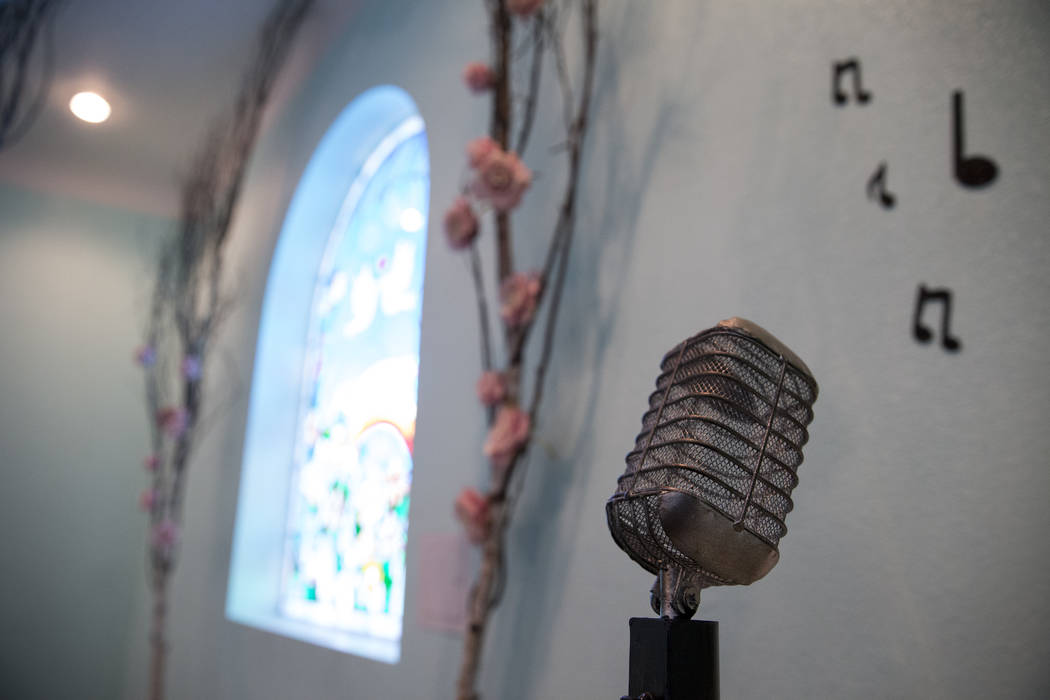 Las Vegas wedding chapel owners and marriage officiants say they have seen surprisingly few cancellations in the aftermath of last week's shootings, but some are concerned as the big booking season approaches.
"We expected to see more of a decline last week, but it didn't happen," said Clark County Clerk Lynn Goya, adding the number of marriage licenses issued last week was "pretty high."
The shooting at a concert on the Strip occurred Oct. 1.
Sebastian Salas, owner of A Wedding Chapel, said he had a few cancellations last week, but more concerning was the drop in booking inquiries. A Wedding Chapel received just five leads on Saturday, down from an average of 25, he said.
Jamie Richards of Viva Las Vegas Wedding Chapel also said new bookings were quiet for the first couple of days.
$3 billion industry
Las Vegas is known as the wedding capital of the world, with more than 80,000 couples tying the knot in Clark County a year, an average of 1,500 a week.
The wedding industry employs more than 10,000 people in the county, such as ministers, photographers and florists, and generates about $3 billion in economic activity, said Goya.
However, the industry has declined in recent years as fewer couples choose to formalize their relationships.
Las Vegas competes with destinations like Hawaii, the Caribbean and Cancun, Mexico for marriage business, said Salas.
"We are having to do damage control with our current clients to convince them that Vegas is still a safe destination and that everything is going to be fine," said Salas. "For future clients we are trying to book – we have to work ten times harder."
Mandalay Bay, where the shooter stayed, may have had as many as six cancellations, said one officiant who occasionally performs at the hotel. The officiant agreed to discuss business on condition of anonymity.
Mandalay Bay has been a popular location to tie the knot. The hotel organizes weddings at its three chapels as well as more exotic on-property locations like the Shark Reef, a man-made beach and Valley of Falls.
Mandalay Bay experienced a "brief pause on outdoor weddings" last week as a section of the exterior was closed, said Jenn Michaels, a spokesperson for MGM said in a statement.
The officiant said he conducted only 14 marriages in Clark County through the first 11 days of October, a traditionally busy month on account of cooler weather. He now expects to officiate no more than 50 this month compared with his typical range of 60 to 80.
While the officiant only had a few cancellations, including one at Mandalay Bay, many couples book just days or weeks in advance.
The shooting has impacted the wedding business in other ways, chapel owners said.
McCarran International Airport shut down helicopter flights after the shooting through Wednesday, Oct. 4, causing some couples seeking to exchange vows above the Strip or at the bottom of the Grand Canyon to alter their plans.
"I had seven ceremonies and we had to try and juggle them around," said Salas. "We didn't know when they were going to lift the helicopter ban. When people are paying $3,000-$4,000 to get married on a helicopter, it's no joke."
Avoiding 'Welcome' sign
Some wedding organizers are also avoiding holding ceremonies or taking photos at the "Welcome to Fabulous Las Vegas" sign, where a memorial with 58 crosses has been erected.
Salas estimated that about 200 weddings on average are held each week at the sign, one of the city's most recognizable sites.
Thousand of people a day have been visiting the memorial to pay their respects, leave flowers, light candles and shed tears. Candles and flowers now encircle the sign.
Chapel of the Flowers has temporarily stopped taking couples to the sign because of the traffic, said Jose Alonzo, a wedding planner.
"Right now, it ties up the limos, but it is something that we will resume," he said.
Jesse Garon, who officiates weddings as an Elvis impersonator, had one of five weddings at the sign canceled last week, less than he expected. The couple that canceled was booked to stay at the Mandalay Bay, said Garon.
However, the memorial has grown in size since he last officiated there so Garon plans to relocate three weddings scheduled at the sign for this weekend to a chapel.
'Stunned'
"I am just stunned," he said after visiting the site on Wednesday evening. "There ain't no way people are going to want to get married here. Who wants to get married at a graveyard?"
The high season for booking weddings for 2018 is approaching and chapel owners and officiants hope the initial shock from the shooting will fade when couples begin to scout locations.
"I have my fingers crossed and hope Lady Luck is on our side," said Garon, who conducts about 600 weddings a year.
A Wedding Chapel's Salas said it could take a few months for the typical volume of bookings to return. Viva Las Vegas Wedding's Richards was confident couples will continue to come to say "I do."
"Las Vegas is still going to be a safe place to go," said Richards.
Contact Todd Prince at 702 383-0386 or tprince@reviewjournal.com. Follow @toddprincetv on Twitter.
Special date
In spite of the shooting earlier this month, Las Vegas chapels experienced a jump in weddings on Tuesday, Oct. 10, said Charlotte Richards, owner of A Little White Wedding Chapel.
The reason had nothing to do with support for Las Vegas. Rather, it was due to couples' love of dates. Tuesday was 10/10. Richards said her chapel held 36 weddings that day.