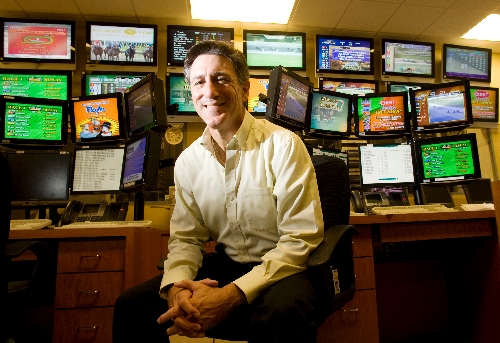 "Vinny from Brooklyn" sounds like the perfect moniker for someone working in the casino industry.
Today, "Vinny from Brooklyn" is Vincent Magliulo, 53, vice president of operations and marketing for Las Vegas Dissemination Co., which funnels wagering information, live action and results to almost 90 Nevada casinos from more than 100 racetracks around the nation.
The nickname helped Magliulo convince Steve Wynn that he should oversee the operations of the Wynn Las Vegas race and sports book. Magliulo's résumé included 15 years experience heading the race and sports book at Caesars Palace in the 1980s and 1990s.
Magliulo left Caesars in 2000 and was working with Las Vegas Dissemination and as a consultant in the design phase for Wynn Las Vegas. A brief meeting with the casino developer at his offices inside the shuttered Desert Inn led to the shortest-ever job interview.
Magliulo told Wynn the planned resort would revitalize the Strip's north end.
"He said, 'Cut out that Mr. Wynn. What do you really think?' " Magliulo said. "I told him, 'I think you need a bookie named Vinny from Brooklyn to run the race and sports book.' He says, 'I love that.' That was my job interview."
Magliulo ran the Wynn book in the same manner he operated Caesars Palace's, which made the book the center of national media attention for sports betting information surrounding championship boxing, Super Bowls, World Series, the Kentucky Derby and other major events.
Magliulo knew he wanted to work in the gaming industry when he was just a teenager after spending one impressionable summer in Las Vegas with his godfather, a Strip musician. He fell in love with the casino business.
"I'd go with him to set up his drums in various hotels or where he was playing and I was able to observe and learn about Las Vegas," Magliulo recalled. "I knew this was for me."
Magliulo went home to New York but returned when he was 21 to begin a gaming career. His first job was in the dice pit at the Royal Inn that was operated by Michael Gaughan. Magliulo followed Gaughan to the Barbary Coast, where he was able to learn other casino games and other aspects of the gaming business.
"I took full advantage of that," Magliulo said. "Michael encouraged us to learn as much of overall operation as possible."
Eventually, he found his way to the race and sports book. The opportunity to move into management came from Caesars Palace in 1986, but Magliulo's relationship with the Gaughan family did not end there. Las Vegas Dissemination is owned and operated by Michael Gaughan's son, John Gaughan.
Question: Why did the sports book industry expand in the 1980s?
Answer: There were a variety of reasons, such as a more favorable tax structure on wagers and the books expanded their marketing efforts and creativity. We had a fairly sized book at Caesars in 1986 with 12 betting windows. We eventually expanded to 30 betting windows and more than 30,000 square feet, which incorporated table games and slots. The book became an entertainment center and we billed ours as the excitement center of the property.
Question: How did the national media discover Caesars Palace?
Answer: Our marketing team utilized the race and sports book as a marketing tool for the entire property. We would have live remotes from the book for all the major events with all the major networks, regional networks and ESPN. We became part of these national events. Now every major sports or racing event does not take place without a wagering component. The events became huge. We have as many people or more in Las Vegas for the Super Bowl as the host city for the game.
Question: Would you set your own odds?
Answer: We had a consultant, but my philosophy was that I was ultimately responsible for the bottom line. My staff and I had to have the ability to make prices on those events.
Question: What moved you into casino marketing?
Answer: Caesars changed hands several times in the late 1990s and consolidated much of the operations. I had a great working relationship with the marketing department and a good rapport with customers. Premium customers always found their way into the race and sports book. When Park Place took over, I had an opportunity to oversee customer development for the Western region. When more consolidation occurred, it was time to step aside and pursue other interests.
Question: How did you end up at Las Vegas Dissemination?
Answer: John was expanding the company back in 2000 and with my experience in the book he thought it would be a natural fit. I was also consulting on the Wynn project, so I was able to do both jobs.
Question: How did pari-mutuel wagering change the racing industry?
Answer: Prior to 1991, race wagers were booked at considerable risk to the property. Track odds were only paid up a certain amount depending on the resort. With pari-mutuel wagering, the money goes directly in the pools, immediately commingled, and is paid out upon results posted. It's as though the customer is at their favorite resort, but wagering as though they are at the track. It allows the casinos to accept wagers on more tracks.
Question: What is your role at Las Vegas Dissemination?
Answer: My principal role is to service the needs of the properties in Nevada. We also have clients out of the state. I oversee operations and marketing and coordinate all aspects with the sales team and any gaming matters that need to be addressed. I'm also the liaison for the company with Nevada gaming regulators.
Question: Why did you leave Wynn Las Vegas?
Answer: I worked full time on the project, literally from paper to the finished product. It was an incredible experience to be involved with the opening. I had some family issues to deal with and I explained the situation to the Wynns, who were very understanding. I stayed in touch with John Gaughan and the timing was right for returning to Las Vegas Dissemination. I'm grateful for all the opportunities I have had in the gaming industry and for the people for whom I've worked.
Question: Which do you prefer, sports or horse racing?
Answer: I've always been of the philosophy that we were one department. Predominantly, sports has a 4-to-1 advantage in handle, but there are racing events that create excitement. Any sports fan will tell you the Kentucky Derby or Breeders' Cup is just as exciting as any Super Bowl or World Series, in my opinion. Those events attract the interest of the casual sports fan.
Contact reporter Howard Stutz at hstutz@reviewjournal.com or 702-477-3871.
VITAL STATISTICS
Name: Vincent Magliulo.
Position: Vice president of operations and marketing, Las Vegas Dissemination Co.
Family: Wife, Leslee; daughter, Ellen; son, Vincent.
Education: Suffolk Community College (N.Y.); University of Nevada, Las Vegas; Pepperdine University Graziadio School of Business & Management.
Work Experience: Casino dealer and floorman at the Royal Inn and Barbary Coast; vice president of race sports with Caesars Palace, 1986-2000; regional vice president of casino marketing for Caesars World, 2000-01; consultant and vice president of race and sports for Wynn Las Vegas, 2001-05; vice president operations and marketing, Las Vegas Dissemination Co., 2000-04, 2005-present.
Hobbies: Spending time with family, coaching youth soccer.
Favorite book: "Wooden on Leadership: How to Create a Winning Organization" by John Wooden and Steve Jamison.
Hometown: New York City.
In Las Vegas since: 1978.
Las Vegas Dissemination Co. is at 8924 Spanish Ridge Ave.,
and can be reached at 702-739-8781.