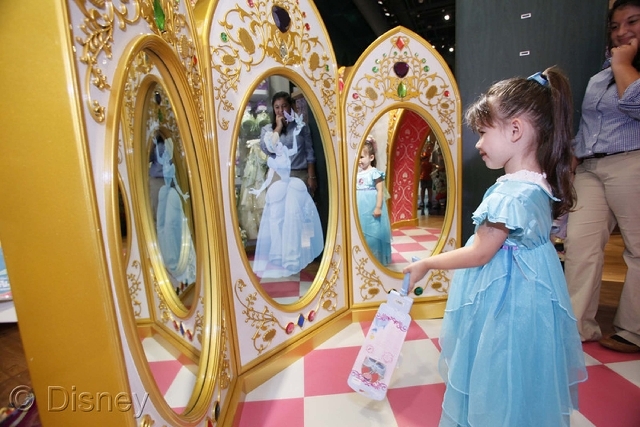 Imagine a dark Disney Store, guarded by a giant padlock. Music starts to play, and one employee chooses a child to unlock the store with a giant key. Tinker Bell flies around inside and the interior slowly begins to illuminate, while pseudo fireworks are projected throughout the space.
That is just a typical morning ritual at the Disney Store.
On Aug. 7, such a ceremony will kick off the opening of the new Disney Store at the Fashion Show mall, and this is the way the shop will open each day thereafter. Once inside, customers can walk on a pixie dust trail with white trees in the distance leading to a pink castle fit for a princess.
When it opens its magical doors, the 5,400-square-foot retailer will be stocked with plenty of traditional Disney goodies and some Vegas-centric merchandise: showgirl Minnie and Stitch in his white Elvis costume.
The new Fashion Show store follows the themed retail business model Disney launched in 2010 as part of a companywide makeover led by the late Apple CEO Steve Jobs. Each of the new stores uses technology to make shopping more of a hands-on experience: Disney princesses inhabit mirrors inside the castle with a wave of a wand, and projected images on the white trees change from leaves to Disney characters.
"Anytime you get to open a Disney store, it's an event in and of itself. They are very fun to work with," said Janet LaFevre, General Growth Properties' senior marketing manager for Las Vegas .
The store will be on the first level in the new Macy's Men's Store where a relocated Sur La Table just opened and an Urban Outfitters is set to open October.
As a mall that is in a "predominantly tourism-driven market," LaFevre said, Disney brings a lot to the property.
"We are using the opening of this store to premiere our new and exciting Las Vegas product range," said Jonathan Storey, vice president of Disney Store .
About 35 Las Vegas-themed items will be exclusive to this store.
"I think the team that got this project got really excited about the possibilities," Storey said. "This one's got so much character."
A skyline will circle the store's perimeter and will feature local landmarks incorporated into Disney themes, designed to give the illusion that the store is at the center of this big, magical world.
Many of the other Disney Stores that have opened in the past few years also feature localized merchandise and special design details: In New York shoppers can see oversized Mickey and Minnie balloons floating over the stores' floor, a la the Macy's Thanksgiving Day Parade, while Disney-themed playbills give Broadway a nod. The Chicago store has Chi-town branded merchandise.
In Las Vegas there's already a Disney Store at the Meadows mall that doesn't share these features; it follows the previous Disney Store design. There's also a Disney Outlet at the Las Vegas Premium Outlets North and South.
The Fashion Show Mall store is one of 17 stores and outlets set to open across North America this year.
The Fashion Show Disney Store will celebrate its grand opening at 10 a.m., Aug. 17. The first 500 guests will receive a free gift, and there's a meet-and-greet with Mickey and Minnie scheduled from noon to 4 p.m.
Eventually, all Disney Stores will be converted to the new design.
"This is our signature design for the Disney Store, the one we're most proud of," Storey said.
The retail chain debuted in 1987 and is owned and operated by Disney in North America, Europe and Japan. Disney Consumer Products operates more than 300 Disney Stores worldwide, including more than 40 in Japan and 100 in the United Kingdom , France, Spain, Italy and Portugal.
In its second-quarter earnings report, the Walt Disney Co.'s revenues were up 10 percent over the same period in 2012. The consumer products segment had a
35 percent operating income increase during the second quarter, to $200 million. The growth in consumer products was driven in part by higher comparable store sales in North America and Japan and higher online sales in North America.
Disney releases third-quarter earnings Aug. 6.
Contact reporter Laura Carroll at
lcarroll@reviewjournal.com or 702-380-4588.
Follow @lscvegas on Twitter.