White Castle on Strip reopens after temporary shutdown
January 28, 2015 - 3:31 pm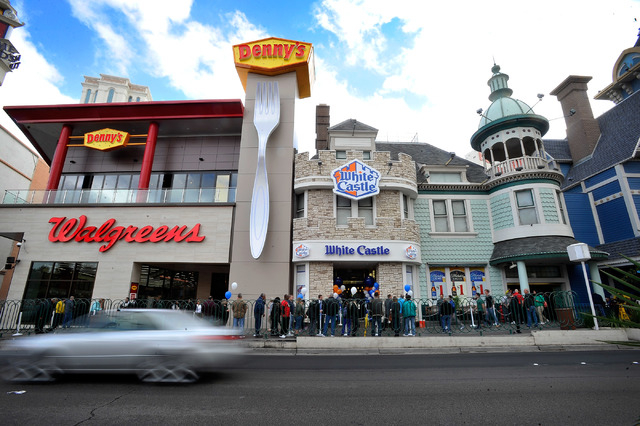 White Castle temporarily closed its store in Casino Royale on the Strip on Wednesday afternoon to allow workers "to catch their breath" and do some cleanup after record-shattering first-day sales, said Jamie Richardson, White Castle vice president of government and shareholder relations.
White Castle Vegas tweeted, "Due to overwhelming demand #WhiteCastleVegas is currently closed for maintenance and to restock. We will let you know when doors are reopen!"
"Las Vegas is the epicenter of all craving," Richardson said.
He said the store reopened a little after 3 p.m. after closing after noon Wednesday.
The White Castle Las Vegas store, which opened at 2 p.m. Tuesday, broke the company's single-day sales record for an opening day in the first 12 hours, Richardson said.
The store was moving 4,000 burgers — nicknamed, "sliders," — per hour in those first 12 hours, Richardson said. The burgers are 2-by-2-inch patties.
"We didn't think it was possible," he said.
Richardson said he is not aware that a White Castle has ever closed before in its 94-year history because of such intense customer demand.
"It's a historic first," he said.
Richardson noted the store did not run out of burgers.
At about 3:15 p.m., White Castle Vegas tweeted, "The #WhiteCastleVegas doors are open and we're back in business. Thank you Vegas for your patience! Let's #EAT."
The Las Vegas store is the first White Castle in the far Western U.S. for the Columbus, Ohio-based burger chain.
The first customer in line on opening day waited more than three hours to order a double cheeseburger, french fries, onion rings and a shake. The line of White Castle customers snaked around the Best Western Plus Casino Royale at 3411 Las Vegas Blvd. South throughout Tuesday afternoon.
Contact reporter Alan Snel at asnel@reviewjournal.com or 702-387-5273. Find him on Twitter: @BicycleManSnel
Did you know?
Number of sliders sold per hour
4,000
Calories in a White Castle cheeseburger:
160
Calories stored in a pound of body fat:
3,500
Do the math:
If the 4,000 sliders sold per hour were cheeseburgers … and there are plenty of higher-calorie options … an hour's sales will add 182.8 pounds of fat to customers' waistlines.
And they sold 4,000 sliders for 12 hours straight.