Why low CD rates? Banks have cash stash and not many recipients
August 19, 2014 - 10:28 am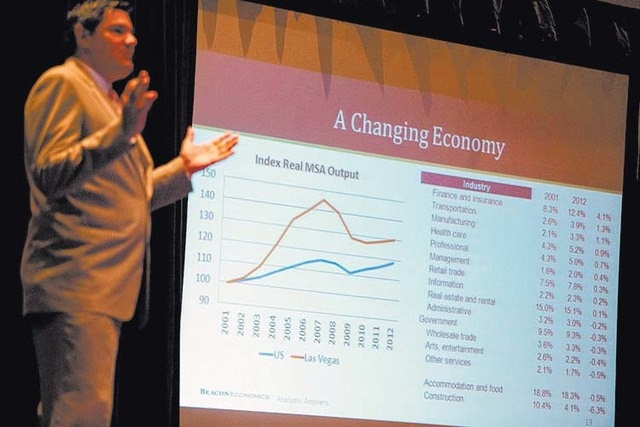 If you've been keeping tabs on your local certificate of deposit rates over the past year, you've probably noticed we're dealing with some of the lowest rates in our lifetimes.
No, it's not some financial omen. This is a truth found at banks from coast to coast.
We know CDs as a savings account of sorts that come with a guaranteed interest rate promised by a bank for investors willing to sock away a minimum investment of $500 to $2,500. But in more simple terms, you might call CDs one of the safest bets in the always-at-risk banking business.
In Las Vegas, the average rate on six-month certificates hovers around 0.07 percent, according to Bankrate.com. That's astounding, considering avid savers averaged 4 percent on one-year certificates in late 2007, just before the economy crumbled. The Federal Reserve has kept the short-term federal funds rate from zero to 0.25 percent since late 2008.
It seems these rates can't get any lower, which is a good sign.
Today, the national average for one-year CDs hangs around 0.23 percent, while for five-year CDs the rate is about 0.78 percent. Experts say an improving economy will only drive the rates up. They've been that way for about a year, suggesting the rates have reached rock bottom and are aching for a climb.
Why are they so low? Banking insiders say the Great Recession had a lot to do with it. The financial crisis caused loan demand to dramatically drop, while banks' deposits grew. Among its other significant duties, like control our country's money supply and regulating private banks, the Federal Reserve sets CD rates nationwide, calibrating the return based on the economic climate.
"We live in the lowest rate environment that most of us have seen in our lifetimes," said John Wilcox, the Nevada regional executive of City National Bank. "The fact is that with the consolidation of multiple banks during the downturn, liquidity has increased significantly but loan demand has been slower to recover."
That means banks have a lot of cash, and not many people to give it to. Since the recessions, banks are in much better shape regarding capital than they were before the bottom fell out, Wilcox said. At City National Bank, bankers say they are seeing loan demand grow, which suggests a recovering economy.
"However, it is growing slowly and over time," Wilcox said.
In the past year, City National's loan portfolio increased by 16 percent.
Businesses have since done all they can to cut their budgets and reduce their debt to "weather the storm," Wilcox said. But with the economy reaching the end of the recession's tunnel, growth is happening again.
"But it's slow and cautious," Wilcox said. "This creates deposit surpluses for banks, so there is not a need for them to raise CD rates, because they do not have an immediate need for more deposits."
Here's how CD rates work:
When you see a higher rate, that typically means banks are seeking a more robust cash flow, or liquidity. That's money they can then use to fund loans.
It's absolutely vital for a bank to have the money available for customers who want loans. If a bank does not have enough deposits coming in every month, they don't have enough to fund loans or credit card activity. That's why certain banks will often go to market with a higher-than-market rate to raise the liquidity that they need.
But for the most part, banks try to stay close to their competitors. Executives at every bank keep a running tab of the CD rates of competitors in the area. If they can stay close, they will — unless they need to increase their liquidity.
On the flip side, lower rates correspond to a bank's healthy liquidity to fund their operations. With a surplus of assets, there would be no need for a bank to offer higher rates to drive additional funds.
Historically, banks have seen older investors put money into CDs for their grandchildren and children. CDs carry a relatively low risk compared to just about any other investment. They're the perfect investment for someone hoping to build a financial foundation over a long period with glacial growth.
Going forward, banking pros say CD investments should still be on the minds of people looking to grow their assets. Although the rates might not be as high as they once were, they still offer something a bet on a stock or real estate development can not:
"Peace of mind," said Angelica Pulido-Hull, a financial adviser with Wells Fargo. "Knowing you have a nest egg there."
Contact reporter Ed Komenda at ekomenda@reviewjournal.com or 702-383-0270 Follow him on Twitter @ejkomenda.