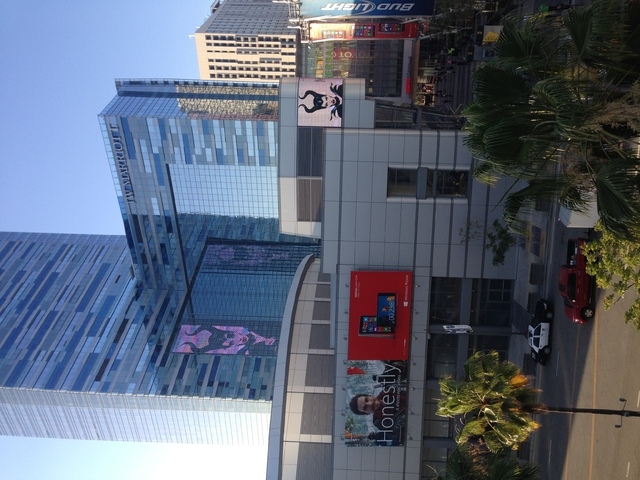 LOS ANGELES
Phil Anschutz, the Denver billionaire who owns a worldwide sports and entertainment empire worth more than $10 billion, was not expected to attend a National Hockey League playoff game last month between his Los Angeles Kings and the rival Anaheim Ducks at the Staples Center.
Anschutz had been in Europe that week.
So it was a surprise when Anschutz, his wife, Nancy; a company executive; and a developer pal strolled down a narrow hallway in the bowels of Staples Center, which he owns along with the Kings.
Anschutz, dressed in blue jeans, a dress shirt, and a blazer with a purple pocket square, politely introduced himself to a reporter.
"I'm Phil Anschutz. Nice to meet you."
Although Anschutz spoke to the media in 2013 when he took his sports and entertainment company, Anschutz Entertainment Group, or AEG, off the market, he's known as media-shy and for not granting interviews.
I'd never met Anschutz, and he's rarely photographed in public. So, my first reaction was that this friendly, fit-looking 74-year-old with wavy gray hair was punking me when he said he was Phil Anschutz. I was about to play along and say, "And, I'm Jack Nicholson. Thanks for the smoking room in the back of the VIP lounge."
Good thing I didn't.
The soft-spoken man really was Phil Anschutz. And though he didn't grant a formal interview for this story, Anschutz did say he's been following the Las Vegas Review-Journal's coverage of the $375 million arena his company and partner MGM Resorts International are building on the Strip.
The arena's groundbreaking was May 1. Construction should take 22 months, setting up a spring 2016 opening.
In Las Vegas, everyone knows MGM Resorts. But what about its arena partner, Anschutz Entertainment Group?
Interests far and wide
Anschutz, according to Forbes, has a net worth of $10.3 billion, putting him at No. 122 on the magazine's list of the world's richest people. He's the son of an oilman and grew up in Kansas.
He then made his money in railroads, oil, land deals and telecommunications and launched Anschutz Co. as the umbrella for his empire.
After acquiring the NHL's Kings and building the Staples Center, Anschutz created Anschutz Entertainment Group in 2001 as an Anschutz Co. subsidiary for bundling his sports and entertainment holdings.
AEG owns, manages or consults with more than 120 sports and entertainment venues on five continents. And that's just one company division.
AEG CEO Dan Beckerman summarized his company's scope.
"We are team owners, arena developers and operators; we do sales and marketing, ticketing and we are content providers," he said.
AEG is based at LA Live, the $3 billion, 4 million-square-foot downtown Los Angeles entertainment and sports center. The company will sell you everything for creating an arena, running the venue, filling it with programming and selling the tickets. AEG will also consult on security, insurance, purchasing and employee training.
"We will tailor a deal to whatever a client wants," said Ted Fikre, AEG vice chairman and chief legal and development officer. "Not all buildings want to hand over the keys."
Business is growing. Revenue and earnings for privately held AEG have increased by double-digit percentages in the past year, AEG officials said.
AEG's portfolio includes the Kings, the Amgen Tour of California professional bicycle race, other professional hockey teams and professional soccer teams, including Major League Soccer's Los Angeles Galaxy, which plays at AEG's StubHub Center in Carson, Calif.
AEG is also a big player in the growing music festival industry, owning the Coachella, Stagecoach and New Orleans jazz festivals.
And it owns a ticket-selling operation, AXS.com, which competes with Ticketmaster.
eye on the strip
AEG has been scouting Las Vegas for a site to build a 20,000-seat arena for a decade, chatting with property owners along the Strip, including Caesars Entertainment Corp. The partnership with MGM Resorts was consummated relatively quickly, AEG officials said; both sides came together only a year ago.
Even before it unveiled the bigger-than-life shovel for the arena groundbreaking in a parking lot behind New York-NewYork, AEG had local business dealings.
AEG manages Caesars Palace Colosseum and books content for The Joint at the Hard Rock Hotel.
AEG also owns part of AXS, the television network half-owned by billionaire and Dallas Mavericks owner Mark Cuban. AXS-TV broadcasts mixed martial arts shows and Muay Thai fight events promoted by Las Vegas-based Lion Fight Promotions. Many Lion Fight events are staged at The Joint, where AEG books programming. And AXS' fight programming chief, Andrew Simon, lives in Henderson.
"We have boots on the ground in Las Vegas. We understand the market," Beckerman said. "The arena needs to appeal to everyone. (The arena) will be neutral, whether the guest is a local or a visitor … I look at the Las Vegas market as diverse, a lot like Los Angeles."
Like MGM Resorts, AEG is content to open the new arena in Las Vegas without a major tenant like a sports team. AEG built the O2 arena in London and the Sprint Center in Kansas City, Mo., without sports tenants — and revenue is growing at both, Beckerman said.
Sports teams do not necessarily generate a lot of net income for arena owners. Big-league teams usually want a sizable bite of major revenue from venue naming rights, premium seating, food and beverage and parking.
"It's another mouth to feed," as Fikre put it.
Although AEG owns arenas in England, Turkey, China, Sweden and Australia, its flagship sports venue is the 15-year-old, $407 million Staples Center, the centerpiece of LA Live.
LA Live includes the 7,100-seat Nokia Theater (home to the Emmy Awards and the "American Idol" finals show); the 123-room Ritz-Carlton and 878-room JW Marriott hotels; and an upscale 224-unit condominium center where units cost about $1.5 million apiece.
AEG's Staples Center is home to three major league teams — the National Basketball Association's Los Angeles Lakers and Los Angeles Clippers and the NHL's Kings. Anschutz also owns 27 percent of the Lakers.
The Las Vegas arena is among five major AEG priorities, along with recruiting an National Football League team to Los Angeles and housing that team at a new $1.2 billion stadium next door to Staples Center.
AEG Chief Revenue Officer Todd Goldstein said he is already talking with prospective buyers of the Las Vegas arena's 45 suites. Suite prices will range from the low six figures to low seven figures, Goldstein said.
Goldstein expects 60 percent of the suites to be sold to Las Vegas-area and gaming industry companies. He also said eight of the 224 condo owners at LA Live will likely buy suites at the AEG-MGM arena. Eighteen percent to 22 percent of the seating at the new 20,000-seat arena will be "unique seating" in suites and clubs.
He said he expects a "unique brand with international appeal" to buy the building's naming rights and eight or 10 "founding partners" to be the arena's major sponsors. At Staples Center, major partners include Coca-Cola Co., Toyota Motor Corp., McDonald's Corp., Verizon Communications, American Express Co. and Delta Air Lines.
years of transition
2012 and 2013 served as pivotal years for Anschutz Entertainment Group.
In September 2012, Anschutz put his sports and entertainment company up for sale. Fikre recalled Anschutz "wanted to explore selling it" but did not necessarily feel compelled to unload AEG.
Bids were submitted, but Anschutz rejected them, so a sale didn't go through. AEG was taken off the market in mid-March 2013, with Anschutz saying he was recommitted to his sports and entertainment holdings.
The day AEG was taken off the market, AEG announced that Beckerman — AEG's former chief operating officer and chief financial offer — was the new president and CEO. AEG and Tim Leiweke, who had served as the company's president and CEO for 17 years, parted ways.
In June 2013, Leiweke became CEO of Toronto-based Maple Leaf Sports &Entertainment, which owns the NHL Maple Leafs, the NBA Toronto Raptors and MLS' Toronto FC.
Beckerman, who has a master's of business administration degree from UCLA, keeps 250 job rejection letters from sports teams in his office to remind him of how hard it is to land a sports industry job. The only offer he received was from the Los Angeles Clippers, which hired him as chief financial officer before Anschutz, who owned the Kings and was developing the Staples Center then, brought him onboard.
After Leiweke left, Anschutz unveiled the "office of the chairman," a five-person group to oversee AEG. Members are Beckerman; Fikre; Goldstein; Steve Cohen, AEG chief strategic officer and Anschutz Corp. executive vice president; and Jay Marciano, AEG chief operating officer.
Eyeing the National Finals rodeo
AEG and MGM Resorts decided to spend $25 million more on the arena for a final price of $375 million because they wanted to invest in a more prominent nightclub and lounge spaces at the arena. AEG officials figure it's worth the investment because the company will cash in on Las Vegas' growing nightclub scene.
AEG even wants to massage revenue from space on the many outdoor balconies, which could be offered as ticketed spaces for watching music and other events on the plaza that will lead fans from the Strip to the arena entrance, Goldstein said.
Expect all of AEG's touring acts to stop at the Las Vegas arena, whether Taylor Swift or Katy Perry. All entertainment is up for grabs, even key local events at Thomas &Mack Center at University of Las Vegas, Nevada.
AEG is eyeing the National Finals Rodeo, a key revenue-maker that draws about 180,000 fans to Thomas &Mack during a 10-day period in mid-December. AEG officials believe there is enough land next to the arena to hold the rodeo animals.
Goldstein said AEG looks at the Las Vegas arena as an "agnostic" venue that would help all of Las Vegas' gaming companies, not just MGM Resorts.
AEG, with its close contacts with the NBA, is also looking at the NBA Summer League (another annual Thomas &Mack staple) as a potential event at its new arena. Fikre envisions an NBA All-Star Game and NBA Draft events at the arena.
Fikre said AEG has talked with groups interested in bringing an NBA or NHL team to the new Las Vegas arena. But Fikre sensed the NBA is no rush to expand or move a team. He said the NHL, with its commissioner, Gary Bettman, visiting Seattle last month, appears to be more interested in adding a team than the NBA.
With or without a team, Beckerman said AEG is prepared to build an arena that will satisfy Las Vegas' thirst for entertainment.
"It's going to surpass anything that's been done in Las Vegas," Beckerman said. "We understand the role of the nightclub and the unique hospitality of that market.
"What's unique about Las Vegas is the diversity of expectations, from family shows to team sports. Visitors want a wow factor."
Contact reporter Alan Snel at asnel@reviewjournal.com or 702-387-5273. Follow @BicycleManSnel on Twitter.