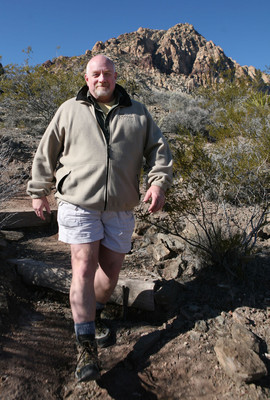 David Bert doesn't seem like a typical outdoors guide.
He's stocky, outgoing and as at home in an upscale Strip resort as he is among the rocks, dust and cactus of Red Rock Canyon.
Then again, the 800-room luxury resort where he works isn't a typical place to start a hike, bike ride or kayak trip.
So maybe Bert is a perfect fit to be activities manager for the Adventure Spa at Red Rock Resort, the first billion-dollar Las Vegas resort away from the Strip.
From a small office next to the resort's fitness center Bert manages an activity menu that includes horseback rides, guided hikes, rock-climbing excursions, bike rides and kayak trips.
Bert, a lifelong outdoors enthusiast, moved to Las Vegas from Manhattan Beach, Calif., in 1992 to work as a server at Spago, the restaurant that helped kick-start the Strip's upscale dining boom.
By March 1993, Bert had learned about the desert environment, had received training in cardiopulmonary resuscitation and first aid, and was leading hikes in the Red Rock National Conservation Area.
He parlayed the gig — and his charismatic personality — into a job hosting the "Outdoor Nevada" television show from 1996-1999. The show won an Emmy Award in 1999 but was canceled in 2000.
Bert soon started a radio program, "Along the Way," that airs Wednesday at 5:33 and 7:33 a.m. and Sunday at 8:35 a.m. on KNPR-FM (88.9).
"They come here and all they know about are sagebrush, cactus and gambling," Bert said of tourists and most people living in the Las Vegas Valley. "When they find out there is something new, it invigorates them."
In 2006 he took a job for Station Casinos as the activities manager at the Adventure Spa.
Bert uses charm honed as a waiter and media personality and love for the outdoors to do something previously unheard of in Las Vegas resorts: urge people to go into the desert.
"No one, until us, has ever tried to let people know it is out there," Bert said. "They want them to stay in the casino."
Question: Were you disappointed when "Outdoor Nevada" got canceled?
Answer: I was crushed. We were all crushed. It was our home. It's not as if we were making a lot of money. It was paid education. They were educating us. Our heart and soul had been there for years. It was our baby. As the host of the show, I had a real vested interest in it.
Question: Did you feel like it was a show people were watching?
Answer: Surely. The demographics showed not only was it very popular then, it is in re-air now. They are re-airing stories that were recorded six or seven years ago.
Question: Do many people know about how much there is to do outdoors around Las Vegas?
Answer: No. That's the problem. There are people who are living here, I'm not kidding you, five to seven years, who have never been to Red Rock Canyon.
It is just this amazing revelation to them. They are enamored once they learn about it. The problem is nobody is telling them about it, except for these little things like "Outdoor Nevada" and "Along the Way." That's why those shows became so popular. It is because people absolutely go crazy when they find out this is all available to them right here in their backyards.
Question: When Red Rock Resort opened, it faced criticism for its height, size and potential to intrude on previously peaceful areas west of Interstate 215. Have you taken any flak from the outdoors community for working there?
Answer: Yes. I was one of the people making the phone calls, sending the e-mails, pressuring my commissioner about it. I didn't like the idea they could get the (height) variance to go from one level to the other. However, when I got here … my attitude completely changed. I don't see this place the way I did before. I see it as a place that has taken the time to give the locals something they want.
You may or may not agree with the concept of locals casinos, but people love them here. And because they love them here in a capitalistic society, they get them.
Question: How do you communicate the benefits of a healthy, preservationist lifestyle from a base in a major resort?
Answer: The answer is to educate people in how to properly use the land. That is what we concentrate on here. We don't just toss them out there. When they go on a hike with us they come back better informed on not just the area but on how to properly use the area. They become inspired to want to take care of an area that up until then they didn't give a damn about.
Question: Have you ever had any harrowing wilderness experiences that required reliance on training and expertise to escape?
Answer: There was one time (last year) I was badly stranded due to the stupidity of someone else. A vehicle had gotten stranded (in Red Rock Canyon). It was way off the beaten track, well off any established road.
I contacted the towing company and told them the situation. I told them it would require some four-wheel drive. They sent out this big (flat-bed truck). Well, he gets himself stranded, really stranded.
I keep expecting him to get out. He keeps expecting to get out. But we've got no water. And we've got no food. We've got nothing and it is a blazing hot day.
Just one of those brutally hot days. There we are and I'm getting severely dehydrated, to the point where I know we are going to be making very bad decisions very quickly.
He just walked off. I was trying to find an area where I could make a phone call to get somebody to come in and he just walked off. I finished the phone call and have gotten somebody, hopefully, coming out and now I have to search for this knucklehead.
The next thing I know, here comes search and rescue. Instead of waiting by the vehicle, which is what I told him to do, he somehow manages to get service and calls somebody who calls in search and rescue. Had we just stayed there, it would have been no problem. My friend had already arrived with water by then. So I just went to my friend and downed a whole bunch of water. They eventually went and managed to find him and rescue his sorry butt.
Question: Any other scary wilderness moments?
Answer: It happened to me once before back in 1993 when I first moved here and I didn't know how easily you could get dehydrated. I had gone out hiking and, I've always been a knucklehead as much as I always try to tell other people to do the right thing.
I've always gone off on my own in places where nobody goes, a stupid thing to do. I had gone up this area which was well beyond my ability at the time for rock scrambling. I got up there, I hadn't brought any food or water with me.
I turned out to be really dehydrated. And then I tried to come back down.
Now I was desperate because I was going to be late for work, a job I hadn't been at all that long. So I'm desperate to get to work, I'm dehydrated and I'm facing what look to me like cliffs with no idea how to get down them. I was in extreme panic. I managed to eventually calm myself down and crawl my way out of the thing but I learned that lesson very well that day.
Since then I always go out prepared.
Contact reporter Benjamin Spillman at bspillman@reviewjournal.com or (702) 477-3861.
VITAL STATISTICS
Name: David Bert.
Age: 59.
Position: Adventure activities manager, Red Rock Resort.
Family: Single.
Education: El Camino Junior College, 1966-70; University of California, Los Angeles, 1970-72.
Work history: Adventure activities manager, Red Rock Resort, 2006-present; writer/executive producer/host of "Along the Way" on Nevada Public Radio, 2000-present; writer/producer/host of "Outdoor Nevada" on KLVX-TV, Channel 10, December 1995-June 1999; 30 years as food server in Los Angeles and Las Vegas at Spago, Emeril's Fish House and Andre's.
Hobbies: Anything outdoors or computer-related to Apple computers.
Favorite book: "Harry Potter" series.
Hometown: Manhattan Beach, Calif.
In Las Vegas since: 1992.
Red Rock Resort is at 11011 W. Charleston Blvd.and can be reached at 797-7777.
Quotable: "By opening people's eyes up … they become inspired to want to take care of an area that up until then they didn't give a damn about."