Women business owners make strides in closing gender gap in Nevada
August 27, 2016 - 3:25 pm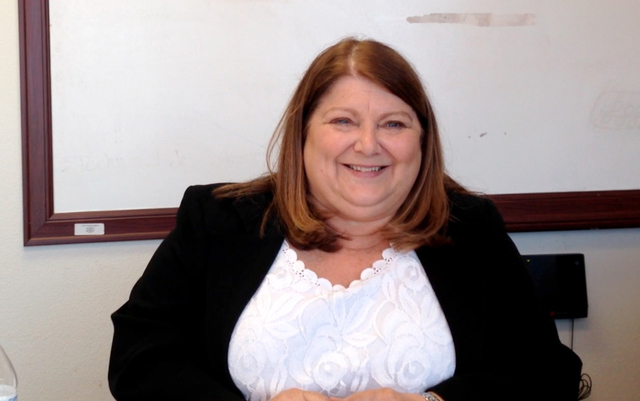 Nevada is making gains in closing the gender gap in business ownership as well as in the fields of science, technology, engineering and math, or STEM jobs.
Thank the economic downturn, too, at least in part.
Nevada is ranked 10th in the country for the highest share of women working in STEM fields, and it is keeping up with the national average of 38 percent in its share of women-owned businesses.
"Nevada is doing better than average in terms of the growth in the number of women-owned businesses," said Julie Weeks, an American Express research adviser and author of the 2016 American Express OPEN State of Women-Owned Businesses Report, which was released earlier this year.
According to the report, the number of women-owned businesses in Nevada increased from 82,000 in 2012 to an estimated 92,000 in 2016. However, revenues did not show a correspondingly wide increase.
"What that tells me is that there are a lot newer women-owned businesses. They are just getting started, so the growth and the number of businesses is higher than their revenue or employment," Weeks said.
In fact, there has been a groundswell of women-owned businesses in Nevada within the past 10 years, starting with the recession.
THANK YOU, RECESSION
"I think the recession forced people to redirect. So, they either moved, or, if they were downsizing, a lot of them started over and started their own businesses," said Christy Echols, president of Las Vegas-based Paragon Development Group, which she started in 2012.
Echols is also immediate past president of Southern Nevada's chapter of the National Association of Women Business Owners.
"Even just within our (new) membership, there are quite a few ladies that we have that were pretty high up in the corporate world. … I think the recession did prompt (many of) them to start their own firm," Echols said.
Data from the State of Women-Owned Businesses report show that, similar to national findings, the number of women-owned businesses in the state increased at a rate nearly five times that of all businesses in the state between 2007 and 2016.
The recession may also have helped, inadvertently, give Nevada women a boost in STEM fields.
A 2015 Institute for Women's Policy Research report ranks Nevada as 10th in the share of women STEM workers. It is difficult to pinpoint what has placed Nevada on the top 10 list, however, since the state was included in the institute's data set for the first time.
Currently 31 percent of STEM workers in Nevada are women, compared with the national average of 28.8 percent.
"But the numbers of workers, both women and men, employed in STEM are low," said Julie Anderson via email, a research associate at the institute who worked on the 2015 Status of Women In the States report.
"Women are a bit below the national average (3.4 percent of employed women in Nevada are in STEM jobs, compared with the national average of 4.6 percent), and men are quite a bit below the national average (6.4 percent of employed men in Nevada are in STEM jobs, compared with the national average of 10.3 percent), which explains why women have a relatively high share of the STEM jobs," she said.
BEING PROACTIVE HELPS
Aside from the recession, there have also been numerous programs and initiatives to help Nevada women, and men, get into STEM jobs.
Lori Nguyen, founder and CEO of Las Vegas-based Diamond Group Marketing, a digital marketing agency, said it comes down to investment.
"More city and state money is going into technology than ever before," Nguyen said.
Gov. Brian Sandoval's "new Nevada economy" emphasized growth in STEM fields as a way to become more resilient.
Earlier this year, the state allocated more than $600,000 in grants to boost training programs for science, technology, engineering and mathematics workers.
"Women here in the valley are a huge opportunity for the talent pool in tech jobs, and other jobs," Nguyen said. "More funding and programs open up more opportunity for women to get into new careers, and to advance into higher income jobs."
PLANTING THE SEEDS
Debbie Banko, CEO of Las Vegas-based Link Technologies, an information technology consulting firm, has been working to encourage women in tech in Las Vegas for several years.
Banko helped to bring Tech Impact, a company from Philadelphia, to Nevada, bringing a program called ITWorks with it. The program helps adults interested in tech gain the skills they need to qualify for tech jobs.
"I got them (Tech Impact) here — it took me like two years," Banko said. She recalled taking Patrick Callihan, Tech Impact's executive director, around to meet the mayor and other officials.
"We set up all of these appointments for him two weeks straight," she said. "We tried to get money, and nobody wants to give anybody any money unless you've been here for five years or whatever. So, I wrote them a check (for $25,000), and I said, 'Just come here.'"
Banko also heads up the IT sector on the governor's workforce investment board, and has worked with the National Center for Women and Information Technology and partners with the Las Vegas chapter of the Society of Information Management Professionals.
"Las Vegas and this valley is a very dynamic environment," said Laura Fucci, president of the Las Vegas chapter of the Society of Information Management Professionals as well as chief information officer for the city of Henderson.
"Nevada overall has higher pay for women against men than most other areas in the country, so that's attractive … and I think we are a very collaborative community here," Fucci said.
Census Bureau data shows that women in Nevada are paid 85 cents for every dollar paid to men, which is higher than the national average of 79 cents for every dollar paid to men.
Banko said she is doing her part to address the national challenges of retaining women in tech; 58 percent of her employees are female.
She said she has flexible schedule options to help retain her women employees, and invests in training young talent.
"I happen to know what we at SIM Las Vegas are looking at, and women tend to leave the IT workforce at 30. I think some of that has something to do with time to have children, that type of thing. But, then the question is: Why don't they come back?"
Whatever factors may be at play, Nevada is onto something.
"That can only be a good thing," Weeks said. "More diversity of thought and styles of leadership in an economy makes an economy more resilient and creative."
Contact Nicole Raz at nraz@reviewjournal.com or 702-380-4512. Follow @JournalistNikki on Twitter.
What can states do to increase their share of women in STEM?
Julie Anderson, a research associate at the Institute for Women's Policy Research says there a few things that can help:
— 1. "Encourage more girls to enter STEM," Anderson said. "Girls are not majoring in STEM in college and instead most choose fields that have relatively low wages."
More frank discussions about earning potential with girls still in middle school and high school can help with that encouragement, she said.
— 2. "Better work-family policies, including paid sick days and paid family leave," she said. "If paid leave became the norm, it might go a long way toward ending the persistent gendered occupational segregation in fields like STEM—and would begin to close the long-stagnant wage gap."
— 3. Lastly, Anderson recommends more education about middle-skills jobs."There are many STEM jobs that do not require a four-year degree," she said.
Casinos are Nevada's largest employers. Neither Sands Corp nor Caesars Entertainment returned requests for comment. A spokeswoman for MGM, however said the company is taking steps to address the national challenge of retaining women in business in general:
"To foster mentoring and professional development among women employees, our company created employee network groups for professional women and working mothers," said MGM spokeswoman Mary Hynes.
MGM also offers flexible and discounted day care to employees through a third-party, as well as flexible work schedules "on a limited, case-by-case basis, and are evaluating ways we might implement flexible hours more widely," she said.