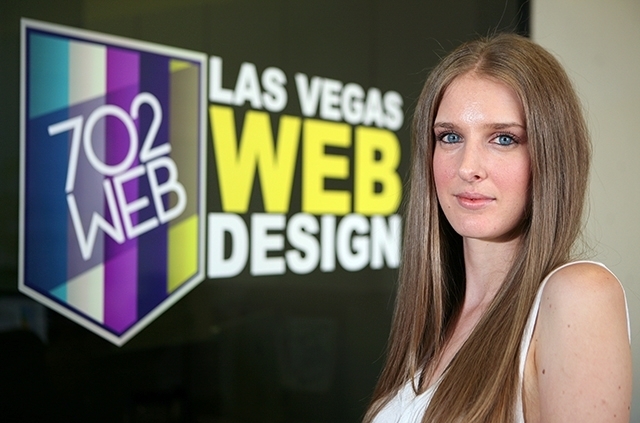 Most of the time in Southern Nevada we focus on what's happening in gaming, real estate or construction when talking about the economic recovery. We've even brought a fledgling technology sector into the conversation.
But, ofte n overlooked are women-owned businesses and their role when it comes to the region's economic development. The Small Business Administration Office of Advocacy said women-owned businesses account for 28.8 percent of all businesses nationwide.
In Nevada that number is 28.6 percent.
Overall, the number of businesses owned by women in Nevada has increased 83.7 percent since 1997, according to an estimate from American Express.
One of those new businesses is 702Web.com, a self-funded web and graphic design company.
"We were founded last year as a graphic design business," said Cat Savello, owner. "But the demand for web design was so overwhelming that we shifted our focus somewhat and hired two additional programmers."
Savello spent four years working as a freelance web developer before launching her business. She said she understood the problem of funding is not specific to Las Vegas, but getting "seed money or initial funding" was impossible.
Savello said 702Web.com has been successful because of "hard work," and "organic, and true growth."
The early success has left Savello optimistic about the region's economic recovery.
So optimistic, 702Web.com is hiring. The firm has open positions for graphic designer, developer, SEO specialist and soon a social media marketing specialist.
Savello isn't the only optimistic businesswoman. A national study earlier this year indicated that female entrepreneurs were optimistic about their future.
The survey conducted by Web.com Group Inc. and the National Association of Women Business Owners found that 85 percent of women business owners surveyed predicted that more women will become entrepreneurs in 2013 than in past years.
And 38 percent planned to invest more in hiring this year than they did in 2012 — a positive sign for the economy.
The survey found 81 percent of women-owned businesses were optimistic about their business' overall performance this year. They were also optimistic, although slightly less so at 74 percent, about the broader economic outlook in 2013.
The survey also uncovered serious challenges facing women-owned businesses, including the need to reach new customers.
What keeps female business owners up at night is the state of the economy (57 percent), health insurance costs and affordability (40 percent), business tax issues (36 percent), and access to a quality workforce (36 percent).
Seventy-eight percent of female business owners surveyed did not seek a new or extended line of credit in the past year. Of those 78 percent, more than half (68 percent) indicated they did not want additional credit, and 32 percent did not think they could get credit if they tried.
Most women-owned businesses financed their business through credit cards (45 percent), business earnings (40 percent), or private sources such as personal savings or contributions from family or friends (37 percent).
Like a lot of small businesses in Southern Nevada, Savello funded 702Web.com with savings and by reinvesting business earnings back into the company.
Savello said she didn't want to risk her company by funding it with credit cards or even seeking a business loan. Instead, she wanted to grow her revenue one client at a time.
"I'm liable for my business," Savello said. "I'm not going to put my employees or clients at risk. I've worked too hard and want them to keep coming back."
Irma Aguirre, co-founder and CEO of Sipping Society, said raising the necessary capital was the hardest part of getting her catering business up and running. She declined to identify her investors or how much she personally invested in the business.
"A big startup cost was the acquisition of liquor licenses," she said. "They're not cheap. Most people think you need just one to do business, but you need one license for Clark County, Las Vegas, North Las Vegas and Henderson."
At a cost of $4,000 to $5,000 for each license, that's $20,000 Sipping Society needs to spend before it caters its first event.
Launched in July, Las Vegas-based Sipping Society is a cocktail party catering company. Aguirre and her partner, Cecilia Strieber, launched their website, received temporary liquor licenses and have booked their first event.
Aguirre is confident Sipping Society will be successful.
"We are two very different people with different strengths," Aguirre said. "I have a creative side and food and beverage background, while Cecilia has a finance and business background. Taking each others' strengths and maximizing those will be the winning recipe for us."
Aguirre said the bottom line is you have to be competitive on price in Las Vegas without being intimidated. She said Sipping Society's business philosophy is simple, "quality products at an affordable price."
Allison Copening opened Seasons Funeral Planning Services on July 18. The business employs five people and is designed to assist clients with their plans and services following the death of a loved one.
Those plans can include selecting the right funeral home, even assisting with planning or personalizing a funeral or memorial service.
"This is the first of its kind of business in Nevada," Copening said. "We are right there making sure the funeral home meets their budget and needs. We try to remove the vulnerability they feel."
She noted Seasons Funeral Planning Services does not "receive compensation from any funeral home." According to Copening's business plan, the firm charges $255 for a 2-hour consultation, or $115 to have an employee accompany a family member to a funeral home.
"We don't interfere," she said. "It's more about having somebody with them at the cemetery or funeral home. Our consultation makes sure you understand everything you'll need to do and purchase."
While Copening is passionate about celebrating life, launching her business had its moments.
"Our biggest obstacle was finding the resources we needed to write a business plan," she said. "Just to find a CPA to help with a small-business startup was hard. Organizations like SCORE and the SBA were helpful, but it was tough because we are such a unique business. We need to make entrepreneur resources easier to find."
As for financing, Copening's business was self-funded. She declined to disclose her startup costs.
"We are taking all the risk, the banks need to take a risk," she said. "We need to return to a time when you knew your banker and if they believed in your business plan they approved your loan."
In her case, banks "wanted too much" to fund Seasons Funeral Planning Services.
Sipping Society, Seasons Funeral Planning and 702Web.com are just a few examples of women-owned businesses recently launched in Southern Nevada. The past few years have seen a remarkable rise in female entrepreneurs in Nevada.
Women-owned firms grew 83.7 percent from 1997 to 2013, and generate $12.1 billion in sales annually statewide, according to a 2013 report by American Express on the State of Women-Owned Businesses.
In Nevada, 61,200 women-owned firms employ 63,700 people. That's an increase from the 33,311 women-owned firms employing 49,477 employees generating $5.9 billion in sales in 1997.
And this growth comes on the heels of the 25th anniversary of the Women's Ownership Act of 1988. The landmark legislation allowed women to get a loan without a male cosigner and full reporting of the economic effect of women-owned businesses.
In an effort to better support women business owners, American Express OPEN partnered with the U.S. Small Business Administration and Women Impacting Public Policy to launch ChallengeHER, a campaign leveraging the three entities' resources to promote the nation's women-owned small-business federal contract program.
"A robust supply chain of innovative small businesses makes our country more globally competitive, encourages more corporations to bring production back to the U.S. and helps create jobs here at home," Marie Johns, deputy administrator of the SBA, wrote in a blog post on the SBA website. "Our goal, and the goal of the ChallengeHER Campaign, is to ensure that women-owned small businesses across the country have the access and opportunity they need to succeed."
Contact reporter Chris Sieroty at csieroty@reviewjournal.com or 702-477-3893. Follow @sierotyfeatures on Twitter.
STUDY: A record number of Americans start their own business
A report by Babson and Baruch Colleges found the percentage of adults in the U.S. involved in starting businesses in 2012 hit 13 percent, a record high since Babson began tracking entrepreneurship rates in 1999.
Researchers found the vast majority of these people started a business to pursue opportunity, rather than out of necessity. Forty-three percent of Americans believe there are good opportunities for entrepreneurship, up by more than 20 percent since 2011 and the highest level recorded in the history of the study, called the Global Entrepreneurship Monitor U.S. Report.
"Despite a sluggish economy, 2012 was marketed by U.S. entrepreneurs reporting greater optimism and confidence in their abilities to start a new business," said Donna Kelley, associate professor of entrepreneurship at Babson College and lead author.
Kelley said the bad news was that among those closing businesses in the U.S., the percentage who attributed it to difficulties in finding financing was much higher than that of other innovation-driven economies. More than 18 percent of U.S. entrepreneurs closing businesses cited funding compared with 11 percent in other comparable economies. The study found 16 percent of funding came from banks, while 82 percent was from the entrepreneurs' own savings or from friends and family.
The median level needed is $15,000 in startup cash to launch, according to the study.
Women are still diving into entrepreneurship, but have fallen behind men a bit, according to the study. For every 10 men involved in entrepreneurship, there are seven women.
This number dipped from eight women for every 10 men in 2011. One contributing factor was that men's rate of new business creation increased, while women's held steady.
WEB RESOURCES
Here are a list of websites with information about starting your own business.
■ FinancialStability.gov — www.financialstability.gov
■ SCORE Training Calendar Northern NV — www.score-reno.org/workshops.aspx
■ SCORE Training Calendar Southern NV — scorelv.org/seminar.html
■ Nevada Small Business Resource Guide — www.smallbusiness3.com/welcome
■ HubZone Information — www.sba.gov/hubzone/index.html
■ SBA Forms PRO-NET Information — web.sba.gov/pro-net/docrootpages/index.html
■ SBA Frequently Asked Questions — web.sba.gov/faqs
■ Nevada Small Business Development Center — ssl.nsbdc.org/education/calendar
■ U.S. Hispanic Chamber of Commerce/SBA Workshop SBA — www.sba.gov/localresources/district/nv/nv_workshop.html
■ SBA — www.sba.gov/