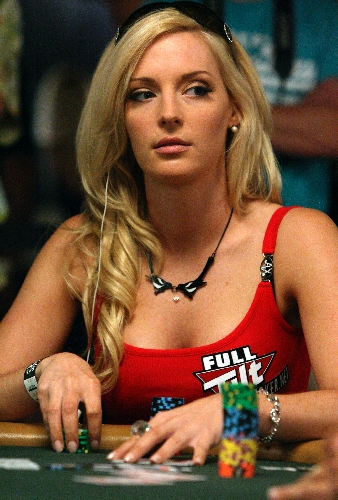 The World Series of Poker's most prestigious event probably will be won by an amateur male poker player, if the recent past is any indication.
Lacey Jones is among the numerous women entered in the tournament hoping to change history and win millions of dollars.
She admits, however, poker is still a man's world in which women can find it difficult to compete.
"It's a challenge in some ways, but I've played enough now that I know how to pick my spots and exploit it," Jones said. Being female "is actually an advantage now, more than anything."
Jones was among more than 1,100 players on Monday who were seated at the 41st World Series of Poker's $10,000 buy-in no-limit Texas hold 'em event.
"First day" tables will continue to be seated through Thursday. Remaining players will then begin returning Friday and play through July 17 when a final table of nine players will be determined.
Those players will return in November to play until a new champion is determined.
The final number of this year's entries and the prize pool will not be known until Thursday night, event officials said Monday.
Last year's main event drew 6,494 entries with $61,043,600 in prize money.
College dropout Joe Cada from Michigan won the gold bracelet and the $8.5 million prize pool.
The 21-year-old was the eighth consecutive amateur to win the main event, and the 16th in 40 years.
No woman has won the event, which began at Binion's Horseshoe downtown in 1970. Barbara Enright is the only woman to make the final table, finishing fifth in 1995. There were only 273 entrants that year.
Leo Margets from Spain was the highest main event female finisher last year, placing 27th and winning $352,832.
Tiffany Michelle from California finished 17th in 2008, earning $334,534.
Seth Palansky, the series communication director, estimated women represent less than 3 percent of entries for the main event, and about 4 percent for other series' open events.
Palansky said the numbers are estimates and the tournament doesn't track entries by gender.
Jones said the number of women in the main event is probably closer to 2 percent. She added that it is only a matter of time before a woman breaks through and wins the tournament.
"It is sheer numbers right now," Jones said. "A lot of women really haven't taken the time to put a lot of effort into studying and training for poker by playing a lot. Once we see more women getting comfortable with the game and start entering more of these tournaments you'll start seeing them winning."
Jones, who was still playing into the evening Monday, started entering tournaments in 2005. This year is her fourth main event, having survived the first day twice.
She entered six events this year with her best finish placing 41st out of 1,054 entries in the $1,000 buy-in no-limit ladies hold 'em championship.
Outside of the women's event, which has been held annually since 1977, only 16 women have won a series open event, the last in 2008.
Some male players try to intimidate women players and make them feel uncomfortable to distract the women from their game, Jones said, but it is changing as more women learn poker.
"There have been a lot of women to pave the way," said Jones, who learned from her grandmother. "It's helping women to realize it's not just a boys game and that anyone can play it."
The more women see that and get comfortable with playing online or in live card rooms here in Las Vegas, you're going to start seeing more women playing, she said.
Greg Raymer, 2004 main event winner, delivered the famous "Shuffle up and deal" call to start the event at 12:05 p.m. The first player was eliminated nearly 35 minutes later, but left without talking to reporters.
Raymer was also eliminated during the first level of play when his pocket eights lost to an opponent's pocket aces.
Other first day notables in the event included actor Ray Romano, Celine Dion's husband, Rene Angelil, and former main event champions Bobby Baldwin and Chris Moneymaker.
The main event will determine the series' player of the year.
Chicago resident Frank Kassela leads the standings with 285 points. He has won two bracelets and cashed in five events this year, earning $1.23 million.
Las Vegas resident John Juanda is second with 225 points. Points are awarded depending on where a player finishes in a series event.
The Associated Press contributed to this report. Contact reporter Arnold M. Knightly at aknightly@reviewjournal.com or 702-477-3893.